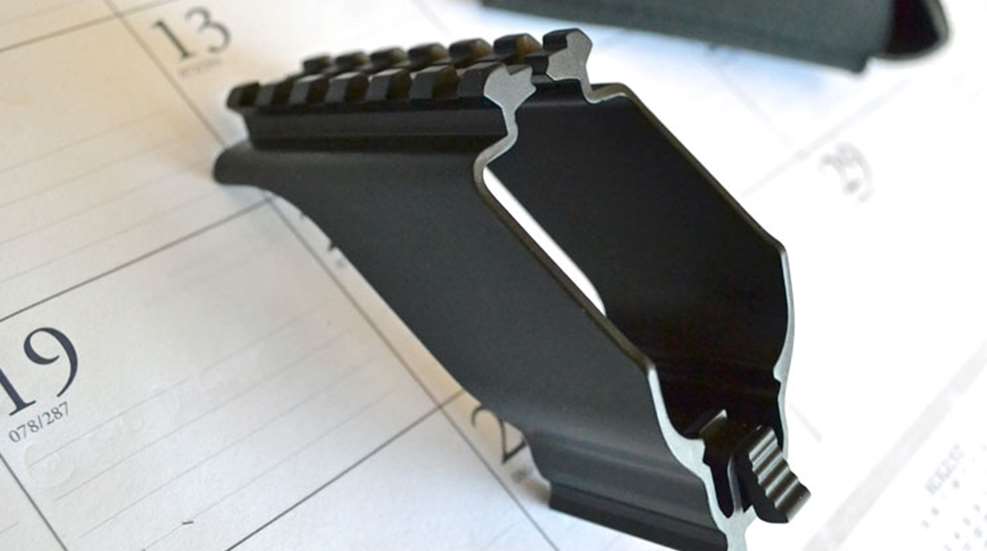 Trying to decide if you want to add a scope or red dot optic to your competition or target handgun? UM Tactical may have a solution for you that doesn't involve drilling, tapping or even replacing your handgun's grips.
The UM3 Sight mount attaches to the accessory rail of your favorite medium- to large-size semi-automatic handgun and adds a 2.5-inch section of Picatinny rail to the top of your pistol. From there, your favorite scope, reflex sight or red-dot sight can be added with no gunsmithing needed.
In addition to providing a Picatinny rail above for mounting optics, a small two-position section of rail is also included on the bottom of the mount to allow for a tactical light or laser to attach. The mount is constructed of T6 aluminum and is Mil-Spec type III anodized. It is rated for fit on a wide variety of popular mid- and full-size semi-autos, including Glocks, Smith & Wesson M&Ps, SIG Sauer and other popular pistols.
Another interesting aspect of this mount is the flexibility to use on separate handguns. Obviously, any time it is removed and from one handgun and put on another (or back on the original), the zero should be checked, but the mount should provide attachment solid enough for zero to be relatively unaffected. Holsters specifically designed for handguns with the UM3 mount attached are also available from UM Tactical. MSRP for the mount is $99.99.