An often-overlooked component of the concealed carry lifestyle is carrying a firearm in the great outdoors. Not the rifle of shotgun you use as a hunting gun, but rather some sort of pistol that is there to do all the things your rifle or shotgun can't do, things like hunting small game, defense against four-legged (or two-legged) predators or just a few minutes of relaxing plinking at the end of the day.
These kinds of activities are ideally suited for a kit gun. A kit gun is usually defined as a rimfire revolver that you pack along as part of your kit when you're headed out a camping or hunting trip. They're not meant to be the primary firearm you take, but rather serve all the other functions why you might need a gun a gun when you're away from civilization for a while.
The new Walther WMP is an updated take on the classic kit gun formula. It's a hammer-fired, single-action semi-automatic that holds 15 rounds of 22 WMR in a magazine, rather than just a few rounds of rimfire ammo in a spinning cylinder. The differences don't stop there, however. The slide on pistol is set up from the factory to take a red dot optic, and adapter plates for most common red dots come included with the gun.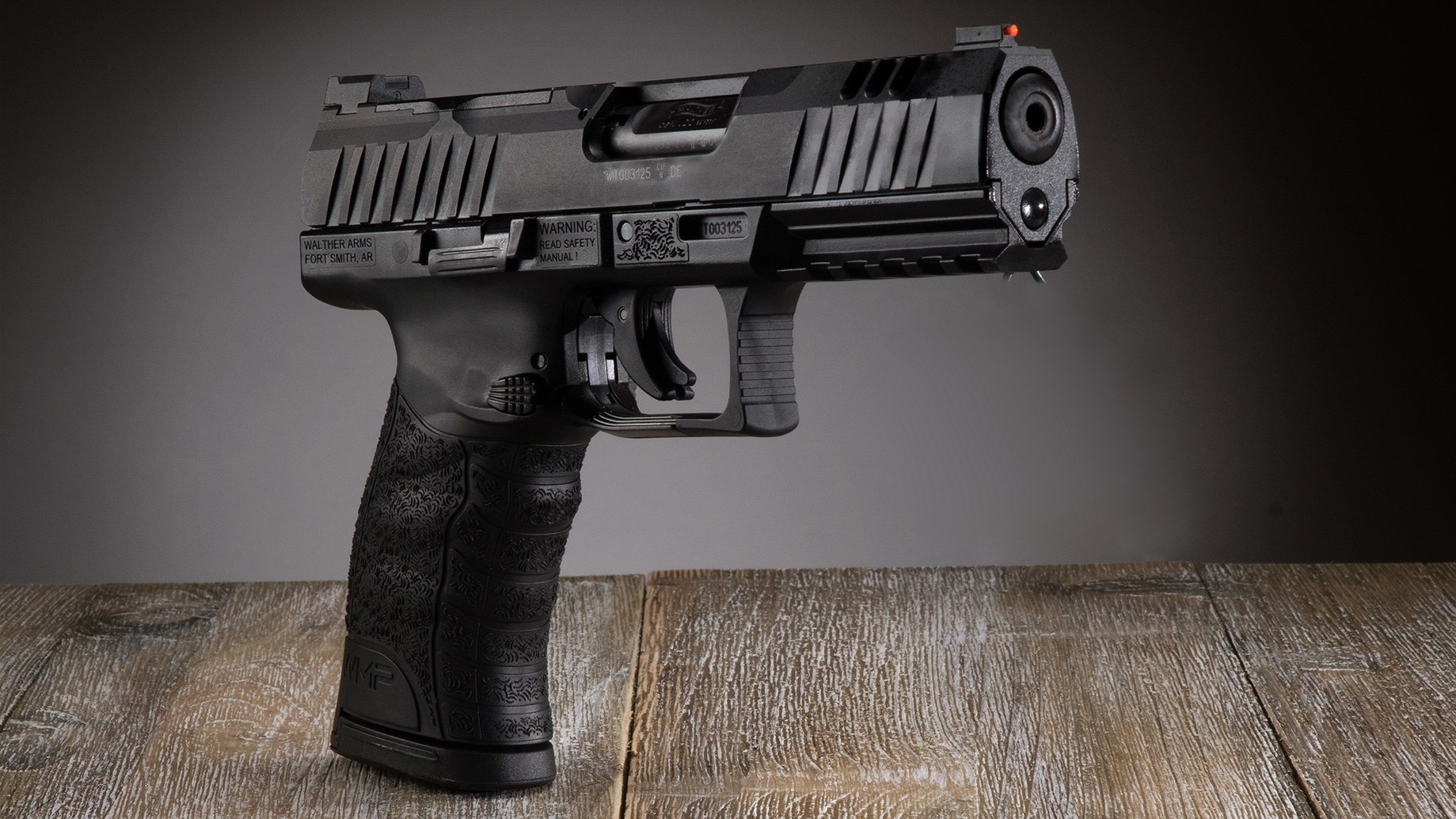 One of the unique features of the WMP is its magazine releases. Yes, that's right, releases, plural. We're used to ambidextrous magazine release buttons on either side of the grip of a pistol. The WMP has those, but it also has two paddles on either side of the trigger guard for yet another way to release the magazine from the pistol. My first thought when I saw this was that was a great way to accidentally drop a magazine on the ground. However, on the range, the magazine stayed put no matter how I held the gun, and it was ridiculously easy to drop it on demand using the index finger or thumb of either my right or left hand.
Get A Grip
Speaking of gripping this pistol, because it shoots the longer 22 WMR round, the WMP has a wide grip back to front. This grip size might be a little too much for people with smaller hands. It is also not a small gun. The WMP is bigger than a full-size, Government-model 1911, but because it has an aluminum slide and a polymer frame, it weighs just a skoosh under 28 ounces, much less than a big 1911. It may be a handful, but it won't weigh you down during a walk in the woods.
The WMP might be a handful to hold, but it is certainly not a handful to shoot. The size of the grip combined with the easy recoil of the 22 WMR round will make a smile break out on your face. While 22 WMR might not be up to the standards of good 9mm or 45 ACP defensive ammunition, the fact is, the com 15 rounds of ammo in the magazine, a great trigger, good sights and almost no recoil, the WMP can be quite a formidable defensive pistol and a comforting presence to have at a remote campsite.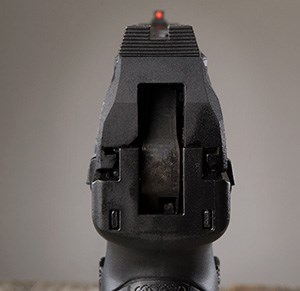 Walther WMP Specifications 
Manufacturer: Walther Arms
Model: WMP (Walther Magnum Pistol)
Calber: 22 WMR
Action: Single action, hammer fired
Height: 5.66 inches 
Width: 1.48 inches
Length: 8.2 inches
Weight (unloaded): 27.8 ounces
Barrel Length: 4.5 inches  
Finish: Aluminum slide / polymer frame (both slide and frame if a pistol) 
Magazines Included: Two 15-round magazines
Other Features: Optics cut on slide and adapters for Vortex, Trijicon, Doctor and Shield red dot sights.
Range Testing the Walther WMP
I took the WMP to the range for a short workout to test its accuracy, and I was instantly reminded of why I like larger-sized pistols in .22 WMR. With a loud report and almost no recoil, they're like a small playful dog with a noisy bark. The WMP handled the CCI and Remington ammo I fed through it with no issues, although I did run into some feeding issues with 30gr Hornady VMax.
To test the accuracy of the WMP, I shot five-inch groups at 25 yards from a rest; four groups with 40 grain Remington JHP ammo and four with 40 grain CCI Maxi-Mag ammo. The Remington ammo turned in slightly better groups, with a 2.83 inch average group size, while the CCI ammo averaged a group size of 3.01 inches.
So Much More Than Just A Kit Gun
22 WMR might not be for your first choice for a defensive round, but in can do the job, both out in the field or in the home. There are people in my life who, for reasons of again and/or infirmity, just can't handle the recoil and gun manipulations needed to shoot a 9mm or larger caliber handgun. The combination of low recoil, 15 round magazine capacity and a great trigger make the Walther WMP a very viable alternative for people who know they need to defend what's important to them, but can't shoot a 9mm with consistent results.
The Walther WMP is one of those guns that doesn't fit into a most niches of American gun ownership. However, as a kit gun, defensive gun or just a fun gun to shoot on the range, it will serve you admirably and be there for you when you need it the most.