My first rimfire handgun was a semi-automatic. I realized, late in life, that I'd handled nearly no rimfire revolvers until I found myself at the Spur Ranch near Saratoga, WY, while out with a group of gunwriters trying out centerfire rifles on prairie dogs.
It was spring, a beautiful time of the year on the elevated plain, and the little rodents were fighting each other to get into our gun sights. A smaller critter, the Richardson's ground squirrel, also liked to come up under and behind our trucks, seeming to watch raptly as we plugged prairie dogs at distance.
I wasn't the only one to notice.
One of our guides with a nondescript single-action rimfire revolver took the odd potshot at one now and again. We had some .22 LR long guns left over from the previous contingent, with some ammo. I left the rifles behind, borrowed the low-cost .22 single-action and took off walking.
I potted a large number of ground squirrels that day, even smacking a few of the larger "dogs" with the .22 LR. The gun was a little long in the barrel, but not too heavy. Best of all, it made the hits come fairly easy.
Handy in a Pinch
That day on the prairie was the most fun I've had since I started shooting, but it wasn't my first experience with rimfire revolvers. Smith & Wesson has been around a while—even longer than I have. The company has made solid-frame double-action revolvers with swing-out cylinders since 1898, and it was only a matter of time before it chambered a little I-frame for the vastly popular rimfire cartridges. Later, the I-frame was discontinued, and the J-frame that followed became home for the .22 LR cartridge.
I recently had the opportunity to trade for a Smith & Wesson Model 34-1. It appeared to be like new, with a 2-inch barrel and a square butt.
The little wheelgun had adjustable sights—the front was high—and someone had painted them white. Getting that small revolver in hand, I immediately realized its utility as a kit gun.
The idea of the kit gun is something small, chambered for .22 LR, that's useful when fishing or when tramping around the woods. They're often depicted in tackle boxes, but it is obvious most makers subscribe to the notion that some are carried for self protection—though I believe .22 LR is a little light for that purpose. But that doesn't change the real usefulness of the kit gun: It's short, light, handy and accurate, with enough power to take small game or to make a water moccasin desist from pursuing you.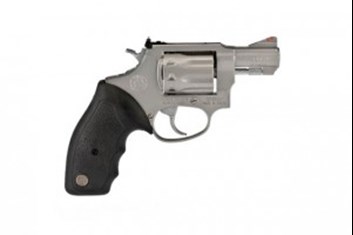 I looked around and discovered Smith & Wesson is once again manufacturing the Model 63—a stainless steel kit gun—and Taurus offers its Model 94 revolver in a kit-gun format, too. I ordered both.
Rimfire Rebirth
According to the "Standard Catalog of Smith & Wesson" by Supica and Nahas, the company's first revolver in this genre was known as the Model .22/.32 Kit Gun. Made on a small frame, it was light and handy. From a rest, it was as accurate as the eyes could see. The guns were furnished with a square or round butt in 2- and 4-inch barrel lengths. The front sight is no higher on the 2-inch than on the 4-inch, it just seemed so on the shorter barrel. A six-shot gun, its cylinder was 1.32 inches long on the improved .32 I-frame and 1.44 inches long on the J-frame models. My Model 34 appears to be part of the 2-inch, blue, square-butt production between 1984 and 1986. It weighs 22 ounces.
Available until 1973, the Model 35 .22/.32 Target of 1953 differed in terms of barrel length—6 inches—and its sights included a Patridge-style front blade. From 1977 to 1998, the Model 63 was a 4-inch, square-butt, stainless steel kit gun with a red-ramp front sight.
While the appearance of Taurus revolvers may seem very similar to Smith & Wesson wheelguns, their design is somewhat different internally. Where Smith & Wesson for many years (up to today) used flat mainsprings for K-frame and larger guns, Taurus used coil mainsprings. The company tweaked the design to meet its manufacturing capabilities and continues to make some utilitarian handguns.
I came into a used Taurus Model 83 .38 Spl. in the mid-1990s. A 4-inch, blue, .38 Spl. with adjustable sights—an analog to Smith & Wesson's Combat Masterpiece—it had belonged to a security guard. I basically gave it a place to call home for a while, and only got it out a few years back to shoot the revolver portion of my retiree qualification course. I had no idea where the gun shot or if it even functioned reliably. The state course isn't difficult, but I surprisingly shot 100 percent with the value-priced wheelgun.
As Taurus covered its catalog with revolvers, the company's small-frame offerings came to include .22 LR versions. Available in blued steel, made of stainless steel and even including "Ultra-Lite" versions, these small, adjustable-sight revolvers fit well into the tackle-box niche of the kit gun.
The current Smith & Wesson Model 63 has a large, rounded synthetic stock that feels like rubber. It covers the backstrap, giving the long-fingered shooter adequate room if needed. Similarly, Taurus' Model 94 has rubber stocks that cover the backstrap. They are somewhat shorter, in keeping with the hide-out gun motif.
The Model 63's trigger is smooth for added comfort when shooting double-action. You'll never shoot double-action? The first time a cottonmouth is crossing the creek headed to your boat, we'll see how quickly you shoot. The Taurus trigger is likewise smooth. Single-action trigger pulls on both guns are short and crisp.
Increased from the original capacity of six rounds, the Smith & Wesson Model 63 has an eight-round cylinder. Its chambers are recessed to enclose the rimfire casehead. Similarly, the Taurus Model 94 has all chambers in a common recess, with a stainless steel shield covering the caseheads from view from the outside. However, the Taurus has nine chambers in its .22 LR cylinder.
Seeing Red
Sights on the revolvers bear further examination. Back in the day, premium Smith & Wesson revolvers featured a red-ramp front sight combined with a white-outline rear assembly. The front sight on the current Model 63 contains a red, Hi-Viz fiber-optic rod. Conversely, the Model 94 has the red-ramp front, white-outline rear setup found on earlier wheelguns.
I was surprised to find that both guns shot fairly close to point of aim as they came from the box. The sights had an interesting effect on my aging eyes. When I was younger, red-ramp sights weren't sharp in my vision. Red has now become a draw for my eyes. The Hi-Viz front sight on the Smith & Wesson kit gun was very bright—enough that it flared in my vision, somewhat blocking my view of the top edge of the front-sight assembly.
For precision shooting, we focus our vision on the top edge of the front sight. I was only somewhat able to see that top edge. Strangely, the Taurus gave me nearly the same result with its red ramp. The top edge of the front sight was fuzzy.
In researching this article, I found a gem published many years ago by Skeeter Skelton, who told the story of getting a 2-inch kit gun to carry when he left law enforcement to try his hand at ranching. He had trouble holding the small, lightweight gun still and seeing the front sight sharply. In order to hit anything, he had to use a fence post for support.The other problem with these short guns is they are short—and that includes the sight radius. Any sight error at distance is magnified due to proximity of the sights.
A Little Fun
In spite of these obstacles, both guns shot remarkably well, each averaging about 3-inch groups at 25 yards. Taking Skeeter's advice to heart, I fired the groups from a bench using a set of Gorilla Range Bags for support.
Some loads grouped better than others. The Winchester loads periodically threw a round from the Taurus Model 94 that keyholed. I found the oblong holes interesting because they didn't result in outriders, but fell inside the group—strange. There are many rimfire loads on the market, and I could spend a great deal of time finding the best load for each of these guns.
Meanwhile, the Smith & Wesson Model 63 was a victim of the four-and-one group syndrome: Four holes would cut a small group and one round would become a flyer clear of the main cluster. I expect such things with semi-automatic pistols, but seldom find it with revolvers. My guess is the flyer was the result of my eye losing the front sight while shooting and not having the gun aimed properly.
Velocity results left me without surprises. Some loads lost about 30 fps between the 3-inch Smith & Wesson and the 2-inch Taurus. The hollow-point load lost an average 50 fps for the 1 inch of barrel difference.
While kit guns certainly fit in a tackle box or gear bag—it's part of their definition—I don't like off-body carry, preferring to keep the gun on my person. On a lark, I got a Galco concealable pancake-style holster for a Smith & Wesson J-frame. The Model 63 was a nice fit. Its rear sight is against the leather, keeping it from being snagged, and the front fiber optic was likewise protected. It'll make a fine carry gun.
The kit gun is as relevant now as it's ever been. I hate to be anywhere without a handgun, and being in the wilderness with a fun-shooting revolver makes a day outdoors even better. Which is best? The Model 63 costs more, and it's fitted to that higher cost. The Model 94 is serviceable and was a great deal of fun to shoot. In addition, both guns come with a lifetime warranty, so regardless of your decision, you can't go wrong either way.
Smith & Wesson Model 63Manufacturer: Smith & Wesson; (800) 331-0852, www.smith-wesson.com
Action Type: Double-action/single-action, revolver
Caliber: .22 LR
Capacity: 8 rounds
Stocks: Synthetic
Barrel Length: 3 inches
Sights: Adjustable rear, red fiber-optic front
Length: 7.25 inches
Weight: 26 ounces
MSRP: $769

Taurus Model 94SS2
Importer: Taurus International Firearms; (800) 327-3776, www.taurususa.com
Action Type: Double-action/single-action, revolver
Caliber: .22 LR
Capacity: 9 rounds
Stocks: Rubber
Barrel Length: 2 inches
Sights: Adjustable rear with white outline, ramp front with red insert
Length: 6.375 inches
Weight: 24 ounces
MSRP: $452