If your range bag resembles the Mary Poppins carpet bag, seeming to be a bottomless pit of muddled range gear soup then you should consider acquiring the Vertx A-Range bag. Vertx solves the embarrassing Mary Poppins affliction by offering a range bag featuring a two-shelf system, with two drawers, ample sections of hook-and-loop patch panel lining, and five pockets. In other words, it's a lot like me; practically perfect in every way.
Okay, so I'm not perfect, but I have been using the Vertx A-Range bag exclusively over the last thirteen months for my personal firearms training, instructing and competing. My new favorite range bag is, in one word, versatile. This bag accommodates an endless number of configurations and practical solutions for instructors, competitors and enthusiasts alike. 
Segmenting the primary storage area is a two-shelf system. Both top and bottom are reinforced with a semi-rigid plastic material to prevent sagging. The top shelf has two open-top cloth admin pockets. Here you will find a gift from Vertx: each bag comes with a six-pistol magazine pouch. The bottom shelf is accessible only from the left side of the bag. (Author's note: I use the top shelf for quick access items such as eye & ear protection, pro-grip, pasters, and work gloves. In the pockets I keep a tourniquet, snap caps, batteries and pens.)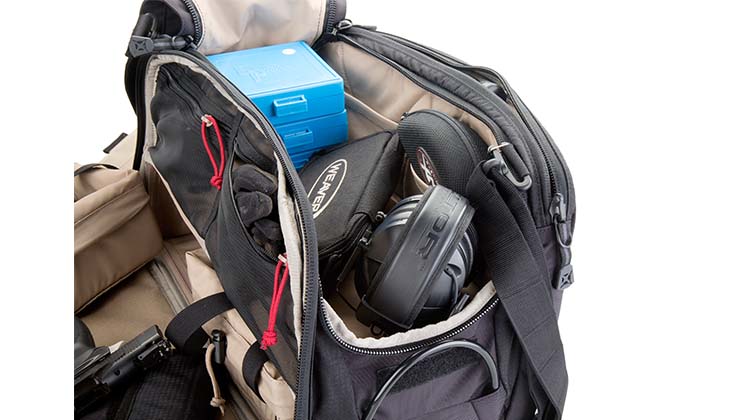 The entire left-side panel unzips to expose two mesh pockets, two drawers and what might be a work station if you're outdoors. This side is lined with hook-and-loop patch panel and is rimmed to prevent small parts from rolling off.  Each drawer is outfitted with a mesh liner which secures via hook-and-loop and drawstring closure. This is a clever idea since after collecting range brass it affords the ability to shake out unburned powder and range debris. (Author's note: I use the first drawer for pre-loaded magazines and my UpLula speed loader, and the second drawer for spent casings. In the mesh pockets I store a modest Armorer kit and spare parts for my gun.)  
From the right side, only the top unzips to reveal one large padded pouch area with Velcro patch panel lining.  Here you can configure Velcro adaptors to suit your individual needs. Vertx offers an assortment of Tactigami so customizing your range bag is easy. This is an ideal location to store a holstered back-up gun, spare mag pouch and knife. (Author's note: The pocket is large enough to store my competition gun inside a pistol rug, as well as my shooting journal.)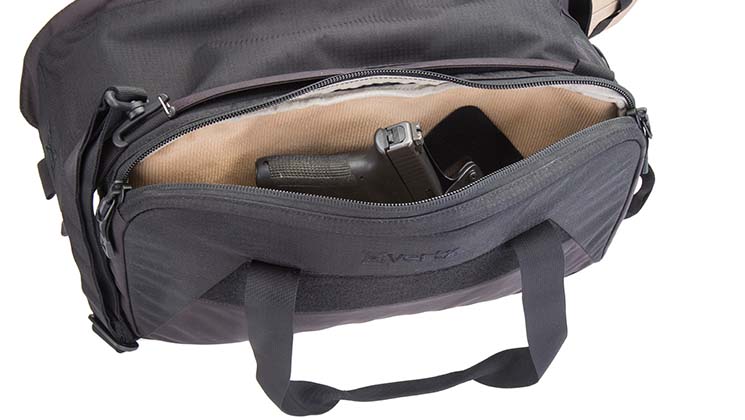 Personalizing the exterior with patches adds personality to the black or smoke grey bag, but if you prefer discretion it doesn't scream "I have guns!" to non-shooters. The A-Range bag is lightweight before adding gear, but durable (Author's note: enough for my daily range needs which sometimes includes as many as four pistols, and 50 pre-loaded magazines of 9 mm, in addition to my standard range equipment.)
Reinforcing the bottom and sides of the bag is a steel-braided cable that runs under the bag creating a loop on each end. This dually serves as a point of attachment to a vehicle or a hold point when lifting. The bag is equipped with hook-and-loop-closure carry handles and the ambidextrous shoulder strap is adjustable thanks to the 1919 webbing.
(Author's note: There are two minor yet aggravating points about this bag. First, the top shelf zipper unzips in a downward profile, which exposes the front edge of the shelf. I learned the hard way that if one fails to zip this section items can and will slide out. I would prefer this side to be the same height as the non-zipper side so I don't have to re-zip every time I move the bag. Second, the attachment points for the unused shoulder straps get in the way of the zipper. I'm reluctant to cut them off, but I may opt for that solution. Again, these are minor inconveniences but you deserve a heads up.) 
With the A-Range bag, Vertx is offering practical, versatile and durable solutions guaranteed to meet the needs of most shooters. So, go ahead and ditch the Mary Poppins carpet bag and pick up the A-Range bag, which you can order by visiting the website here. 
Measurements: 
Overall:  10X19X10.5 inches
Top Shelf: 7.5X18X5 inches
Bottom Shelf: 8X17X4 inches
Drawers: 7X8X4 inches
MSRP: $219.95.