It's not often that I'm stumped when trying to write up a range bag, but here we are with the Vertx A-Range Bag. Now, for the past couple of decades, my go-to range bag has been a $20 tool bag from the local big-box hardware store. The internal slots for tools are great for pistol magazines, the external slots contain pens, markers and cleaning supplies, it's designed to haul heavy stuff so it won't fall apart and it's unassuming—it doesn't scream "I'm going to the range!"
However, what it does not do is keep everything organized, and as I try to be more efficient in my day-to-day routine, I've been searching for gear to aid in this quest. My range bag—specifically all the gear needed for a standard range outing—is one area that could really use some organization. Vertx's A-Range Bag is a quantum leap in that direction, but where do we begin to describe just how useful this bag is?
For starters, there's a decent, padded area that holds numerous pistols in an upright position. Vertx offers what it calls "Tactigami" holsters—customizable wraps that are designed to work with the interior of the bag in a hook-and-loop arrangement—that, depending on the pistol size, will allow two or three large handguns and four (maybe more) sub-compact or micro variants. There's a six-magazine pouch included with the bag (and more available), and more in the "Tactigami" line. Arrange pistols and magazines as they will best fit, as there's room on both sides of the main opening in addition to the main internal storage.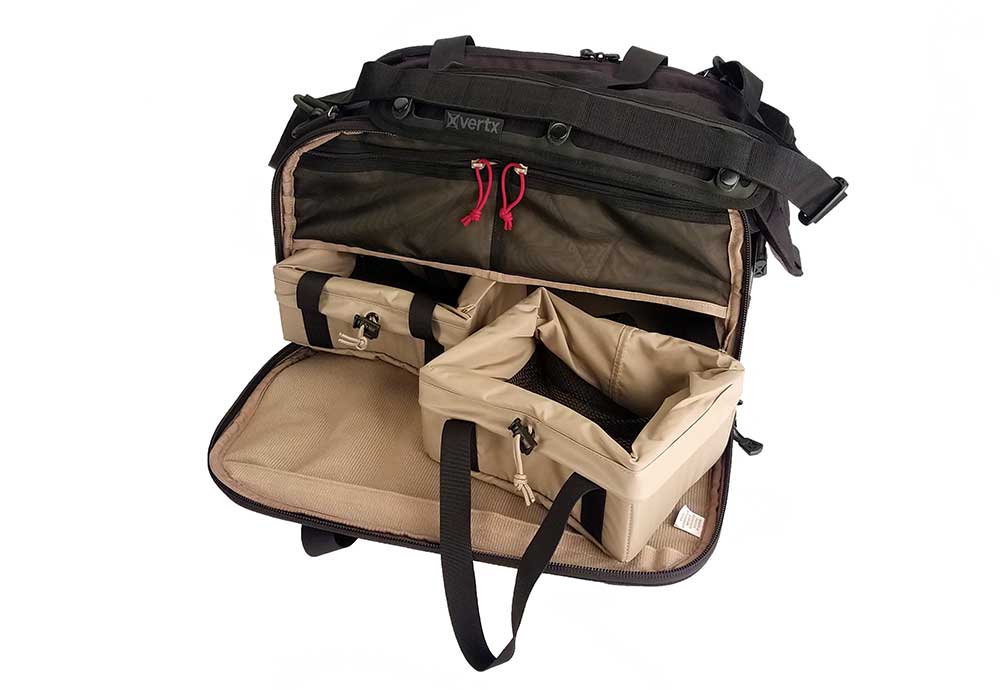 On the opposite side of the Vertx A-Range Bag from pistol storage is another zip-down area with additional hook-and-loop attachments as well as two removable boxes. These boxes are lined with a removable, mesh-bottom bag with a drawstring closure that can serve as a dump pouch, shell bag or catch-all for brass. The two boxes can haul ammo—either loose bulk or boxed—cleaning supplies, tools, spare parts or pretty much any other item you want to keep separate and safe.
Speaking of safe, the bag itself not only has a lockable zippers on all three compartments, but also an integral cable lock that can itself be secured in a vehicle or domicile. Heading to or from the range can often be part of other errands, and having the peace of mind knowing your precious cargo is crucial. When not secured, the A-Range bag has a sturdy, padded carry handle as well as a shoulder strap (also padded), making it easy to transport to and from the range.
The main internal compartment is lined on one side with "Tactigami"-compatible fabric and two pockets on the other side. It's somewhat shallow, with the removable boxes underneath, but certainly roomy enough for eye and ear protection, a first-aid kit, extra ammunition and the other necessities and niceties we keep for our range outings.
MSRP on the Vertx A-Range bag is $219.95, which includes a six-magazine pouch. It is available in both black and "Smoke Gray" colors.