I have a hard time staying abreast of all the new shooting stuff dropped onto the market each year. Fortunately, my work brings enough new guns and gear into the shop that I get to see many things that work well along with a few that do not. I take notice when something makes repeated appearances or is particularly well suited for rifle work. These are items that will help increase your rifle-shooting game without setting you back a full week's pay. None of the following are brand-new, but having used them all many times, I can say each is worth every penny.

ProMag Tactical Lightweight 6-inch Folding Bipod
Back in my Army sniper days, I tested one of these for environments where we could sacrifice some equipment performance in exchange for weight loss. I used it on a 7.62 NATO carbine and was happy to have it. While not as rugged as the Harris bipod it replaced, the ProMag is one-third the weight and half the cost. This simple rest comes with a Picatinny rail mount. It folds easily to the rear or front, is very low-profile and is quick to deploy. The bipod holds fast when loaded with weight during prone firing. It lacks any real tension, so a top-heavy rifle will flop sideways if unattended. But for casual use or in applications where you need to shed ounces, it is worth a look. MSRP is $62, but they can be found for less than $50. Visit promagindustries.com for more information.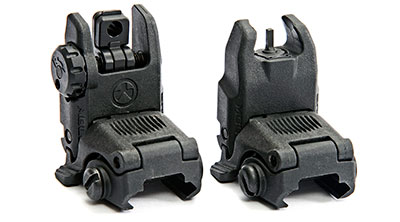 Magpul Backup Sights
A few years ago, a good set of backup sights started at $150. Magpul shifted that paradigm with its excellent polymer MBUS, which can be had for $80 to $90 per set. The company then followed up with its MBUS Pro steel sights that include regular, offset and long-range variants. I like and use them all. I've been using polymer MBUS on several rifles for years without a single problem. The "Pro" options are perfect for metal flip-up needs. They're still very economical when compared to other big-brand steel and aluminum BUS, and are about as indestructible as low-profile sights can be. Both MBUS Pro models adjust without tools and hold zeros well. The 45-degree offsets can be reversed and mounted backward for us lefties. See Magpul's entire line of sights at magpul.com.
Geissele Automatics Suppressor Alignment Rod
This is an excellent tool for checking bore alignment with rifle suppressors and mounts. Available in both 5.56 NATO and 7.62 NATO diameters, these precision instruments have mirror-like surfaces that glide down a rifle's bore. An alignment rod will tell you if you have a tight spot, a warped barrel, a misaligned muzzle device and/or a misaligned sound suppressor. The last two problems can lead to baffle strikes, which are a danger to people and suppressors alike. At $75, one of these rods will last longer than any of us and can check all rifle bores of the appropriate size. Geissele's Suppressor Alignment Rods are available through brownells.com and midwayusa.com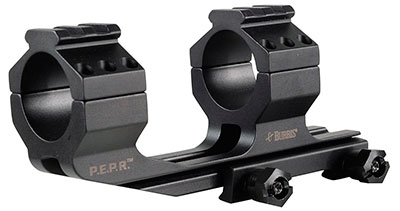 Burris P.E.P.R.
I put many different scope mounts on the rifles I build, ranging in price from $75 to more than $300. The Proper Eye Position Ready (P.E.P.R.) solid-base scope mount is one of those rare gems that deliver more performance than is paid for. Available in 1-inch, 30 mm and 34 mm diameters with either half-inch hex nuts or locking quick-disconnect levers, these mounts are light and functional. I've got them on several of my own rifles and have put dozens on other shooters' guns—without a single complaint. It is a rare P.E.P.R. that needs to be lapped when checked for ring alignment. The same cannot be said for certain premium-brand scope mounts that cost two to three times as much. P.E.P.R. mounts run $75 to $115, depending on model and source. Check them out at burrisoptics.com.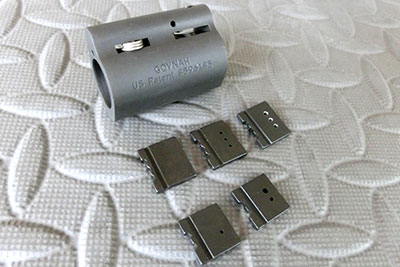 Micro MOA Govnah
Good quality, manually adjustable gas blocks for direct-impingement ARs are rare. Micro MOA's "Govnah" gas block fits the bill perfectly, but is currently available for .750-inch diameter barrels only. Govnah's can be had with pre-drilled ports or with pilot holes so you can size them yourself according to gun and ammunition needs. You can select any of three ports by simply pushing the regulator plate with your finger or a cartridge tip. Switching one plate for another only takes a few seconds, so you have as many port-size options as you need. I set my own up to shoot subsonic/suppressed, supersonic/unsuppressed and supersonic/suppressed loads—all with flawless semi-automatic functioning. I am extremely happy with the Govnah's quality and performance. At just over $150 for the gas block and one regulator plate, it is a worthy aftermarket AR part for any shooting that requires variable gas. Available at micromoa.com.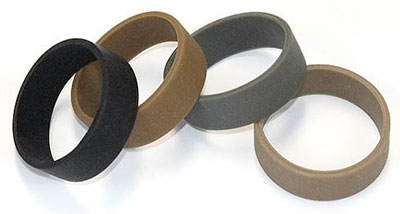 SOB Tactical Combat Bands
We use rubber bands for everything from excess webbing retainers to equipment repairs in the field. But rubber wears out fast and it melts if you get it too close to a hot barrel. Not so in either case with SOB's Combat Bands. These stretchy retaining bands are made of a silicone blend that is nearly impervious to heat. In fact, you can place a bunch of them on a sound suppressor to aid removal when hot and also help dissipate heat in your line-of-sight. One comes with each SOB Tactical "B" Sling, but you can buy them in packs of four for $10 or 10 for $20. After years of use, I have not broken one yet. SOB makes a commercial version (distinguishable by SOBTACTICAL printed on them) and an unmarked, IR absorbing Combat Band. That means your stealthy activities won't be compromised—at least not by your Combat Bands—when going up against night vision-equipped, IR laser-wielding zombies. The sneaky version is not for sale outside the U.S. Get them both at sobmanswag.com.