In case you haven't noticed, guns are loud. And shooting them without good ear protection is not only immediately painful, as the concussion of the blast irritates your eardrum, even outdoors, but repeated shooting without your ears protected can cause temporary damage and even permanent hearing loss.
Traditional foamies are better than nothing, but if you really want top notch hearing protection, check out these five options for outstanding protection.
One ground rule before we get started: all of these are electronic ear protection. If you're not familiar with electronic ear protection, it works the same as regular protection except it also has tiny microphones on the outside that pick up ambient noise around you when there are no guns going bang. This way, you can hear instructions or be aware of what's happening around you. Once the gun shots start, however, the microphones instantly shut off, and the muffs or ear inserts immediately begin protecting your ears again. Electronic ear protection is great for taking a class or out in the field hunting when you need to hear what's going on around you between volleys.
Here are five great high-end options in alphabetical order:
Axil GS Digital 2 Ear Buds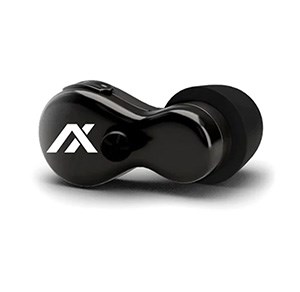 If you want a high-end digital ear bud with all the bells and whistles in a tiny package, the Axil GS Digital 2 Ear Buds fit the bill. Not only are they excellent for sound protection by their shape and inner ear contours, but they also have superior noise canceling that adds an extra layer of sound reduction. As with other active hearing protection, you can hear noises around you and listen to instructions while nobody is shooting, but once the gunfire starts, these ear buds instantly block all sounds 85Db or higher. Customize the fit with an assortment of foam and silicone bud tips. MSRP is $799.99.
Champion Vanquish Pro Elite Electronic Hearing Protection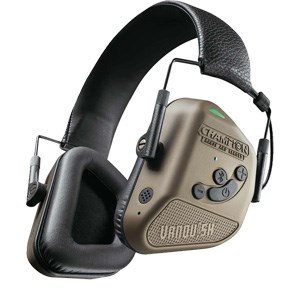 Vista Outdoor's hearing protection division, Champion, features this fantastic pair of electronic muffs that not only protect your ears, but also let you communicate in person and on your phone. The Vanquish Pro Elite Electronic Hearing Protection features cushioned foam muffs that contour the outside dimensions of the average ear for a tight fit to reduce noise leakage. The microphones are volume-adjustable with a large slider knob. Want to make a phone call or listen to music while shooting? Built-in Bluetooth let's you connect to your cell phone to make range day more enjoyable. MSRP is $249.95.
Howard Leight Impact Sport Bluetooth 5.0 Electronic Shooting Earbuds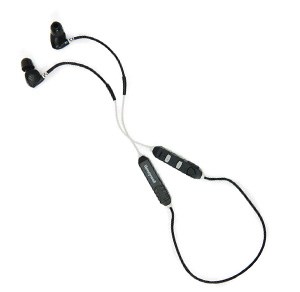 Long known as a pioneer in the electronic earmuffs category, Howard Leight also has a line of earbuds that offer tremendous sound protection and versatility. The Impact Sport Bluetooth 5.0 Electronic Shooting Earbuds not only provide excellent hearing protection, but like other modern systems, also allows for connection to cell phones for calls or music while shooting. The 6X amplification system helps you hear sounds around you, improving your situational awareness. Replaceable foam ear tips offer a custom fit for any size ear canals. MSRP is $165.00
Tetra Multi-Pursuit AlphaShield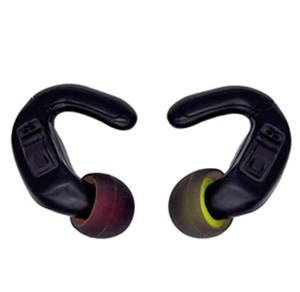 Designed primarily for hunters, the Tetra Multi-Pursuit AlphaShield earbuds let you hear the cries of nature around you while protecting your hearing when the guns start firing. Also, since hunting is an outdoor activity, these earbuds have wind-noise canceling built in. Change instantly between six different settings (Deer, Elk, Turkey, Waterfowl, Upland, and Range) to help zero in on the sounds of your prey and tune out distractions. Customize the fit and comfort with six interchangeable foam and silicon ear tips. MSRP is $1,599.00.
Walker's XCEL 500BT Digital Electronic Muff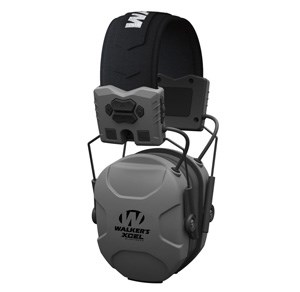 Legendary in the shooting sports, Walker's has been protecting ears for many years now. The company's XCEL 500BT Digital Electronic Muff continues the tradition of comfortable muffs that block out harsh shooting sounds while letting in the sounds you need to year, such as instructions and the goings on around you. This iteration of the Walker's family offers four digital listening modes at the touch of a button: Universal (for sound amplification), Speech Clarity (for discriminating voices and enhancing verbal communication in a noisy environment), High Frequency (tuned specifically to hear steel target impact at long distances) and Power Boost (amplifies sound across the range of volume). MSRP is $149.99.