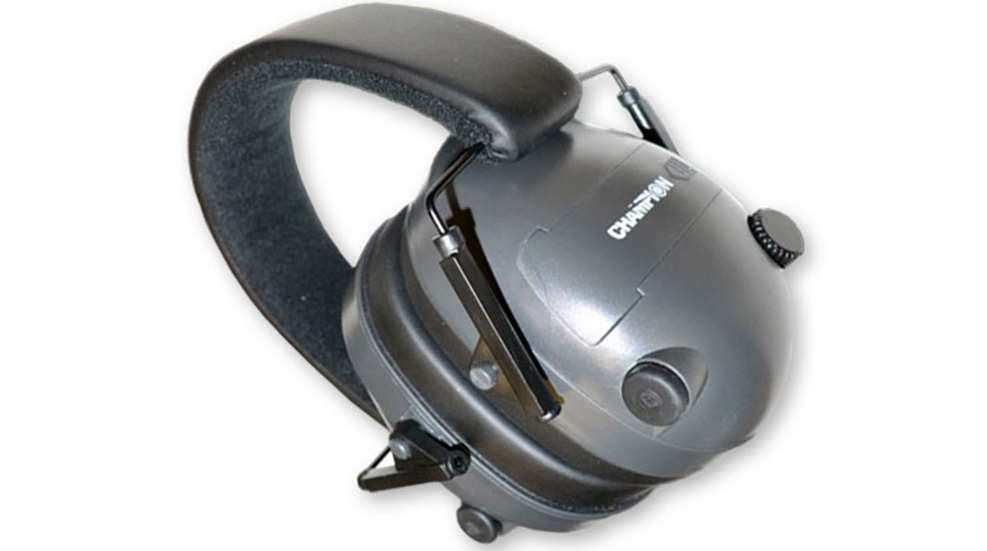 We covered eye protection earlier this week, here's another important piece of safety gear kit. Hearing is harder to quantify than eyesight, protection-wise. It's pretty easy to understand that something coming right at your eyeball is bad. It's more abstract to comprehend that years of shooting without hearing protection can lead to premature deafness or tinnitus. 
A common lament about wearing hearing protection centers on safety products that are too good; specifically, that proper hearing protection renders us incapable of hearing what's going on around us, or properly instructing new shooters. There's a lot of truth to this complaint, and while it's no reason not to wear hearing protection, it does lead us to look for alternatives.
Champion's Electronic Ear Muffs are one such alternative. With these muffs, harmful levels of noise are instantly filtered out while safe levels are allowed. Conversations can be maintained, footsteps behind you can be heard and the sounds of nature for those out in the field are still audible, yet when a firearm is discharged the loud noise is significantly reduced. 
We had the opportunity to test these electronic muffs pretty extensively last month, subjecting them to handgun, rifle and shotgun firing. In our experience, these muffs work quite well at reducing the signature of a firearm while still allowing background noise in, with no delay experienced during actual shooting. There's a noticeable electronic hiss (those of you out there old enough to remember Walkman cassette players, it's similar to the 'tape hiss' sound), but conversations and other appropriate-sound-level events can be heard and distinguished just fine.
Activating the muffs is quite simple: a small dial on each ear muff turns on (and off) with an audible click, and the volume inside the headset can be adjusted accordingly. Unlike other electronic hearing protection, the Champion muffs have the battery compartment located on the outside of each muff, with 2 AAA batteries required (4 total). 
MSRP: $40.95. Available in black or pink.