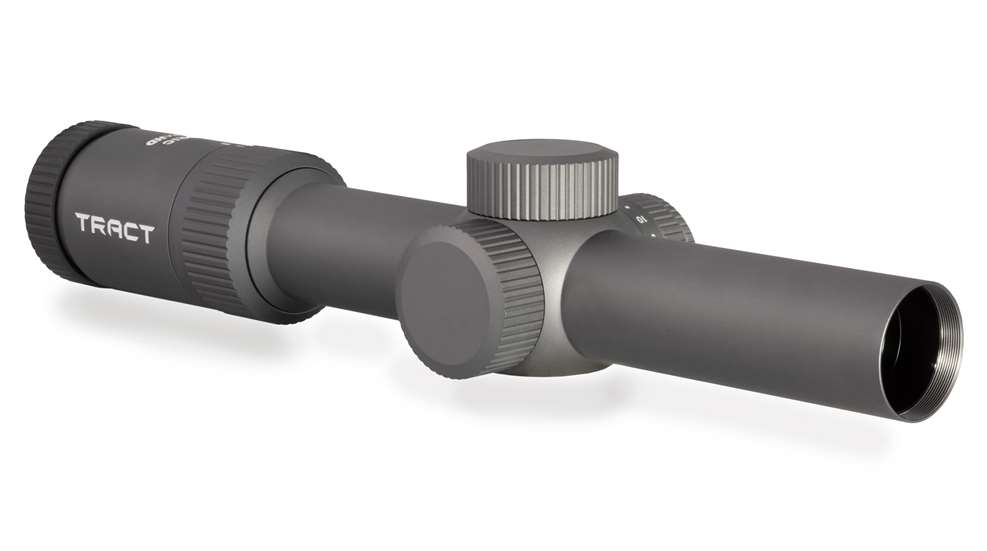 By now the Tract Optics story should be well known to shooters. The company pioneered the concept of direct-to-consumer optics sales, and in the past 7 years, it has grown to cover a wide range of optics both for the tactical and hunting markets. Tract offers high-quality optics at outstanding prices, as there is no middleman. 
We can thank the preponderance of AR-15 rifles in America and the sport of 3-gun for the development of Tract's new tactical scope. The 1-8X magnification range concept originated with 3-gun competition demands, and because that type of competition mirrors tactical situations, the technical developments have strong crossover applications into the world of self-defense. 
The new Tract Optics Toric 1-8x24 mm is a 30 mm-tube scope that may well be the pinnacle of LPVO (Low-Power, Variable Optic) AR-15-sighting systems. It's also a good scope for use on dangerous game or other hunting rifles, but we will focus on the defensive applications. 
The concept of a 1-8X is pretty simple, even if the engineering is not. Clearly, the higher 8X magnification is an asset over lower-power tactical scopes when trying to shoot with precision at long range. The image is clear and crisp because the scope has a fully multicoated, ultra-high-definition optical system with an extra-low-dispersion (ED) lens to eliminate color fringing, and the glass itself is high-end Schott HT (high-transmission), which is only found in the best optics.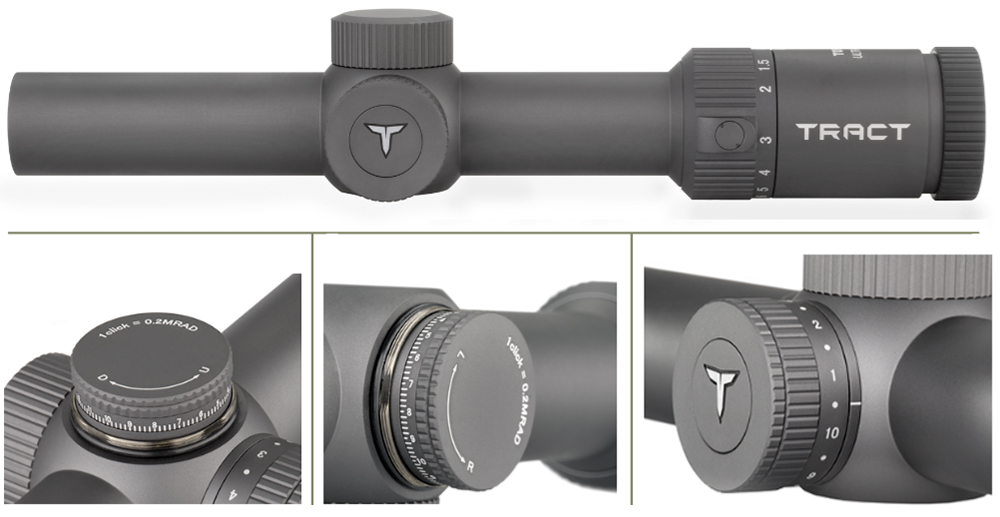 The addition of a multi-aiming-point reticle etched into the glass simplifies holdover for shooting at distance. This scope has holdover marks out to 40 MOA. Using Black Hills' 69-grain MatchKing ammo and a 200-yard zero, the reticle has fixed aiming points out to 907 yards. Dialing up is an option, too, as the elevation adjustment knob is well marked and easily turned with just your fingers. The scope has a 100-MOA adjustment range. 
The other end of the spectrum is the 1X magnification. With a true 1X, the shooter can keep both eyes open for rapid target acquisition and transitions between targets. With the addition of a daylight-visible, illuminated red dot at the center of the crosshair, this is one of the fastest close-range optics available, since it behaves like a red-dot sight at 1X. 
The Toric 1-8x24 mm scope has its reticle in the second focal plane, which means it does not change size as the magnification is increased or decreased. The holdover aspect in
this case is correct only at 8X, but if you are going to shoot long-range, that's where the scope will be set. The reticle's advantage is at 1X. With many first-focal-plane scopes, the reticle becomes tiny and very hard to see at 1X. That's exactly what you do not want in a close-range, defensive situation. 
Center-dot illumination is adjustable, with 10 brightness settings that have off-stops between each level to make it quick and easy to turn off and back on at the preferred brightness level. It's visible in daylight, but if I had to nit-pick on this scope, I would want the dot to be a bit larger and a bit brighter. Still, I was able to do some very fast target-to-target transitions at close range using the illuminated-dot reticle and shooting with both eyes open. I am a bit rusty, but I was still able to shoot fast. There was a master class pistol shooter with me and I challenged him to beat my times with his pistol. He declined. 
I tested the tracking with a Champion Redfield Precision Sight-In Target. This target has a center diamond and four smaller diamonds in the corners, set 9 inches apart. After zeroing for 100 yards, I fired a group in the center of the target. I moved the scope's adjustments to allow a center hold and to hit each of the four diamonds in turn. The scope tracked true throughout the test. Then, I turned the dials to return to zero and impacted in my original group. In total, that is 44 inches of adjustment in all directions. A perfect return to zero indicates the mechanics inside the scope track extremely well. 
I mounted this scope on a lightweight JP Enterprises carbine, and I think it may be my new favorite long gun/optic combo.