by
Evan Brune, Associate Editor, Shooting Illustrated
posted on September 18, 2019
Support NRA Shooting Illustrated
DONATE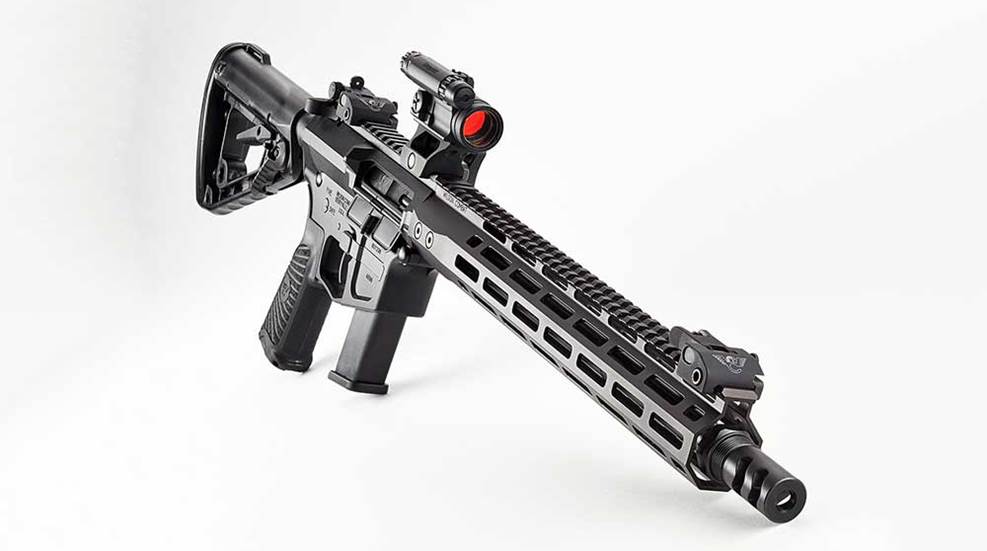 A couple years back, Shooting Illustrated ran a roundup of pistol-caliber carbines on the market, and much has changed since that initial article, which you can read here. In the intervening years, the concept of a pistol-caliber carbine has seen an impressive jump in consumer popularity, and many of today's manufacturers are feeding the need with newly introduced or upgraded models.

Given the benefits inherent in the pistol-caliber carbine, it's not hard to see why this firearm style has garnered more attention. First and foremost, pistol ammunition (particularly 9mm) is cheap, allowing PCC shooters to get more trigger time in for the same price compared to 5.56 NATO.

Additionally, the muzzle rise and felt recoil of a 9mm carbine is negligible when compared to popular rifle calibers, allowing shooters to stay on target through multi-shot strings and transition faster and more easily to new targets. Combined with the incredible number of increased-capacity pistol magazines on the market, such as 33-round sticks for Glock-compatible guns, it's no wonder that PCC competitions are taking off like wildfire across the country.

The pistol-caliber carbine isn't just a range toy or a match gun, though. Given the reduced report, minimized muzzle flash and relatively light weight of many of today's pistol-caliber carbines, they also make fantastic tools for home defense, and they're much more accessible for shooters of smaller stature to handle effectively. Given the benefits of today's much-improved defensive-handgun ammunition, it's a natural extension of such a handy platform.

With all of these benefits in mind, let's take a closer look at today's market of pistol-caliber carbines: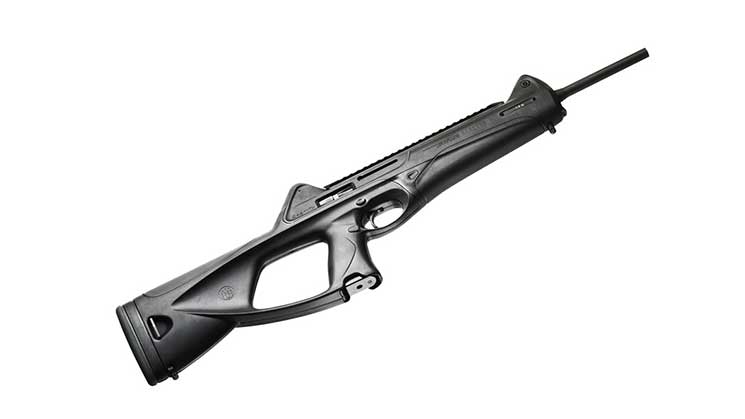 Beretta CX4-Storm ($699)

Certainly not a newcomer to the pistol-caliber carbine market, the Beretta CX4-Storm has offered PCC fans a ready-to-roll, competition-style carbine that's compatible with the magazines used in the company's popular 92 Series handguns.

The Beretta CX4-Storm can be adapted to any shooter, thanks to a reversible charging handle, safety and magazine release. Spent-case ejection can also be swapped from right to left, and the length-of-pull is adjustable, thanks to the inclusion of a single stock spacer.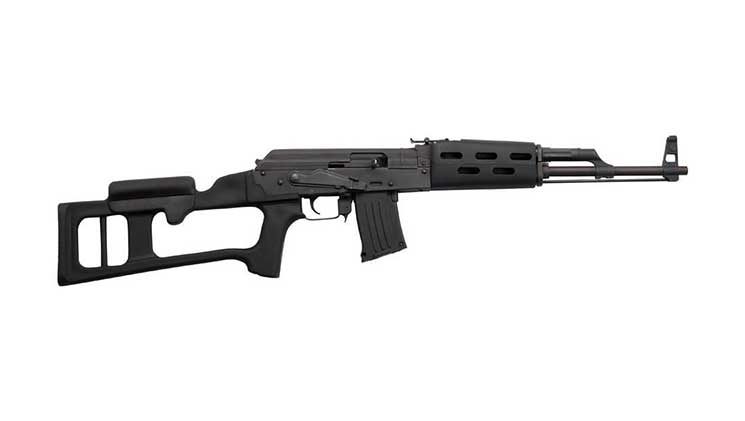 Chiappa RAK-9 ($719)

In our previous pistol-caliber carbine roundup, we highlighted the Chiappa M1-9, which takes the classic lines and design of the famous M1 Carbine and transforms it into a 9mm PCC that feeds from Beretta 92 magazines. However, the company clearly wasn't done with the PCC world yet, since it introduce the RAK-9 last year.

Based on the popular AK platform, the Chiappa RAK-9 offers the look and feel of a standard AK-style carbine, coming with a unique, skeletonized stock that's molded from polymer. The carbine ships with two 10-round magazines, and there's much about this system that provides the same look, feel and functionality of a standard AK, so Kalash fans can practice their AK-handling skills with their cheap 9mm plinking ammo.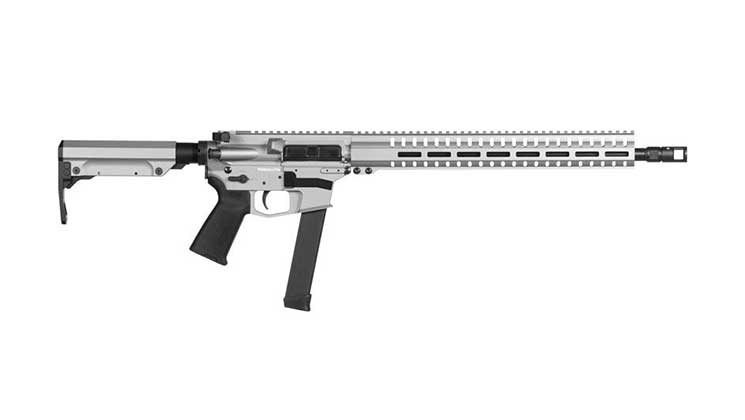 CMMG Resolute ($1,099.95)

One of the technological stand-outs in the pistol-caliber carbine market is CMMG, which introduced its revolutionary Radial Delayed Blowback system several years back. Most PCCs on the market operate on a straight-blowback system, which requires a certain bolt weight to function properly. The heavier the weight, the more recoil is experienced by the shooter. This innovative system changes all that.

One of the benefits of the Radial Delayed Blowback system is its ability to handle a range of cartridges, so the Resolute can be had in a number of chamberings, including 9mm, .40 S&W and .45 ACP, all of which are soft-shooting platforms. The company's pistol and SBR lineup, called Banshee, even includes a 10mm offering!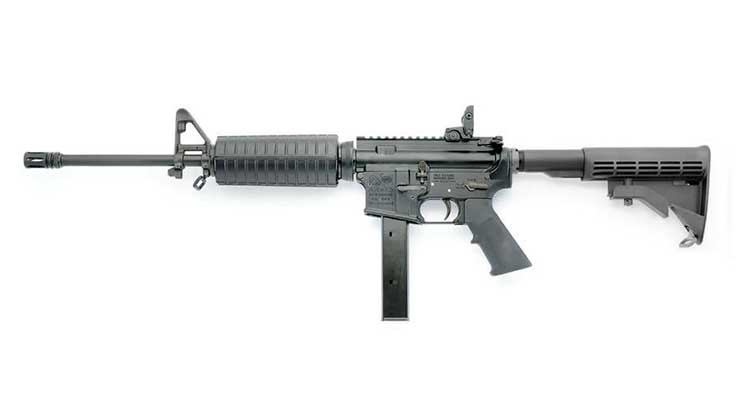 Colt AR-9 ($1,099)

The granddaddy of them all, the Colt AR-9 was one of the first popular pistol-caliber platforms based on the AR-15. Next to platforms compatible with Glock magazines, many of today's PCCs are compatible with Colt-style stick magazines.

Other than the obviously narrow, straight stick magazine jutting from the downsized magazine well, the Colt AR-9 doesn't look all that much different from your typical M4 carbine clone. The gun is equipped with a four-position telescoping stock, a flattop receiver and a birdcage-style flash hider.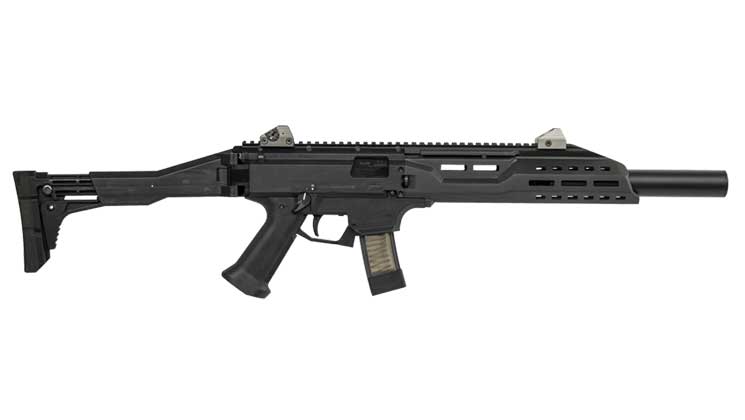 CZ Scorpion EVO 3 S1 ($1,116)

Based on the design of the company's next-generation submachine gun, the CZ-USA Scorpion EVO 3 S1 Carbine offers a unique take on the pistol-caliber carbine, since this design departs entirely from typical AR-style PCCs on the market.

The CZ Scorpion EVO 3 S1 carbine features a folding stock and is outfitted with a 16.2-inch barrel that's shrouded with a fake suppressor that's built for the company by SilencerCo. The gun also features M-Lok attachment slots on the sleek handguard, and the flattop rail provides plenty of real estate for optics or irons. For this distinctly non-AR or AK offering, Magpul also offers a number of aftermarket accessories, including magazines.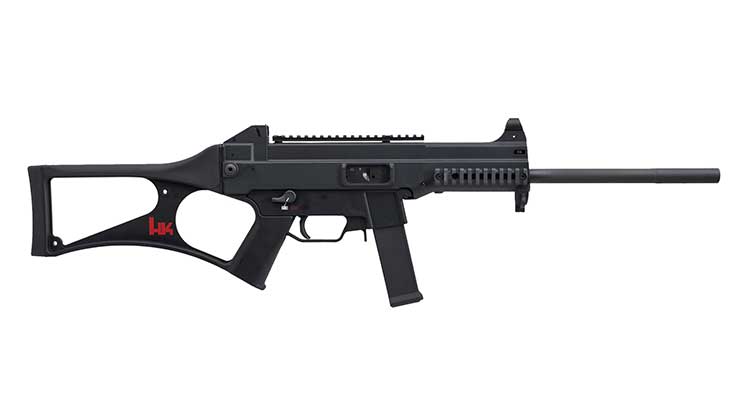 Heckler & Koch USC ($1,699)

Heckler & Koch took the basics of its UMP submachine gun, designed for military and law-enforcement use, and transformed it into a hard-hitting, .45 ACP carbine for the commercial market in the form of its HK USC.

Like the company's submachine gun, the USC features a simple, straight-blowback operating system, and the factory magazine for the UMP and USC holds 25 rounds, which is one of the highest capacity .45 ACP magazines on the market.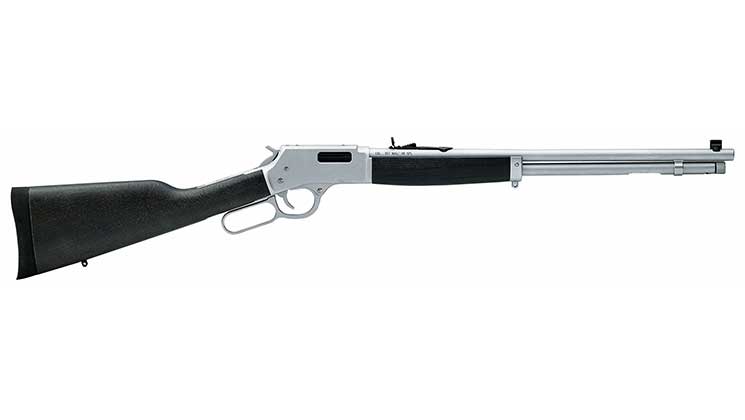 Henry Repeating Arms Big Boy All-Weather ($1,050)

Of course, no roundup of pistol-caliber carbines is complete without paying homage to the original PCC: the lever-action rifle. These guns that helped tame the West were chambered in the popular pistol cartridges of their day, and Henry Repeating Arms still offers modern-day renditions of this platform chambered in .45 Colt, .44 Mag. and .357 Mag.

While most of the guns in the Henry lineup look straight out of the Old West, the Big Boy All-Weather is decidedly more modern. The gun features a hard-chrome plating that can withstand weather and punishment, and the black-treated furniture means this rifle looks more at home in the 21st century.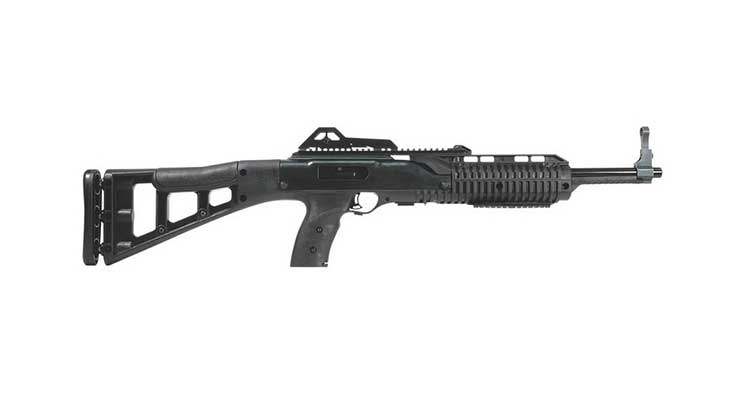 Hi-Point 995TS ($315)

Based on the same action as the company's budget-priced C9, the Hi-Point 995TS is one of the most affordable pistol-caliber carbines on the market today. This no-frills PCC features a simple blowback action that's +P-rated, and the gun features a fixed polymer stock and a Picatinny-railed fore-end that accepts a range of accessories.

Even with a budget price, there's a lot to like about the Hi-Point 995TS. The gun ships with adjustable iron sights, and an internal recoil buffer helps soften the blow of the reciprocating bolt that's hefty enough to provide reliable operation. The gun feeds from a 10-round magazine, and the bolt locks open on the last round. What more could you want?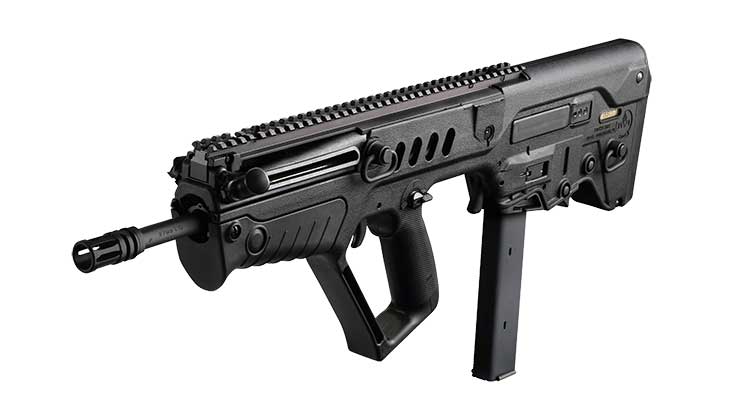 IWI US Tavor SAR 9mm ($1,999)

One of the most popular bullpup rifles on the market today is the IWI Tavor, which is available in a number of configurations, including the X95 and the SAR 21, both of which are found on the U.S. market chambered in popular calibers, like 5.56 NATO. However, IWI US also expanded into the pistol-caliber market, too, with a complete 9mm model.

Like the company's centerfire-rifle chamberings, the 9mm Tavor SAR feeds from a detachable magazine at the rear of the gun, and the carbine is compatible with Colt-style stick mags, available in 10- and 32-round sizes. Otherwise, in terms of fit, function and feel, this battle-ready bullpup performs just like its 5.56 NATO big brother.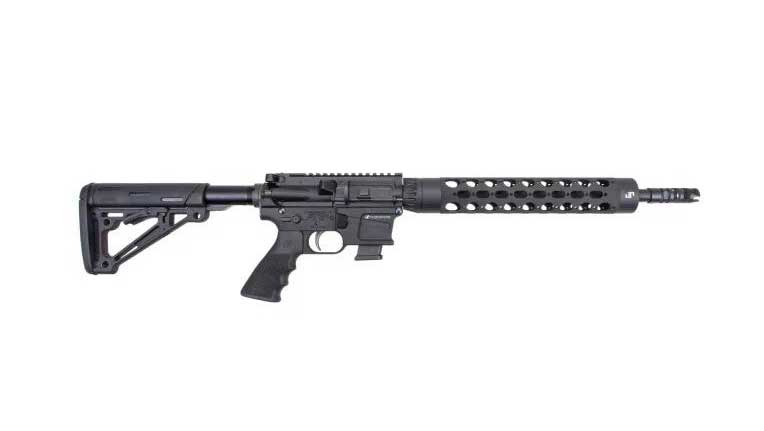 JP Rifles GMR-15 ($1,749)

Building on the success of the company's GMR-13, JP Rifles upped the bar with the launch of its GMR-15, which includes new features like last-round bolt hold-open, an enhanced magazine release and a flared magazine well that allows for faster reloads.

Whether you're in the market for a home-defense carbine or a dedicated match gun, the JP Rifles GMR-15 is designed as a PCC that'll run and run. This carbine is also equipped with the company's Silent Captured Spring, which means there's virtually zero felt recoil. The gun also feeds from Glock G17 magazines, which are plentiful and available in a range of capacities.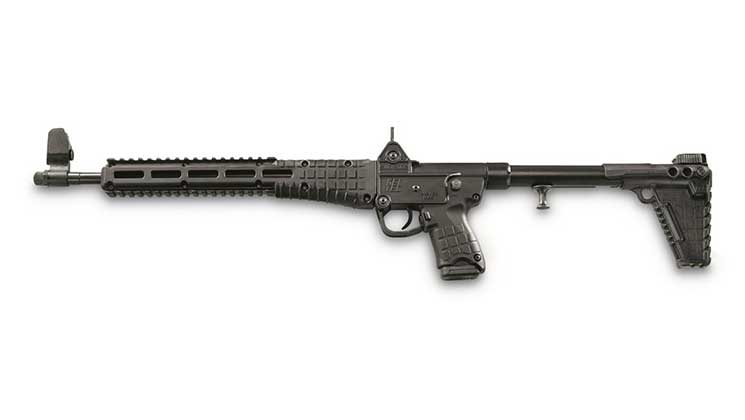 Kel-Tec Sub-2000 Gen 2 ($500)

Kel-Tec offered a different take on the concept of a pistol-caliber carbine with the launch of its Sub-2000 model, now in its second generation. This light, handy PCC features a folding mechanism that allows the gun to be stored and carried in a package that's half the size of its deployed dimensions.

The Kel-Tec Sub-2000 Gen 2 is available in a Glock-specific variant, which accepts all standard G17 magazines. However, there's a new "Multi-Mag" variant that allows owners to swap between a wide range of available magazine options by swapping out the mag catch in the gun. Available options include CZ-75 mags, P320 mags, P226 mags, M&P mags and more!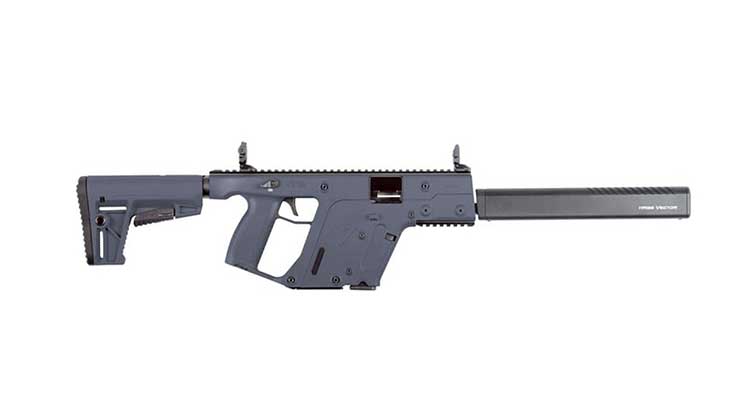 KRISS Vector ($1,499)

One of the most unique pistol-caliber carbines on the market is undoubtedly the KRISS USA Vector. This monolithic-looking PCC looks the way it does due to the unique recoil-mitigation system used in the action. To combat muzzle rise and felt recoil, KRISS USA uses what it calls its "Super V" system, which directs recoil energy down and away from the shooter's shoulder.

This "Super V" recoil-mitigation system, combined with the low bore axis of the platform, ensures that shooters can have rapid follow-up shots while keeping sights on target during firing. The carbine variant of the Vector features a unique, suppressor-looking shroud that contributes to the unique, futuristic look of the gun, and the latest generation of the Vector includes a caliber-interchangeability option.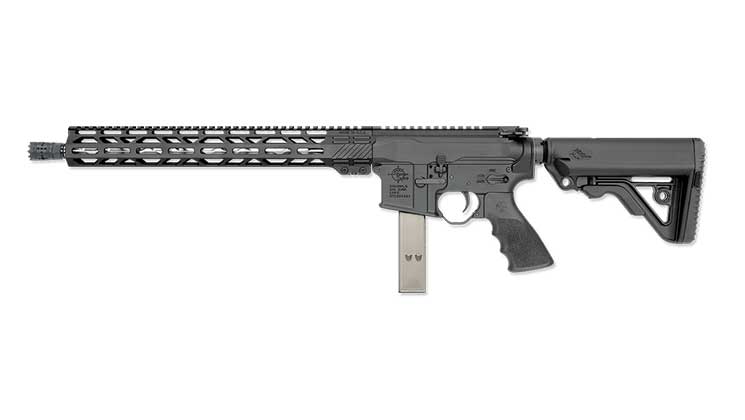 Rock River Arms R9 Competition Rifle ($1,475)

Rock River Arms has long been one of the dominant players in the pistol-caliber carbine game, thanks to its line of LAR-9 carbines. For years, these PCCs followed the Colt style and fed from Colt stick magazines, but the recent surge of pistol-caliber competitions led the company to step up with a dedicated competition rifle.

Still feeding from Colt-style stick mags, the RRA R9 Competition rifle features an integral magazine well, and the 16-inch barrel is surrounded by a full-length handguard that allows competitors to obtain a solid support grip as far forward as possible for added stability. The gun also features a two-stage match trigger and is outfitted with upgraded furniture, including the company's Operator CAR stock and Hogue rubber grip.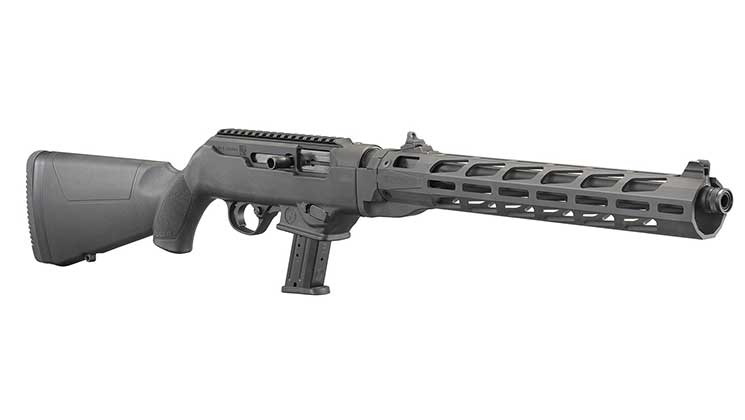 One of the introductions that jump-started recent interest in pistol-caliber carbines is the Ruger PC Carbine, which offers a more affordable PCC that's loaded with a few unique features to make it stand out from the pack.

The Ruger PC Carbine is designed for use with the company's SR-Series and Security-9 pistol magazines, but the company includes an interchangeable magazine well that allows the carbine to feed from popular Glock G17 magazines as well. The gun is also built with a takedown feature that allows the barrel and fore-end to separate from the receiver and stock, creating a handy coupling that can store and transport easily.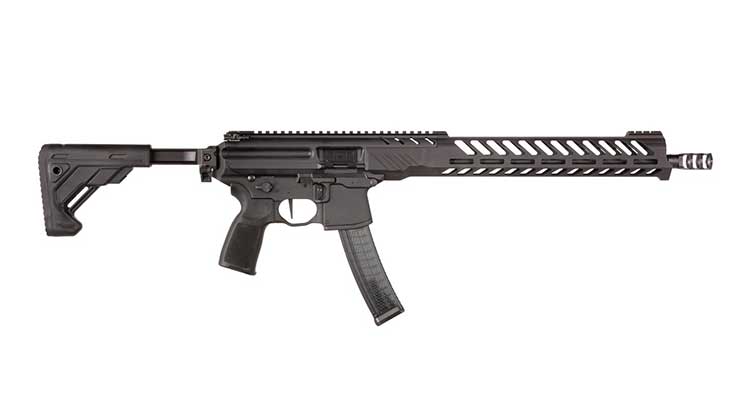 SIG Sauer MPX PCC ($1,699.99)

Most pistol-caliber carbines on the market use a simple blowback operating system, which relies on the weight of the bolt to keep the chamber closed through the firing process. While simple, effective and affordable, this setup can be subject to reliability issues and can exacerbate felt recoil and parts wear. SIG Sauer addressed these concerns in the design and development of its MPX carbine.

The SIG Sauer MPX uses a gas-piston system instead of the straight-blowback, which means that reliability is enhanced, while felt recoil and parts wear are reduced. In 2019, SIG expanded its MPX lineup with a competition-specific variant in the form of its MPX PCC. In addition to its use of a longer, 16-inch barrel, the gun also features a Timney MPX trigger and a recoil-reducing compensator.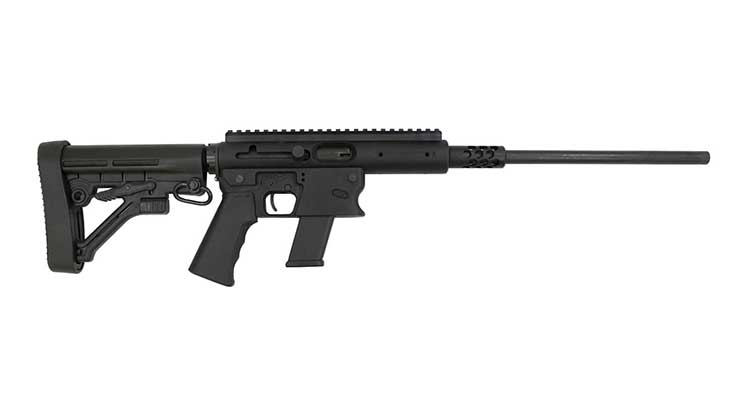 TNW Firearms Aero Survival Rifle ($699)

At the affordable end of the pistol-caliber carbine market is TNW Firearms, which offers a comprehensive line of Aero Survival Rifles. As its name implies, these guns were initially envisioned as last-ditch platforms that could be stored in a compact, broken-down configuration to be deployed in an emergency scenario. However, the quick-takedown mechanism means that this platform can be had in a range of calibers.

The guns are available in 9mm, .40 S&W, .45 ACP, 10mm, .357 SIG and .22 LR, and the centerfire-pistol calibers feed from all compatible Glock magazines. A Remington-style magazine feeds the .22 LR variant. These guns can be had in kits that provide several different caliber options, allowing users to swap barrels, depending on what caliber is needed. When broken down, the entire firearm measures only 17.25 inches long.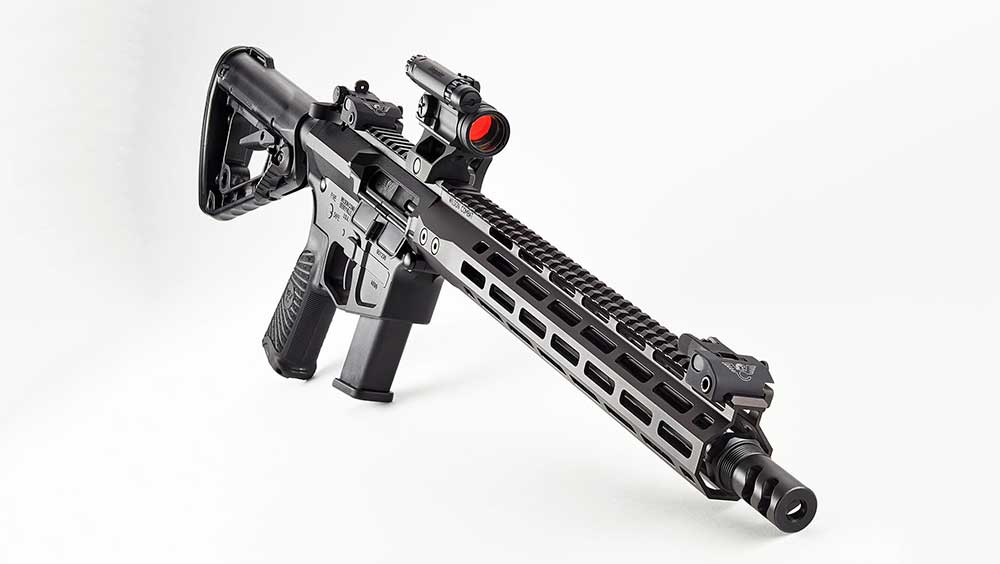 Wilson Combat AR-9 ($1,995)

You know that pistol-caliber carbines are a hot market when a high-end manufacturer like Wilson Combat gets into the game. True to form, the Wilson Combat AR-9 isn't just an AR-15 converted to 9mm. To create the ultimate, high-end PCC, the company took its time with the design of the purpose-built receiver, shaving off metal and creating a slim, streamlined platform that provides easy handling.

Available in either Glock- or Beretta-magazine options, the Wilson Combat AR-9 is constructed using proprietary bolt and barrel, which ensures that the gun will feed all standard bullet profiles without any malfunctions. The gun is also built to serve as a suppressor host without running into function issues, which can plague pistol-caliber carbines that aren't set up to deal with suppressor backpressure.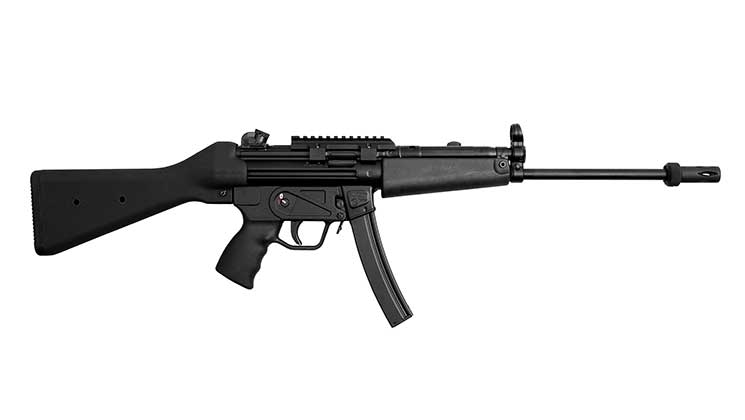 Zenith Z-5 Rifle ($2,178)

When you think "pistol-caliber subgun," chances are that the image in your mind is of an MP5. This iconic submachine gun dominated military and law-enforcement armories in the mid-to-late 20th century, and the gun continues to see service today.

While a semi-auto pistol variant of the MP5 is available from Heckler & Koch in the form of its SP5K, a carbine variant couldn't be had unless consumers were willing to undergo the arduous, expensive process of obtaining ATF approval for a short-barreled rifle.

However, Zenith Firearms stepped up with a unique carbine variant of the MP5 in the form of its Z-5. The gun feeds from all standard MP5 magazines and operates with the same roller-delayed bolt used in the original MP5 platform.

By no means is this list a comprehensive look of the entire market of pistol-caliber carbines out there, and we haven't even begun to touch on the expansive market of AR- and AK-style pistols on the market chambered in popular handgun calibers. Additionally, a number of companies, MechTech in particular, offer conversion options that transform your firearms into pistol-caliber carbines. What's clear is that the PCC market is hot, and there are plenty of varied options on the market to feed your need.