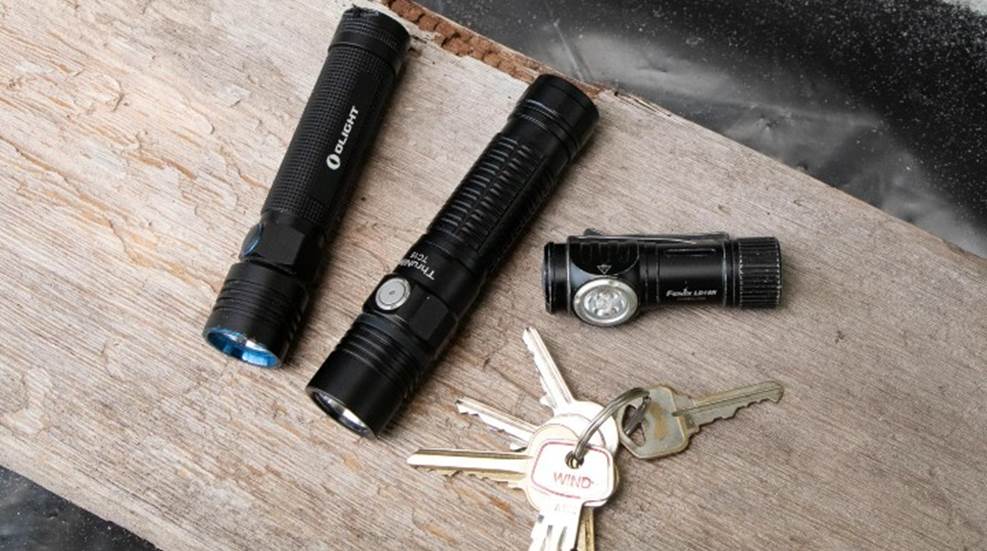 There are several high-end lights that can be mounted to a rifle, cut through smoke and illuminate the inside of a barn in the next town over. These are specialized lights that have their place but don't live up to every day carry (EDC) use.
So, here are a number of flashlights that I've personally tested in the past year that make great EDC lights. I'll warn you right now that these aren't set up to be tactical, but I found them to be eminently practical.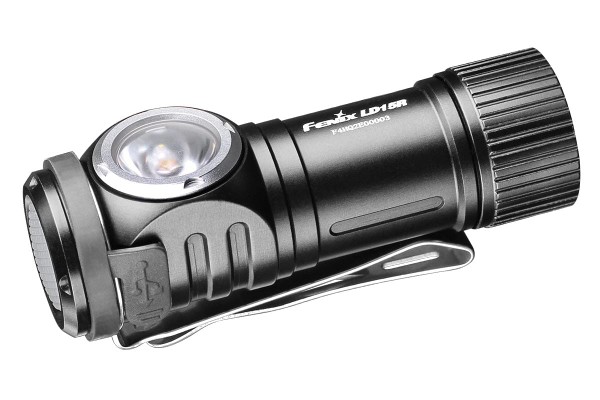 Fenix LD15R
Without a doubt, the Fenix LD15R is my favorite EDC light. I've used it daily for two years and find it to be the one flashlight I can't live without.
The LD15R is a small, lightweight flashlight with the emitter at a 90˚ angle to the body. When combined with the magnetized base, the flashlight is incredibly useful as a work light. I've stuck it to the side of my gun safe to illuminate a back corner, on the range exhaust when fixing the stove and on the underside of my truck's hood when swapping parts as the sun was starting to go down.
At less than 2.75 inches long, this flashlight easily slips into any pocket and lacks the uncomfortable bulge that many tactical lights can give you. It also has an elongated S-clip that allows for attachment in multiple directions. This is great for clipping to the brim of your hat or a shoulder strap on a backpack.
Even though it is small, the LD15R still throws quite a bit of light: 500 lumens in the Turbo Mode. Even more useful, the output can be dialed down to one of three lower output settings. There is also a 4 lumen red light mode that can help protect your night vision.
For most projects, I find the medium setting to be plenty. At that level, the included rechargeable battery will last you for more than 13 hours. Charging is done in the flashlight via a Micro-USB port on the side of the light. MSRP is $72, but this is currently on sale for $54.95. Visit fenix.com for more details or to see other offerings.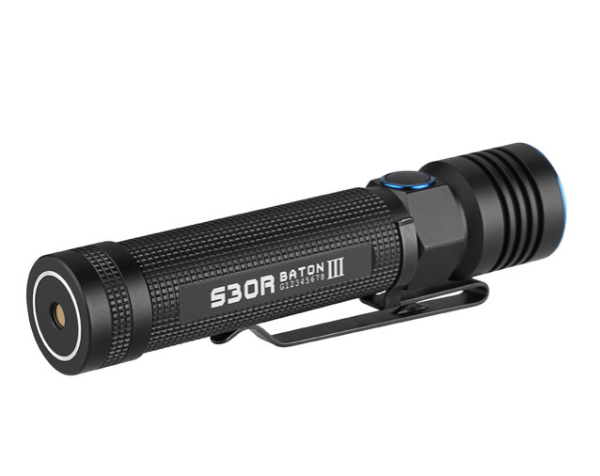 Olight S30R Baton III
If you need an EDC light that can double as a concealed carry flashlight, the Olight S30R Baton III is a good choice. It is longer than the Fenix LD15R above, but maintains a similar slimness in the girth.
The Olight uses a straight-on emitter to project light in the same direction as most flashlights. A single side-mounted switch controls the on-off and mode selections. One click turns the light on while holding the button down rotates through the output modes. A rapid double click takes you directly to the Turbo Mode which is rated for 1,050 lumens.
I prefer a tailcap switch for a tactical light, but the rubberized cover on the side switch provides a tactile reference for easy activation. Clumsily feeling around for the right button in the dark can be very frustrating and Olight does an excellent job of making sure you hit it without looking.
Olight uses a magnetized tailcap. The magnet is strong enough to hold the flashlight on a vertical surface. That tailcap also secures the light to a desktop charger. You simply place the tail of the flashlight onto the flat top charger and the magnet ensures the proper connection for charging.
A single 18650 battery is used to power this light. Olight includes a 3,500 mAh battery to provide long run times. At the medium 120-lumen output level, the company reports a runtime of 15 hours. MSRP is $79.95; visit olightworld.com for details.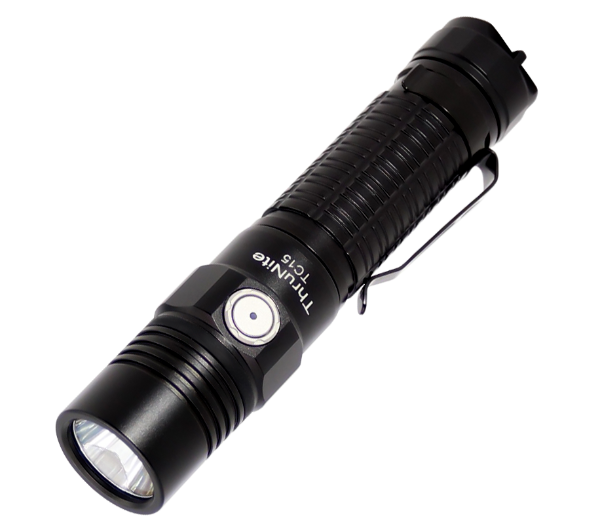 ThruNite TC15
The largest flashlight of the group, the ThruNite TC15 borders on being too large for my EDC consideration. Nevertheless, it is worth considering as an EDC light as it offers many features at a budget price.
It runs on a single 18650 rechargeable battery and has a Micro-USB charging port on the body near the head. The port is protected by a rubber flap that can be difficult to seat. So, be careful when using it if you want to keep the weather out. When properly seated, the light is rated for immersion to a depth of 2 meters for 30 minutes.
According to the company's specifications, the light is supposed to emit 2,300 lumens in the highest output mode. My own testing suggested that total light output might be closer to half that. Even so, a 1000+ lumen flashlight that slides easily into your pocket is a modern marvel. It wasn't that long ago that 120 lumens was considered to be state of the art for a tactical flashlight.
The TC15 uses a side mounted switch that is similar to the control used on the Olight S30R III: a single click turns it on while holding it cycles through the output modes. The switch is hard plastic and can be hard to find by feel only. For an EDC light, this isn't a major concern. If you plan to use it in any tactical application, practice with it first to ensure you can reliably activate it under stress. MSRP is $55.96; visit thrunite.com for more information.