Support NRA Shooting Illustrated
DONATE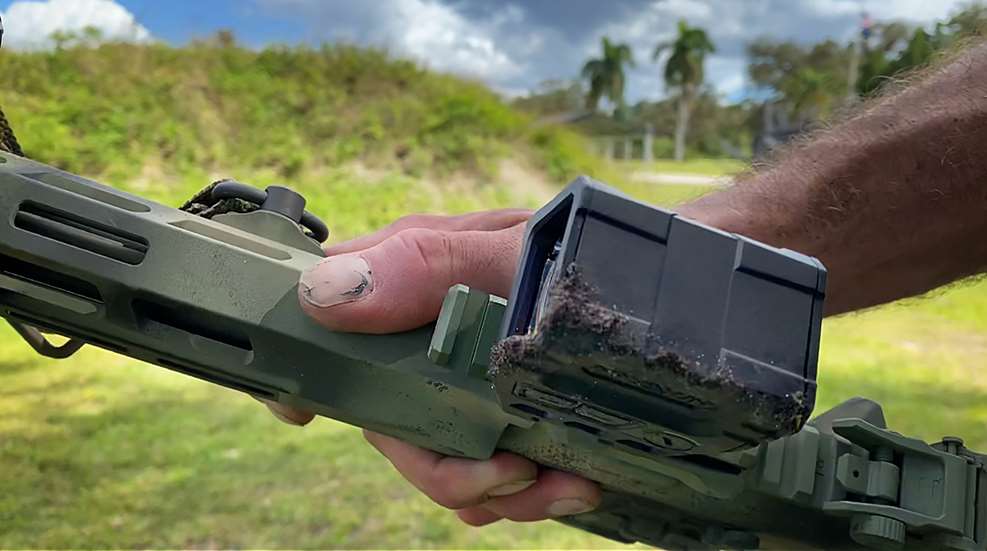 In 2022 if you have an optics-capable firearm, you probably know the name Holosun. Established in 2013, they have quickly become a leader in the industry. I already own one optic from Holosun, the 508-T, which is a multi-reticle, titanium body pistol sight. I've owned it for about 2 years, and it's been excellent. The first time I opened the box, I dropped it on my concrete floor, and it chipped my floor without suffering any damage itself. These things are tough. My rifle however, was equipped with another brand of optic, and I decided I wanted to replace it. I discovered Holosun's newest full-sized red dot optic, the AEMS (Advanced Enclosed Micro Sight). Holosun calls it 'micro' because of the large viewing window in comparison to its small outer shell. This provides the end user with a giant field of view, clear glass, and a daylight bright dot in a compact and lightweight optic. Oh, it's also an enclosed emitter sight, which in my opinion is the future of all red dot sights.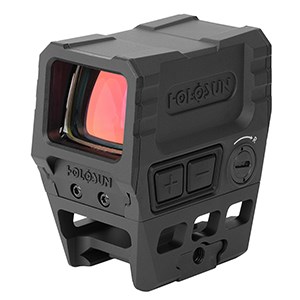 Holosun has released 2 versions of this optic, the AEMS and the AEMS CORE. For this review I specifically chose the AEMS CORE, as it features the same housing, same glass and is the same size, but lacks a few features compared to the AEMS. The AEMS CORE does not have the signature solar panel, multi-reticle system, or the flip lens covers of the AEMS. If you feel the same as I do and find those few features unnecessary, then the AEMS CORE is a great way to get a duty optic on for less money. Coming in at about $100 less than the AEMS, it's the working man's duty optic and that's exactly why I chose it. Durable, lightweight, great battery life, good looking, and an impressively large field of view all for around $300. Sold. Let's check the specs.
Holosun AEMS CORE Specifications:
Height:5 inches
Length: 2.22 inches
Width: 1.49 inches 
Weight:9 ounces
Window size:1 x 0.87 inches
Reticle and Dot size: single dot 2 MOA
Battery type and life: CR2032 at 50,000 hours
Parallax: No parallax
Eye relief: Unlimited
Glass: Multi-layer reflective
Brightness settings: 10 DL and 2 NV
Housing: 7075 pressure forged aluminum
Adjustments:5 MOA clicks
Water resistance: IP67
These specifications match, or in many cases exceed any "high-end" red dot out there for less than half the price. The battery life is usually measured at a mid-range brightness level but at 50,000 hours, you won't have anything to worry about. Just change the $2.00 battery once a year and you'll be golden. Best of all, the AEMS CORE with a red reticle has an MSRP of $352.93, and the same optic with a green reticle has an MSRP of $370.58. The attached mount cannot be removed as far as I know and is at 1/3 lower co-witness. This is a great height for this optic, and conducive to a heads-up shooting position. The large, ultra-clear glass and two night vision settings should also make for an effective NV set-up. The real claim to fame for this optic is its overall outer diameter to window-size ratio. At only 1.49 inches in total width with a 1.1 inch-wide viewing window, the AEMS is truly class leading. Pictures and specs will tell part of the story but until you get behind this optic for yourself, words will never do it justice.
CORE at the Range: 
I took the AEMS CORE out to the range to run it through its paces. I initially zeroed the optic at 100 yards, which took just 10 rounds of ammunition. My one major complaint while zeroing was the windage adjustment. While adjusting the elevation, I was able to get consistent and tactile 0.5-MOA clicks. While attempting to correct my windage however, the clicks were completely different. In fact, I didn't really feel or hear any clicks at all. I essentially had to guess how many clicks I had turned while spinning the stiff and mushy adjustment. Luckily, I only needed about 8 estimated clicks, so it wasn't a daunting task. Annoying? Yes. Did I achieve my goal of zeroing easily anyway? Also, yes. I cannot say for certain if this is an issue with all AEMS CORE optics, but if I had to guess, I'd say it isn't a widespread issue. Inconsequential issues like this don't bother me much, but I figured you should know everything. On a positive note, the brightness buttons are rubberized with large indicating arrows. These buttons are tactile, solid, and functional. No complaints there.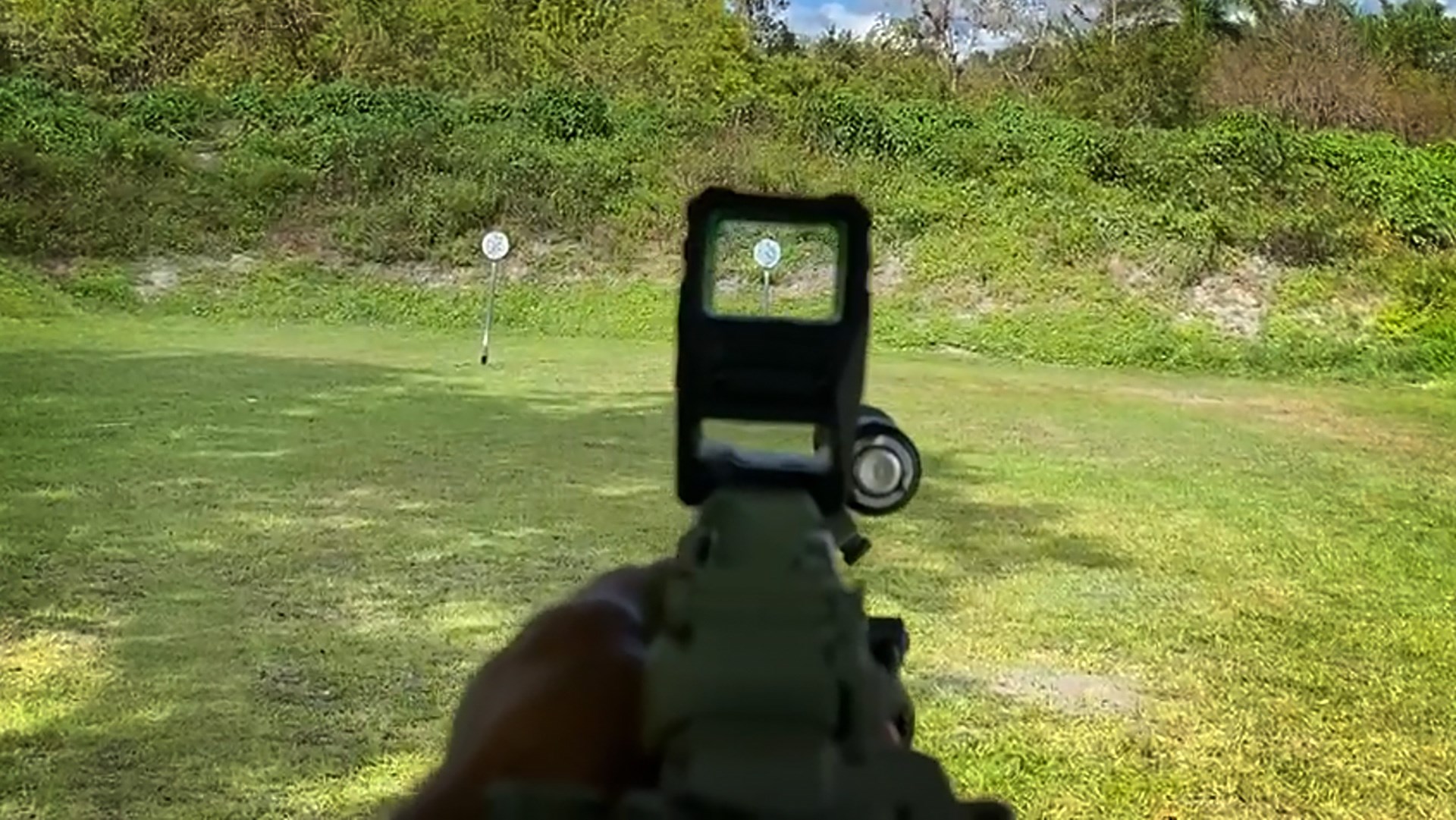 After zeroing at 100, I wanted to run some high-speed drills to really put that large window to the test. I set up some steel at around 25 yards and did some quick "up-drills." This thing is fast. I had my brightness all the way up so the reticle was as large and bright as it could be. I was able to make very consistent single, double, and triple taps in personal record times. My eyes were instantly drawn to the big glass and I could see the entire target in my viewing window. I had the green dot version and was easily able to locate my reticle even with a grassy berm behind my target. I shot quickly and accurately with this optic.
I also took this opportunity to test its durability and ability to hold zero. So, I took my SIG Sauer large-format pistol chambered in 5.56 NATO with an 11.5-inch barrel, mounted the AEMS CORE to it and tossed everything around a bit. I gave it 3 good tosses with the last toss landing hard directly on the optic. Dirt covered the outside but with the enclosed emitter, it was easily brushed off with no issue. I loaded 30 more rounds and went at the target again. The optic performed exactly as it did before with no shift in zero and no damage to the optic. The mount also remained solid even without using Loctite. The battery tray, held in by two Torx screws, remained solid and secure as well. This optic is rough, rugged, and affordable while being aesthetically cool and accurate. I started this review process as an owner of one Holosun optic, after this review, I am now a proud owner of two.