Support NRA Shooting Illustrated
DONATE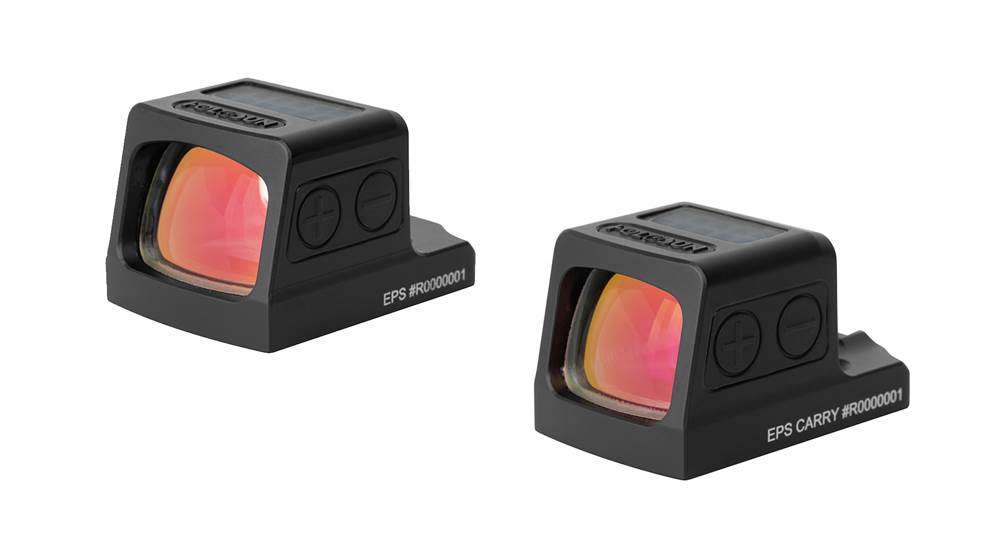 Holosun is releasing their new line of enclosed emitter slide mounted electronic red and green dot sights. With these new optics, Holosun is giving its customers the choice between a full-size electronic dot optic meant for standard-size handguns, or a reduced-size unit intended for contemporary slimmer subcompact defensive carry pistols such as the SIG Sauer P365, the Springfield Armory Hellcat, the Glock 48 and other guns. From a performance and durability perspective, both sights are essentially the same but the EPS Carry sights weigh approximately 0.2 ounces less than the full-size version (which only weighs 1.4 ounces) and has a slightly reduced targeting window.
Holosun EPS sights were designed with a lower deck, meaning that they sit lower on a pistol's slide surface and can co-witness with standard height iron sights on certain handgun models. Depending on the model of handgun, this brings the added convenience of having to forgo the procurement and installation of taller, suppressor-height back-up sights. These IPX8 water and dust proof rated electronic dot sights are manufactured with 7075-T6 aluminum and come with a black anodized finished and are offered with both red or green dots. In addition to this, they both take a CR1620 battery that can achieve a 50,000 hour battery life. EPS electronic sights use Holosun's "K" footprint. The aspheric lenses on EPS electronic sights are parallax free and multicoated. The targeting window on the full size unit measures .90 x .63 inches. On the EPS Carry sights, the targeting window is slightly smaller at .77 x .58 inches. EPS sights also boast of some well-known features that are found on other Holosun offerings such as the Super LED, Shake Awake, and Solar Failsafe technologies.
The retail price for Holosun EPS electronic dot sights start at $435.28. For more information on these slide mounted electronic red dot sights and other Holosun products, please visit Holosun's website at holosun.com.