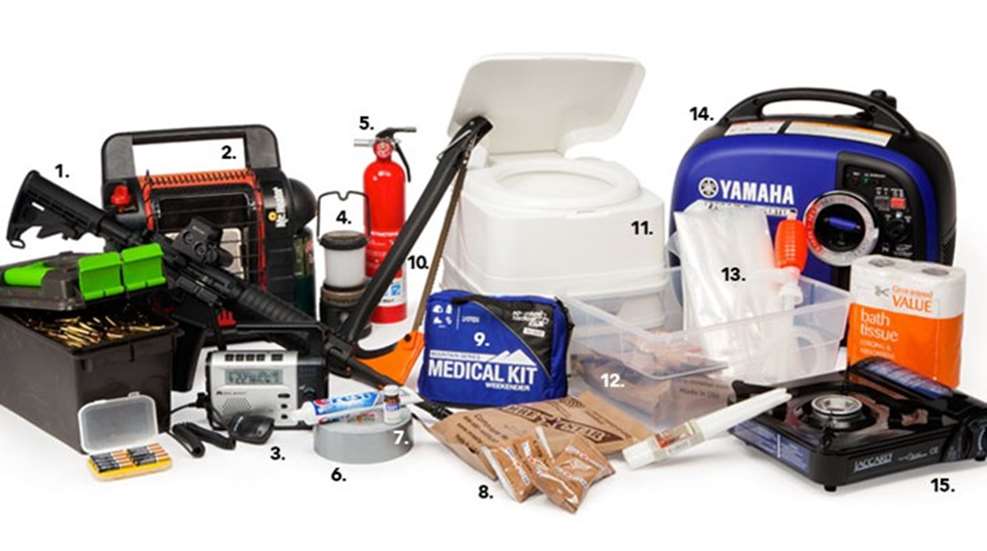 As recent events related to the COVID-19 pandemic have demonstrated, we can be confined to our homes for an unknown and possibly lengthy period of time. Major cities have issued shelter-in-place orders to curb the spread of the virus, which means it's vital to have all the necessary gear for survival at your disposal before disaster strikes. 

In the case of coronavirus, most folks fortunately still have power and water, but temporary shortages of toilet paper, hand sanitizer and some foods have become commonplace. Likewise, certain law enforcement departments have said they won't be able to respond to as many crimes, so it's important to have a home defense plan in place. 
When disaster strikes, there's often no place like home. But with the power out, water shut off and emergency services unavailable, home might not be the same for awhile. These products are a good start for a plan to help you maintain security, comfort and safety while you're sheltering in place.
1| Windham Weaponry SRC
A no-frills AR ready to mount your preferred optic is an ideal choice for a disaster-prep rifle, and this model from a quality maker won't break the bank. 
MSRP: $968
windhamweaponry.com 
2| Mr. Heater Portable Buddy Heater
Cranking out BTUs from a 1-pound can of propane while incorporating an Oxygen Depletion Sensor and Accidental Tip-Over Safety, the Buddy Heater is convenient and safe. 
MSRP: $114.32
mrheater.com
3| Midland XT511 Emergency Crank Base Camp Radio
Five power options, including a crank, help the XT511 recharge cell phones through its USB port and serve as a connection to the outside world via its 22 channels. 
MSRP: $89.99
midlandusa.com
4| Streamlight The Siege
White and red LEDs make this D-cell-powered lantern ideal for lighting up a house when the power goes out. The Siege provides 340 lumens for 30 hours at the highest power setting. 
MSRP: $60.20
streamlight.com
5| First Alert Standard Home Fire Extinguisher 
In a disaster, the local fire department may not be a phone call away. Having your own fire extinguisher handy might help prevent a further disaster. 
MSRP: $34.99
firstalert.com
6| Duck Max-Strength Duck Tape
Useful for innumerable tasks, Duck Tape proves to be an essential item for all homes. 
MSRP: $12
duckbrand.com 
7| Quake Kare Potable Aqua Purification Tablets
Adding two tablets to a quart of liquid disinfects questionable water, killing harmful bacteria and making it safe. 
MSRP: $5.95
quakekare.com
8| MRE Star MREs
Available in cases of 12 or as a 60-day supply, each shelf-stable,  8-ounce entrée contains 1,100 to 1,300 calories. 
MSRP: $79.95 (for 12); 
mre-meals.net
9| Adventure Medical Kits Weekender
Having a comprehensive kit with instructions, advice and techniques combined with a week's worth of medical supplies might save your life. 
MSRP: $60
adventuremedicalkits.com 
10| Zippo 4-in-1 Woodsman 
This combination axe and bow saw is handy for providing kindling and firewood, as well as clearing downed tree branches post storm.
MSRP: $89.95
zippo.com 
11| Thetford Porta Potti Model 335
This ergonomic toilet is easy to maintain and includes a lid latch, bellows-pump flush, sealed valve and rotating pour-out spout. 
MSRP: $114.13
thetford.com
12| Sterilite 16-Quart Storage Box
Available in multiple sizes, stackable Sterilite Storage Boxes are a great way to organize your disaster-prep items. 
MSRP: $4.99
sterilite.com 
13| WaterBOB
Convert your bathtub into an emergency fresh-water reserve with this device that's capable of storing up to 100 gallons of water for as long as 12 weeks. 
MSRP: $34.95 
waterbob.com 
14| Yamaha EF2000iSV2
This compact and quiet inverter/generator delivers enough juice to power a small refrigerator, a space heater or even a television set. 
MSRP: $899
yamahamotorsports.com
15| Jaccard Home N Away Portable Stove
If power goes out and you can't operate your microwave, range or oven, this stove provides a small cooking space that runs on compressed gas. 
MSRP: $29.99
jaccard.com