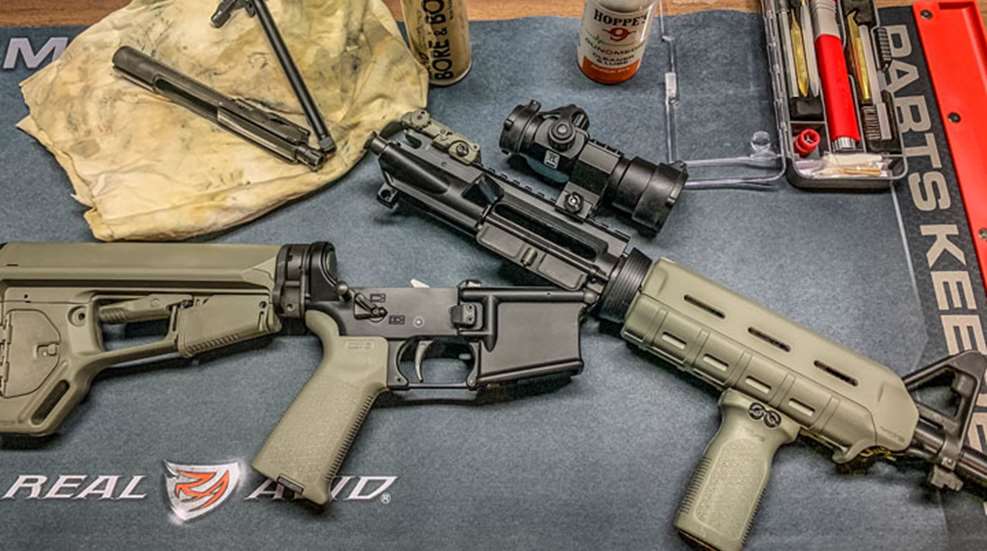 With the country on lockdown, most of us are stuck at home. Those of us lucky enough to be employed are working from our often hastily created home offices, or walking the laptop/tablet around the house as we weave through children forcibly home from school and dogs thrilled that we're here to play with them. We may not have toilet paper or eggs, but one thing we have in abundance is time.
That leaves us looking for something to do to avoid cabin fever, going stir crazy or just generally succumbing to the malaise of social distancing. Thankfully, there's a great way to kill time. By great, I mean actually really irritating and tedious, at least in normal times. But normal times these ain't.
Cleaning guns is no normal person's idea of fun. (If it is your idea of fun, trust me on this, you're not normal.) But the truth is, when everything else is closed and there's literally nothing else to do, cleaning guns becomes a thing you can do. It's also moderately important for the functionality and life of your firearm, and a great way to get to know your guns and how they function.

This is particularly true for all of the new gun owners out there who just realized the importance of having a means to protect themselves when the police stop responding to "minor" crimes and cities start releasing prisoners to…well, for some reason.
Given that many newly minted gun owners may not even know the name of the firearm they just purchased, cleaning said gun is more than just a way to pass the time. It is a lesson in the gun's operation, takedown, critical parts and a way to familiarize oneself with the operation of the firearm when indoor (and many outdoor) ranges are closed. It is also a great time to begin practicing safe handling of firearms, which is the most important part of owning a gun.
Now, this is not meant to be a how-to article. There are oodles of models of guns out there, and each has a unique (or at least slightly different) takedown procedure, so I won't get into such details. There are plenty of articles on this website and others that can help you with that.

You can also learn a lot from the included-with-your purchase neat little novel about a Spanish adventurer named Manual. And, of course, there is a plethora of cleaning products and tools out there, many of which will work well.
What I will do is stress the one constant for every firearm: follow the safety rules.

First, get all live ammunition out of the room where you plan to clean. Then, check to make sure your gun is unloaded. Drop the magazine, rack the slide, pull the charging handle, open the cylinder, break open the action, open the loading gate—whatever the procedure is for your gun, make sure it is unloaded, then make sure it is unloaded again.

A third time doesn't hurt either. Once you've done that, follow the safe disassembly (or fieldstripping or takedown) procedures found in the scintillating escapades of Manual. Make sure you keep all the parts together (a cluttered desk is not a good place for cleaning guns) so you can reassemble it correctly when you're finished cleaning.
Next, clean that gun real good. You've got plenty of time, so pretend the late, great R. Lee Ermey has demanded your firearm be fit for Mother Teresa to eat off of. Lubricate lightly, with great care to ensure areas of metal-to-metal contact receive a coat of lubricant, but not too much—you don't want to overlubricate lest dirt stick in important moving parts or the lube itself cakes up if you don't shoot the gun for a while. Then, following Manual's lead, put everything back together.
This process should eat some of that surplus time you've got, and stimulate your brain more than whatever pablum you've already watched on Netflix. It requires far less commitment than finally getting around to cleaning the garage, emptying the attic or changing that lightbulb, and it allows you to spend some time getting acquainted or reacquainted with your firearm(s).