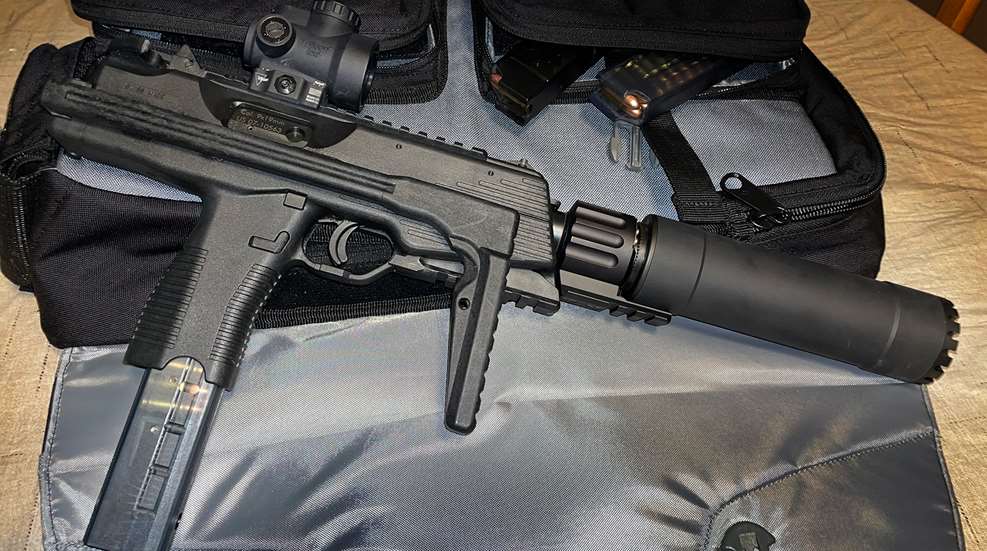 Friends can be more than a source of good company or a laugh, they can also provide useful things like advice, an alibi or inspiration. My friend Bo has been a source of all of those things to me since we met in high school more than 30 years ago. Among the many similar interests we share, working with firearms and shooting them are close to the top of the list. Often times, we would help with each other with projects, whether a second pair of hands were needed or to serve a soundboard in an effort to carry a concept from drawing board to workbench.
Back in the early Aughts, Bo introduced me to the alluring process of process of building "short-barreled rifles." I was hooked instantly, and before I knew it I had soon formed a lengthy list of future NFA-related projects. One of the items contained therein was a semi-automatic pistol named the TP9 made by Swiss-made defense supplier, Brügger & Thomet or more commonly B&T AG. While the company has operated out of the U.S. for many years, before it became stateside, the TP9 was originally imported by DS Arms, (aka DSA) another arms manufacturer, better known for producing many variants of the famed FN FAL. My B&T TP9 bears the DSA rollmark and upon purchasing the pistol, I immediately began the lengthy process to register the firearm as a SBR, which was eventually approved. However, for the last several years it has remained locked away in the confines of the Boyd Bunker, largely considered an incomplete project. In order to understand why, a closer examination of the TP9 is required.
Tipping the scales at a mere 3 pounds, 1.5 ounces unloaded; with its stock folded the gun is slightly more 1 foot in length. (In fact, to put the gun's weight into perspective, three fully loaded TP9 15-round magazines weigh more than the TP9 itself.) Its compact size and negligible weight lend itself an intermediate style of firearm—between a pistol and a submachine gun (SMG). While some may point to other SMGs of similar size such as the Ingram MAC-10, Steyr MPi 69, the Steyr TMP, the Uzi Pro or even the Uzi Micro, the vast majority of those iconic guns are comprised of steel and, therefore, noticeably heavier. Since a large portion of the TP9 features polymer components, it is significantly lighter.
Its size is further enhanced by the fact that the TP9 is fed by magazines inserted through the grip like most conventional semi-automatic pistols, which makes it well balanced and quite maneuverable. Magazines are made from a semi-transparent or smoke-like polymer and are available in 30-, 20- or flush-fit 15-round capacities.
While the grip may not boast any of the ergonomic features commonly found on most of today's pistols like interchangeable backstraps, finger-grooved frontstraps or aggressive texturing, some may view the TP9's grip as utilitarian. However, its shape and size provide a notable level of comfort and, more importantly, it offers ample purchase and the fire controls are easily accessible.  
While the frame of my TP9 features a push-button, cross-bolt safety, current models boast a rotating lever, similar to those found on AR-pattern rifles. Also of a push-button configuration, the magazine release is located on the left side of the grip, a common location for most pistols. It is also reversible, providing an added element of versatility for consumers.
So, given the B&T TP9's useful features along with its obvious versatility, why has my NFA-registered TP9 short-barreled rifle remained locked away in my gun safe for so many years, doomed to be viewed as an incomplete project?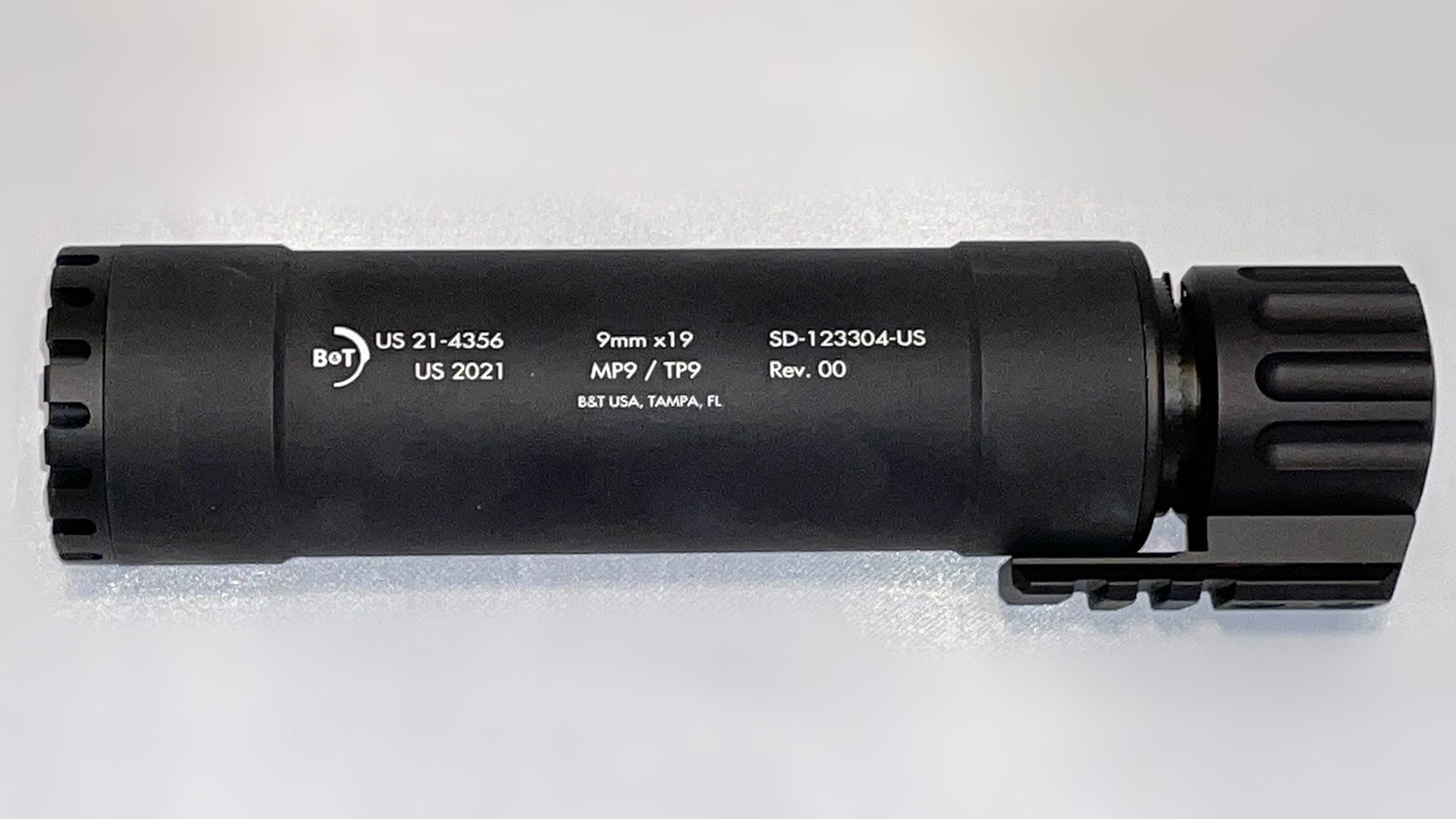 While the top half of the TP9's upper boasts a muzzle that could accommodate a sound suppressor, the device was specifically designed for it. That proprietary suppressor did not interface with the muzzle via the conventional externally threaded muzzles commonly seen on most current, U.S.-made firearms. Instead of directly screwing onto the TP9, the suppressor specifically made for the gun interfaces with via HK-style tri-lug that adorns the gun's shrouded 25 mm muzzle. Given this pseudo-proprietary design, no aftermarket manufacturer produced an adapter to convert a conventional direct-thread suppressor to be fired on a tri-lug-muzzled firearm. To make matters worse, by the time I was able to purchase the TP9's suppressor, DSA was no longer the importer for B&T firearms and the manufacturer had yet to secure a U.S.-based location to call home—leaving me, in essence, a day late and a dollar short. In fact, it wasn't until about a year ago that I became aware of B&T USA when a co-worker introduced me to the firm's VP of marketing, Chris Mudgett. Eventually our conversation turned to the TP9 collecting dust in my safe due to my poor timing. Mudgett responded by telling me that my timing was hardly poor. It turns out B&T USA was in the process of completely redesigning the suppressor for the TP9 and the replacement was going to be part of the company's Reduced Backpressure System (or RBS) line of suppressors.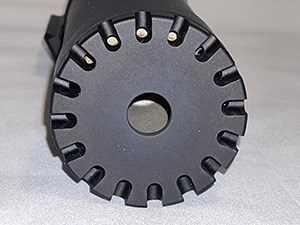 A major component of its "flow-thru internal design" centers around a low-pressure chamber that absorbs a substantial amount of gasses, thereby reducing the amount of blowback and back pressure. Unlike a conventional suppressor that propels an abundance of gases back into the shooters face, the TP9 RBS redirects 30 to 40 percent of the gases in front of the shooter through several vents surrounding the device's endcap and muzzle. Its low-pressure expansion chamber minimally increases the size and weight of the suppressor when compared with competing brands with conventional baffle stacks. However, this is hardly a bad thing. Back pressure from conventional suppressors typically increases a firearm's bolt speed by approximately 30 percent, whereas with the RBS installed bolt speed increased by a mere 4 percent. Therefore, from a maintenance standpoint, B&T's RBS helps the firearm run more efficiently. Similarly, less back pressure also equates to less wear and tear on the firearm's major components and, in the case of a direct-gas-impingement-style gun, less carbon fouling being able to flow back into the arm's inner workings, which translates to a cleaner system that, in theory, should be able to run for an extended period of time. From a shooter's standpoint, suppressors containing the RBS significantly minimizes—and in some cases completely eliminates—excess gas pressure from escaping from around the changing-handle and ejection-port areas of firearms.
How does such a system benefit the consumer? This new system also benefits the shooter from a health and safety prospective as well. According to the information contained on the B&T USA website, back pressure is more than run-of-the-mill gunsmoke. Among other things it contains harmful things like ammonia, carbon monoxide and hydrogen cyanide, as well as the content and composition of up to seven heavy metals contained in the dust emitted from the guns during prolonged firing. As a southpaw shooter, I rejoice at the notion of having to deal less with burning eyes and choking on the noxious gases—not to mention enduring the frustration and spectacle of prominent carbon scoring on my face from one suppressed shoot session to the next and the prospect of being able to somewhat lessen or potentially eliminate such an embarrassing feat is quite appealing—I look forward to no longer looking like my face came in contact with a backfiring muffler upon returning from the range—whereas from a health standpoint it's a no-brainer, thereby significantly minimizing potential respiratory problems caused by the inhalation of exhaust gases. A definite win, win on both counts.
The TP9 RBS measures 8 inches long and a generous 2 inches in diameter, compared with most 9 mm cans that are just shy of 1.40 inches. The added girth provides more volume for trapping gas and containing noise without adding length. It is finished with Type III Hard Coat Anodized; Cerakote finish and comes with a proprietary Ratchet QD-locking mount that can be mounted/dismounted to/from the firearm in a matter of seconds. Interestingly, the mount also contains an integral Picatinny rail (which can be positioned at either the 6- or 12-o'clock positions) and allows the addition of weaponlights and/or aiming lasers-aiming devices. Nonetheless, this can, though sizeable in the eyes of some, tips the scale at a mere 17 ounces thanks to aluminum construction.
During the several months it took to received NFA approval for the new suppressor, I focused on two TP9 accessories that were in desperate need of an upgrade: A replacement for the gun's OEM charging handle and a better optic.
My TP9 is of early manufacture, and its OEM charging handle reflects that. Its body flexes quite noticeably when cycling the bolt and the tabs on either side are mere nubs that don't offer much in the way of a non-slip grip.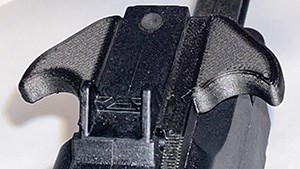 B&T USA's Mudgett suggested I replace it with an aftermarket Falcon Changing Handle from Custom Smith Manufacturing. Not only did the part appear to made from a much heartier synthetic material, the tabs that flanked the rear of the handle are much more prominent to promote easier access/actuation under stress—or if you happen to be a wheelchair-bound gimpy gunwriter with limited reduced fine motor skills and reduced hand strength due to Cerebral Palsy.    
Shortly after successfully registering the gun as a short-barreled rifle many years ago, I mounted a first-generation Burris Fastfire reflex-style MRDS on the TP9 via a Falcon Industries throw-lever mount. While I appreciated its micro-size footprint and the minimal amount of real estate that the optic occupied along the top rail, I really wanted something with a larger eye box and perhaps an auto-on feature for ease of use. I checked our optics inventory and opted to install a Trijicon Miniature Rifle Optic (MRO) reflex sight with an integral throw-lever mount. In addition to its 2-MOA, green-colored dot, it boasted a 25 mm objective and a much larger aperture, which would make target acquisition much easier. Features such as a brightness-control dial specifically designed for ambidextrous usage, a mid-adjustment "off" position and eight discernible brightness settings were added bonuses over the MRO's predecessor. With the replacements made and several decades of dust wiped away from my TP9, I took a moment to lube it up prior to tossing it, along with the newly acquired suppressor and some ammo into a range bag and heading to the range to eagerly see what the duo was capable of.
Since a good 20 years had passed since the last time I had put any rounds through my TP9, I had no idea what to expect. However, I'm pleased to report, gentle reader, that this finely crafted piece of Swiss machinery did not disappoint. Despite only having a single brand of 9 mm fodder to feed it, my co-worker Jay Grazio and I fired in excess of 300 rounds of (across three different bullet weights) through the TP9 with only a single failure to fire. Yet, that particular round cooperated after being loaded into the next magazine, After minor adjustments to elevation adjustments to the optic, at 15 yards the best group unsupressed measured an impressive slightly larger than half an inch. Once the RBS was securely ratchetted into place, there was no noticeable first-round pop or any discernable point-of-impact shift, though group sizes did widen oh so slightly, with the best group was the Remington UMC 124-grain FMJ at .73 inch. Whether the culprit was the can or the overly enthusiastic trigger fingers of two giddy gunwriters immersed in their work, who's to say, but the TP9 proved itself to be capable impressive accuracy whether with or without the hushpuppy installed. Moreover, during the suppressed strings, the RBS lived up to its name. There were no obvious signs of increased backpressure. The bolt cycled with the same degree of consistency and even the impact area of our brass confirmed that the RBS was functioning as advertised.  Thanks to the added mass of the suppressor, muzzle rise was virtually non-existent, which attributed our ability to deliver impressive accuracy combined with rapid follow-up shots.
For this southpaw-afflicted shooter the most impressive attribute of the TP9 RBS can be taken at face value: given the close proximity of the ejection port to the shooter's face when firing the TP9 RBS left-handed, you won't be blinded be smoke, won't be forced to inhale harmful fumes or wind up bespectacled by carbon scoring.
If you're looking for a good-looking, reliable and incredibly accurately firearm to add to your collection of NFA firearms, the B&T TP9 RBS not only shoots as good as it looks, it will make you look good in the process.
Specifications: B&T USA TP9
Manufacturer: B&T AG, Switzerland
Importer: B&T USA; (813) 653-1200, bt-usa.com
Action Type: Recoil-operated, semi-automatic
Caliber: 9 mm
Capacity: 15, 20, 25, 30 rounds
Frame: Polymer
Slide: Polymer
Barrel Length: 5.1 inches
Sights: Fixed front and rear; Picatinny rail for mounting optics
Trigger Pull Weight: 9 pounds, 4 ounces
Length: 11.9 inches (collapsed), 20.6 inches (extended)
Width: 2.63 inches
Height: 9.68 inches (w/ 30-round magazine)
Weight: 3 pounds, 12 ounces
Accessories: Backup sights, cleaning kit, 30-round magazine, manual, Picatinny rail section, hard case
MSRP: $2,116
Specifications: B&T USA TP9 RBS Suppressor
Manufacturer: B&T AG, Switzerland
Importer: B&T USA; (813) 653-1200, bt-usa.com
Bore Diameter: 9 mm
Construction: Aluminum
Finish: Type III Hard Coat Anodized; Cerakote FDE
Length: 8 inches
Diameter: 2 inches
Weight: 17 ounces
Accessories: Soft case
MSRP: $690
Shooting Results
 
 
 
 
 
Group Size Unsuppressed
Load
Smallest
Largest
Average
Remington UMC 115-grain FMJ
0.51
1.65
1.03
Remington UMC 124-grain FMJ
0.7
0.82
0.77
Remington UMC 147-grain FRN
0.91
1.19
1.06
 
 
 
Group Size Suppressed
Load
Smallest
Largest
Average
Remington

  UMC 115-grain FMJ

0.79
1.95
1.25
Remington UMC 124-grain FMJ
0.73
1.65
1.09
Remington UMC 147-grain FMJ
0.77
1.5
1.01
Temperature: 68 degrees Fahrenheit. Accuracy measured in inches for three consecutive five-shot groups at 15 yards from a benchrest.