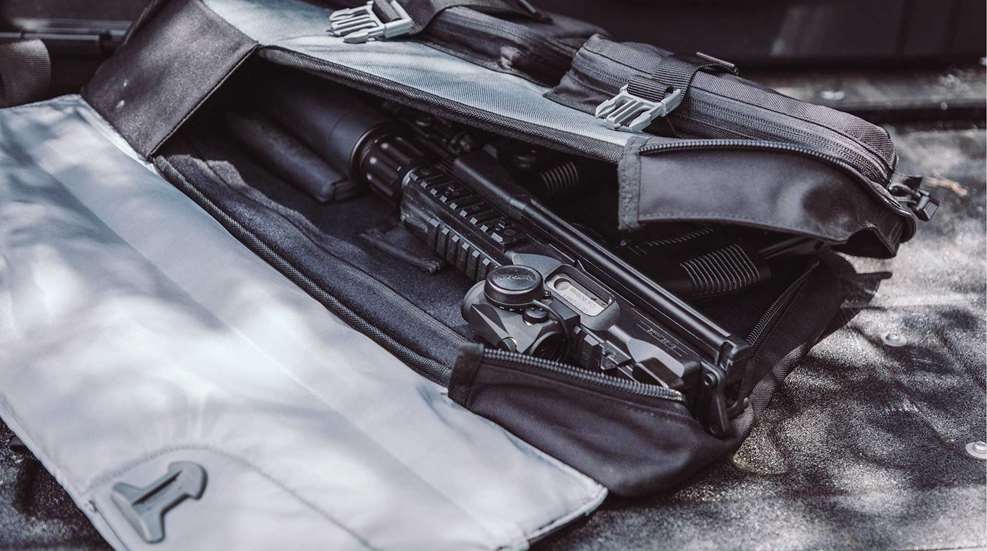 Celebrating one's first-year wedding anniversary is typically meant to be a time of joy. To mark the occasion, my new spouse and I were planning to take a long weekend in a major city in Southeastern Virginia, sample plenty of the local cuisine and engage in one of my wife's pass-times: sight-seeing. However, when a friend of mine—who has done a lot protect our nation throughout the war on terror—learned of our plans and our destination, he quietly pulled me aside and informed me that the city in question was home to more that one suspected terror cell and, as such, we needed to be extra careful and "plan accordingly." Translation: Be extra vigilant. Upon hearing the news, my typical concealed-carry complement of a semi-automatic handgun paired with two or three spare magazines, a flashlight and a knife suddenly seemed inadequate. My solution was to take my B&T TP9 NFA-registered short-barreled rifle with some spare magazines in an aftermarket bag. While the bag lacked sufficient storage compartments, the added gear did provid the added peace of mind needed to take the trip and enjoy ourselves—knowing that I had extra armament handy should it be needed. Thankfully, it wasn't needed and my wife and I celebrated our anniversary as planned.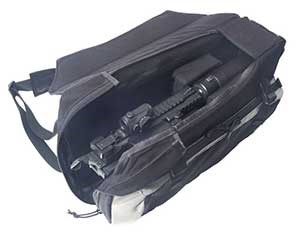 For TP9 owners in need of such a bag today, B&T USA offers its Discreet Shooting Bag. Designed for use in security details or covert operations, the benign-looking conveyance is gray and black in color and resembles a run-of-the-mill messenger bag with a padded shoulder strap. The body of the bag sports a large outer flap secured by two robust fastex buckles. Below are two sizable exterior zippered pockets large enough to hold either spare magazines (including 30-rounders) a box of ammunition or even your Form 4.
Releasing the buckles and moving the flap exposes the main compartment, which is accessed by a zipper located at the rear of the bag. Opposite the zipper, is curious-looking round port that is covered in mesh and concealed by small pouch along the bag's exterior. However, unlike the bag's other compartments, this one, while functional, is removeable and its primary purpose is to conceal the bag's firing port. That right, as its name implies, this bag is designed to be fired through, if necessary. Moreover, it is meant to be used with the TP9's suppressor installed. With the can in place, load the gun, chamber a round and engage the safety. Then, case the gun—taking care to slide the muzzle end of the suppressor into the firing port. Next, position the two hook-and-loop backed pillows along the inside of the case walls where they cradle the gun to provide maximum support prior to zipping the case closed and resecuring the flap via the fastex buckles.
There a handle along the top of the case for those who prefer to tote it like a briefcase, or simply toss the strap over your shoulder and go hands-free. Either way, when needed you can access your gun in two ways: Via the fastex buckles and the zipper, which allows for complete deployment of the firearm. Or, to shoot though it, simply unzip the back of the case, slide you right hand inside, grip the gun, while disengaging the safety and fire the cased TP9 until the threat is neutralized. (There's even a handle along the back side of the case for added purchase from the support hand.) Since shooting through the bag doesn't allow one to utilize their gun's sights, it should only be done as a last-ditch effort. The B&T USA TP9 Discreet Shooting Bag offers the convenience of a carry case, and much more. TP9 owners rejoice. There's a new way to carry/transport your TP9 and Suppressor while maximizing convenience, without compromising one's readiness. MSRP for the Discreet Shooting Bag is $296.99, and more information is available at b-tparts.com