by
Shooting Illustrated Staff
posted on December 18, 2016
Support NRA Shooting Illustrated
DONATE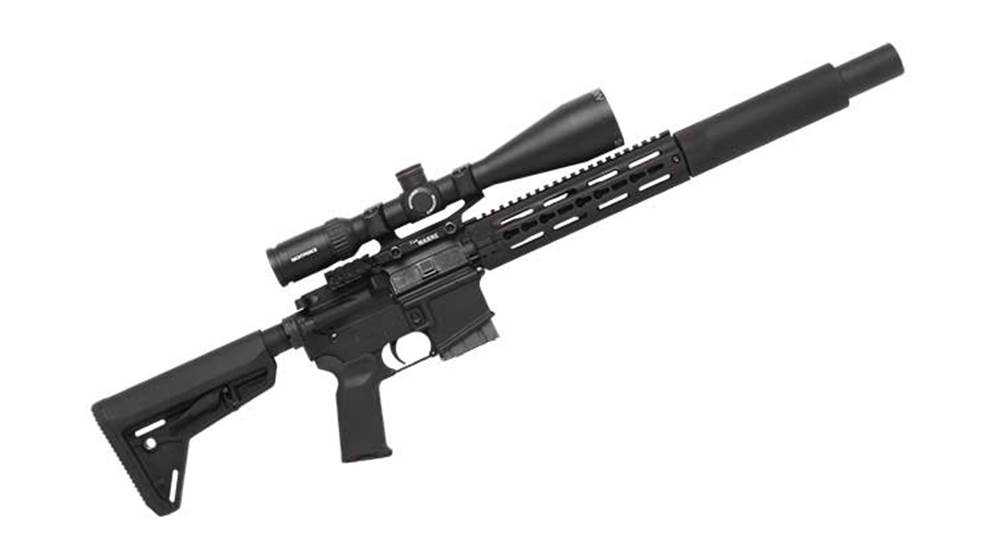 Tactical Solutions
announced an expansion of its
TSAR AR-style rifle line
with the introduction of the TSAR-223. The TSAR-223 follows the TSAR-300 as a suppressor-ready rifle that keeps overall length down with a suppressor attached.
The TSAR-223, chambered in .223 Rem. only, features a 12-inch barrel that is suppressor-ready, but the system is able to keep a short overall length (OAL) with a suppressor attached. Tactical Solutions claims that this configuration abides by NFA regulations through the use of a
permanently-affixed 
barrel shroud. The shroud extends beyond the barrel, bringing the overall barrel length to more than 16 inches.
The shroud features an interior cavity that is sized to accept .223 Rem. suppressors. Simply slide the suppressor into the shroud and thread it onto the barrel. The shroud will encompass most of the suppressor, allowing for a more compact and controllable OAL with a suppressed rifle.
The benefit of such a system is that, according to Tactical Solutions, no $200 tax stamp has to be paid for the use of a short-barreled rifle. The only tax stamp necessary is for the suppressor, which does not have to be permanently affixed to the barrel. This enables users to easily clean the suppressor and rifle, as well as allow suppressor usage on other firearms.
The suggested retail price on the TSAR-223 is $1,395.