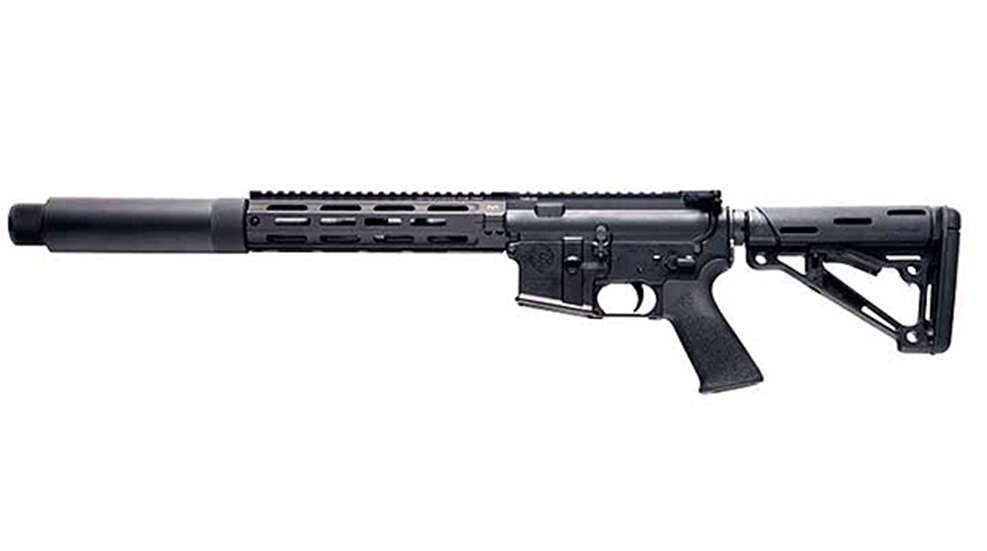 The .300 BLK was born for short barrels and silencers. A winning combination, the only thing not to like about this is the $200 NFA tax stamps you'll be forced to buy. Two of them, totaling $400. Stretch your barrel length to sixteen inches and you won't need one of those stamps. But add your 6- to 9-inch long silencer and now you're stuck with a needlessly long rig. Bummer! But what if you could you retain benefits of a suppressed Short Barreled Rifle (SBR), while eliminating the hassles of NFA SBR rules, regulations and cost? The Tactical Solutions TSAR is your ticket.
The TSAR is an 11-inch-barreled gun with a permanently attached shroud technically extending the barrel length out to a full 16.1 inches. When I first saw the rifle I thought, "gimmick." I was wrong. "Ingenious" is a better description.
The shroud, and the surprising accuracy coming from this Tactical Solutions configuration, is why you'd buy this gun. Past about 9 inches on a .300 BLK barrel you're just wasting barrel length. You don't need it for accuracy. You don't it for velocity as the powder has already burned. Your silencer fits inside the shroud adding only a little length to your rifle. It's pretty close to a standard 16- or 18-inch AR-15.
The shroud's inside diameter of 1.75 inches enables the fitting of a wide variety of suppressors under it. Tactical Solutions says, "Not all .30 caliber suppressors are compatible with the TSAR-300. Suppressor cannot require access to the threads to detach/attach." I talked to Rugged Suppressors about using their Surge 762 that mounts via a quick attach/detach mechanism. No problem, they tell me. Just mount the silencer to their break/muzzle device and then thread the can on like you would a standard thread mount silencer.
The complete TSAR has nice Hogue furniture, comes with a fake silencer and an ALG Defense QMS Trigger that creeps a bit, albeit smoothly, breaking at 6.75 pounds. Mine came with a Tactical Solutions M-LOK two-piece rail.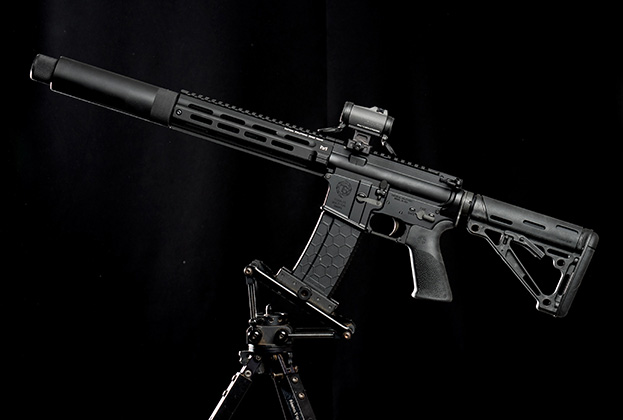 How accurate is it? The American Sportsman Shooting Center in Dallas/Fort Worth has a high tech 100 yard tunnel where scoring is real time compliments of a computer screen at my left elbow.
I imagine the 1:9-inch twist barrel will produce one to one-and-a-half inch groups at 100 yards. This would be fine for general hunting, home defense and ringing steel. It would be a good value at the TSAR price point. I thread on my Liberty Mystic X suppressor and commence shooting.
Much to my surprise my groups are sub MOA (Minute Of Angle). Shooting Gorilla Ammunition's subsonic 208 grain Hornady A-MAX loads, I get .91 inches. Shooting supersonic Remington 125 grain OTM I shoot .83 inches.
My TSAR gives me the advantages of an accurate suppressed .300 BLK SBR, saves me one $200 tax stamp, and leaves me free to cross state lines without notifying the BATF. In short, it simplifies my life while making me smile with every trigger pull. The rifle I didn't understand at first is now one of my favorites!