by
Shooting Illustrated Staff
posted on November 20, 2014
Support NRA Shooting Illustrated
DONATE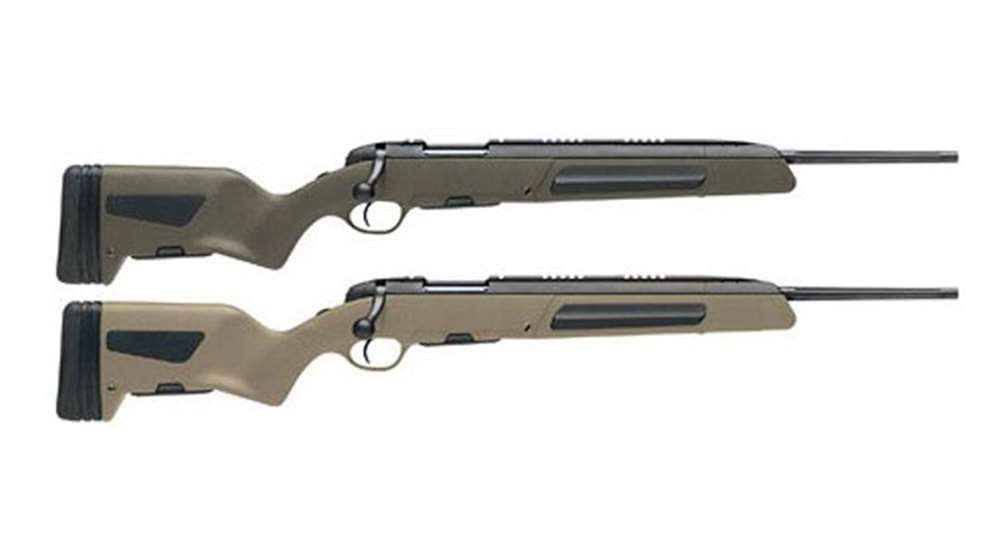 Steyr Arms recently announced that it has expanded its Scout Rifle line with the introduction of OD Green and "MUD" stock variants, both of which are now on American soil. Steyr also announced a substantial across-the-board reduction to the suggested retail price of its Scout Rifle offerings.
Due to the increased popularity of the Scout Rifle and a large purchase order from its parent company in Austria, Steyr is now offering a lower retail price of $1,699 for a Black, Gray, OD Green or MUD Scout Rifle in .308 Win. And now through the end the year, Steyr is offering an additional $200 savings, making a new .308 Scout Rifle just $1,499.
Steyr's OD Green was first used more than 40 years ago on the legendary SSG 69 tactical rifle. OD Green was rebooted last month with the introduction of the AUG A3 M1 rifle, and it is now available as a standard stock-color option for the Scout. The new MUD color offering is similar to the familiar field dark earth color, and it also now available on the Scout Rifle.
The Steyr Scout was the result of a unique and nearly decade-long collaboration between scout-rifle-concept creator Lt. Col. Jeff Cooper and Steyr Mannlicher, GmbH. The lightweight, .308-caliber bolt-action, all-purpose Steyr Scout rifle can accept a low-powered, forward-mounted scope for accurate fire and both-eyes-open operation to detect flanking dangers. Backup "ghost-ring" iron sights integrated to the top rail can be deployed within seconds should the optics fail.
In keeping with Cooper's requirement for a magazine cutoff, Steyr incorporated a two-position magazine system that allowed the rifle to be fed individually with the five-round magazine in a lowered position. The magazine could be seated one step further with minimal pressure, allowing the bolt to feed cartridges directly from the magazine. A second five-round backup magazine is contained in the buttstock.
The Scout Rifle also features a bipod that is seamlessly integrated to the stock when closed. Five sling-swivel attachment points allow the addition of Cooper's favored Ching Sling on either side of the rifle.
Measuring just 39.4 inches and weighing in at 6.6 pounds, the Steyr Scout also features a fluted 20-inch cold-hammer-forged barrel.