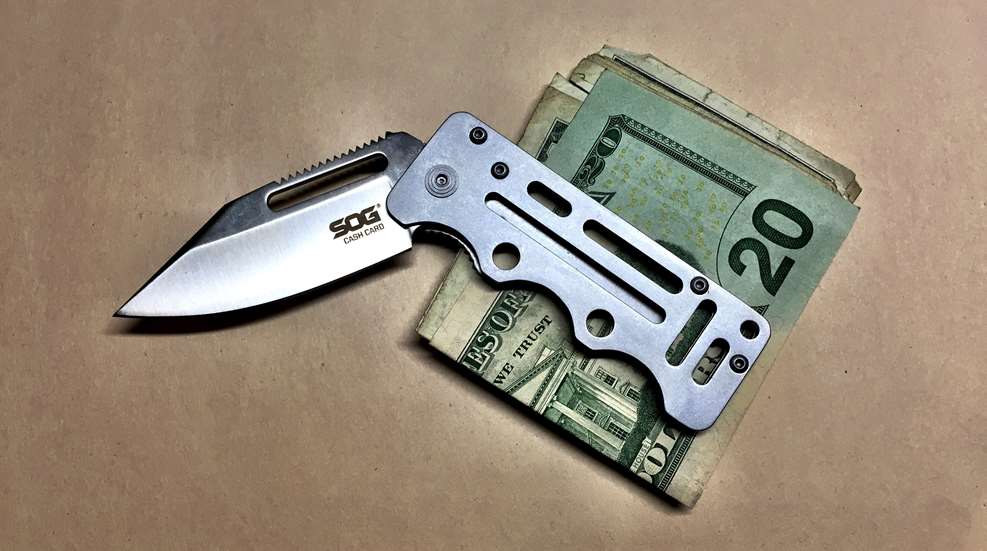 As with many items we rely on every day, there's a balance struck between utility and bulk. The perfect tool, with every accessory you could ever need, isn't helpful if it's too heavy to lug around all day. Ultralight items are easy to carry, but often weight savings come at the expense of being able to use easily.


SOG's Cash Card knife
offers a generous handle for purchase, a sharp 2.75-inch blade with liner lock and a handy pocket clip that can also double as a money holder. It can be deployed with a single hand; while not quite as intuitive or easy as a thumb stud or assisted opener it does not require two hands. The liner lock engages positively and surely, and requires minimal effort to close.

At a total weight of only 2.0 ounces and an extremely thin profile, the Cash Card fills the role of an EDC pocketknife well. It's unobtrusive, thin with a blade composed of 8Cr13MoV - RC. 54-58 steel. It's not perfect for every role, but it's well-suited to be the knife you have with you whenever possible.
MSRP: $45