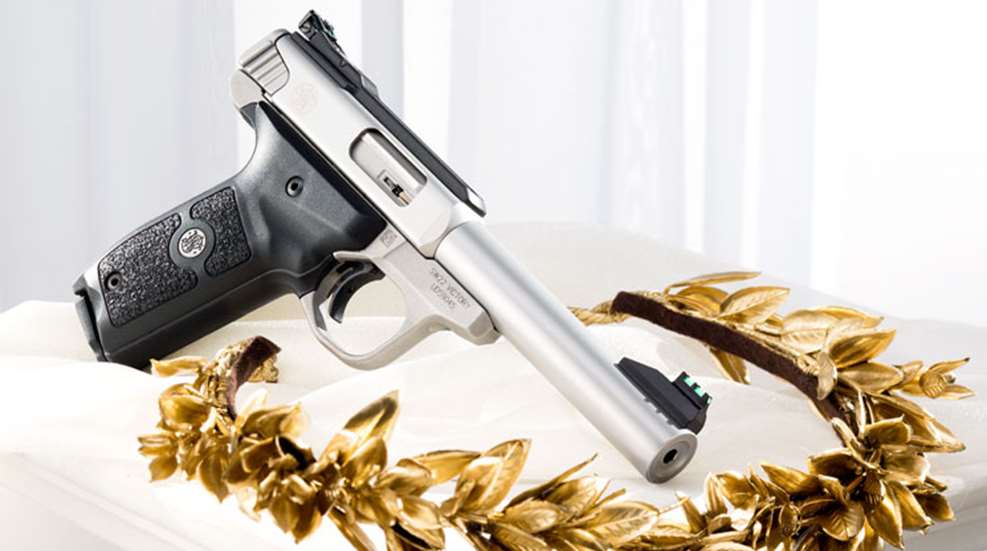 Smith & Wesson's splendid, new SW22 Victory .22 LR pistol may be about as general-purpose as can be which, in a way is ironic because it seems to have been designed with a highly specific target in mind: the Ruger Mark III. While we live in a blessed age of wonderful new tactical pistols driven by the growth of concealed carry, that Smith & Wesson would take aim at the .22 LR-pistol market reveals much about the importance of that market and what has been the status quo therein.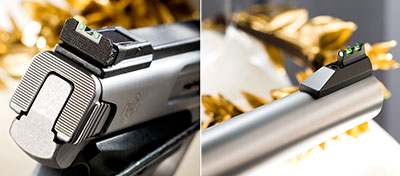 A rimfire handgun is one of life's essentials. It's what you want for perfecting your trigger press without the distraction of heavy felt recoil. It's what you take to the range when you want to shoot all day without breaking your ammo budget—or if you don't have access to a heavy-duty backstop—or you're concerned about excessive noise. It's what you need for rolling tin cans in a field or peppering the 10-ring in a bullseye match. You take one into the woods during small-game season. It's also what you use to dispatch pests on rural property or maintain in your kit for emergencies. Perhaps most importantly, it's what you keep on hand to introduce newbies and kids to shooting. That's a lot of responsibility for those diminutively chambered guns.

While Browning's Buckmark is a fine and versatile design, it is the Ruger that has long dominated the market. It is admittedly excellent, able—with some effort—to be configured for any of the tasks described above. Moreover, it is so ubiquitous that the aftermarket supports it with a wealth of accessories and modifications.

So, how do you target such an established product? Identify a perceived weakness and exploit it. While the Mark III seems all but perfect, it has always had one fault: It is difficult for the average consumer to reassemble once it has been fieldstripped. I tried it once and vowed never again, handing the bag of parts to my gunsmith, who merely grinned, knowingly. In fact, after having titanium firing pins and match triggers installed in both my Mark IIIs that I dedicated to bullseye shooting more than a decade ago, I haven't taken them down since. A BoreSnake, a shop towel, cotton swabs and some CLP have kept them humming along without incident.

Also, while the Mark III can be configured numerous ways, returning it to a previous condition isn't always easy. Though my incremental, bullseye-specific modifications yielded excellent results in competition, frequently converting the pistols back to woods guns or trainers was something less than fun.


Modularity
The Victory has many things going for it, but nothing more so than modularity. Smith & Wesson set out to make this pistol easy to disassemble and it succeeded beyond all reasonable expectations. The SW22 breaks down with a mere Allen wrench (included). The gun appears solid, yet take out the magazine, remove the disassembly screw with a few turns of the wrench and you can lift the receiver off of the grip frame. You can then slide out the bolt. That's it; you're disassembled and ready for cleaning. But wait—there's more. Loosen a second screw at the base of the barrel and the barrel can then be slid off of the receiver. Yup, you can swap barrels. (More on that shortly.)

The Victory has some very nice components, including the fully adjustable sights. Both front and rear sights have light-gathering, green, fiber-optic pipes. The pipe in the rear is in the form of a semi-circle and works with the straight pipe up front to present the shooter with a bright, three-dot sight picture.

If you'd prefer an optic, the Victory is good to go. The pistol comes with a lightweight Picatinny rail. Remove the rear sight and install the rail with a single screw. The rail even incorporates a fixed rear sight that works with the front sight, should you need to remove an optic but wish to keep shooting without reinstalling the adjustable unit.

Small niceties abound on this gun. The rear of the bolt has cocking ridges and flares slightly, making for good, solid purchase when chambering a round. The thumb safety is polymer for comfort, but steel-reinforced for strength. There is an adjustable trigger stop to fine-tune your pull. The textured grip panels are contoured to fit a variety of hands and are removable in anticipation of aftermarket grips. The panels thoughtfully have an arc of material removed at the bottom, making it easier to grasp and remove the magazine.

The stock barrel is a thing of beauty. At 5.5 inches, its length is ideal for a general-purpose rimfire pistol. It generates sufficient velocity while providing a good sight radius. Moreover, the heavy, bull-barrel contour means the pistol exhibits good balance, holds quite steady and recoils little. Nonetheless, it's short enough to maneuver adequately well. No, it's not nearly as quick as a pencil barrel would be, but it avoids being ungainly. The SW22 is offered with a target-crowned barrel or a threaded one with a muzzle cap.


Before The Aftermarket
So, if the barrel is so good, why is it removable? Good question. First, it allows you to exchange a Smith & Wesson crowned barrel for a threaded one, should you want to add a suppressor, but that's just the tip of the iceberg. The better part of the Victory's versatility is due to Smith & Wesson pre-emptively approaching the aftermarket. After years of popularity, the Ruger Mark III enjoys a remarkable array of aftermarket accessories, most notably from Volquartsen Custom. Smith & Wesson therefore approached Volquartsen itself early in the process of building the SW22, in a way creating a pre-existing aftermarket for the Victory. Volquartsen responded with two outstanding specialty barrels: a long, fluted, competition-style unit with removable compensator and a lightweight, carbon-fiber-shrouded tube with a threaded muzzle and muzzle protector. Want more sight radius, even greater steadiness, increased velocity and diminished recoil? Slide on the "I-Fluted" barrel. Want a barrel that's lightweight and fast-handling, yet still stiff and accurate? Want to add a suppressor? Go with the Carbon Fiber Lightweight.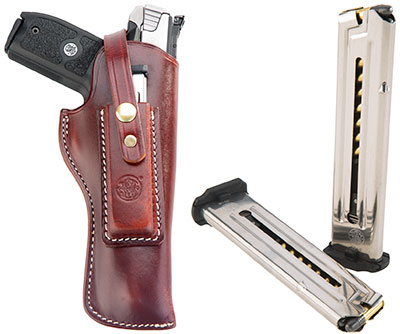 Have no doubt: the SW22 Victory in stock configuration is an excellent all-around pistol. This is no "jack-of-all-trades, master-of-none" situation, either. This handgun does everything and does it all well. It carries fine afield, its simple operation and mild felt recoil make it an excellent trainer, and it is perfectly reliable and competition-accurate out of the box. But if you want to trick it out—either to personalize it or make it task-specific—you easily can.

Bullseye fans will be pleased to note that Volquartsen Custom has also introduced both rubber and laminated wood grips for the SW22. Woodsmen should be buoyed to know Triple K has a nice field holster available that includes a retention strap and spare magazine carrier. Smith & Wesson offers a camouflage version of the Victory direct from the factory.

Precision
Generally, I'm not a big fan multi-purpose products, be they guns, holsters or boats. They can be used for different things but too often offer compromised performance at each. As stated previously, though, this handgun somehow manages to avoid that. The temporary nature of modularity usually worries me, too. Things work loose, misalign, rattle. The SW22, however, is so solid that its modularity wasn't apparent until the company reps demonstrated disassembly at a pre-production press event. My skepticism wasn't assuaged until the pistol was reassembled because that was done without any great force or effort. Slide the barrel on, snug it up with moderate exertion, then snug the frame to the receiver with about the same effort. The gun goes together and stays together. There's no rattling, no slop, no imprecision. I checked screw tension and receiver/frame tightness a couple of times during shooting sessions, due to paranoia rather than any actual indication of trouble, and each time all was well.


Victory At What Price?
The Victory would be a terrific pistol without the modularity and pre-existing aftermarket. That it does have those factors in its favor makes it nearly irresistible. But I feel that way about a lot of great stuff—until I see the price. Somehow Smith & Wesson has managed to bring the Victory to market at an MSRP of only $409. That puts it right in the wheelhouse of other high-quality, moderately priced rimfires on the market.

The pre-production model I've been using has yet to suffer a gun-related malfunction. The rim of the one cartridge that failed to fire showed a deep, sharp indentation. I just rechambered it with a different area of the rim beneath the firing pin and it went bang, as I knew it would. For several months, the SW22 has been the gun I've most often borrowed from our armory. Smith & Wesson sent it with a holster, both Volquartsen barrels and two red-dot scopes. When I need a rimfire pistol, I grab it for no other reason than I can't think of why not to. The day the folks at Smith & Wesson ask for it back, I have a sneaking suspicion they'll hear my Stewie impression: "Victory is mine!"