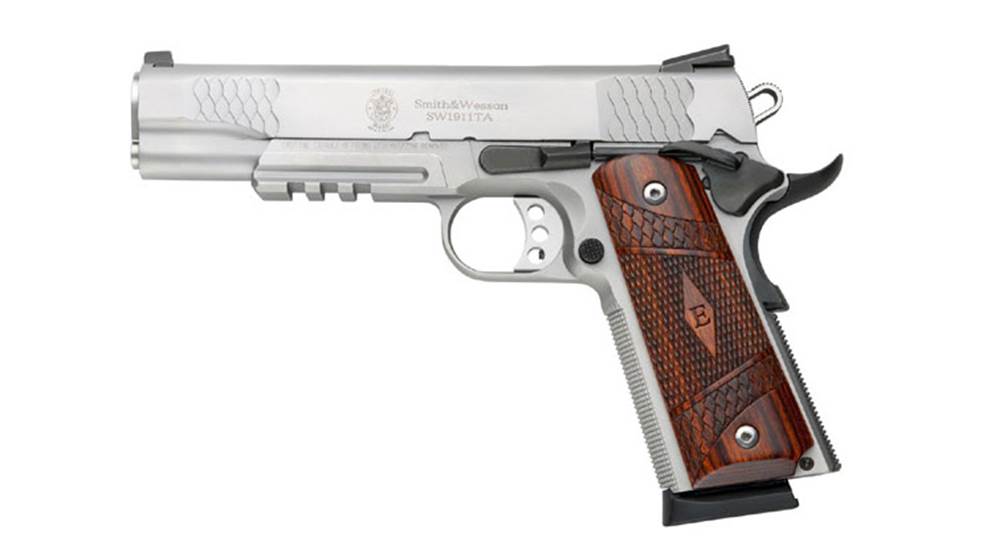 Ask a bunch of handgunners what is the greatest fighting pistol of all time, and many will tell you it's the Model 1911 chambered in .45 ACP. That's quite a testimonial for a handgun that has been around for over 100 years. Yes, there have been some "improvements" from time to time. Those 1911s built for bullseye shooting near the middle of the 20th century have incredibly crisp and lightweight trigger pulls, highly visible and adjustable sights, tuned actions and match-grade barrels. In the 1980s, action shooters demanded absolute reliability, increased capacity, flared magazine wells and anything else that contributed to greater speed. In the modern tactical world, however, the demand is for simplicity, functionality and survivability. The result is today's 1911s are the best-made pistols in the platform's history, with most capable of fulfilling the requirements for target shooting, action-pistol competition or self-defense.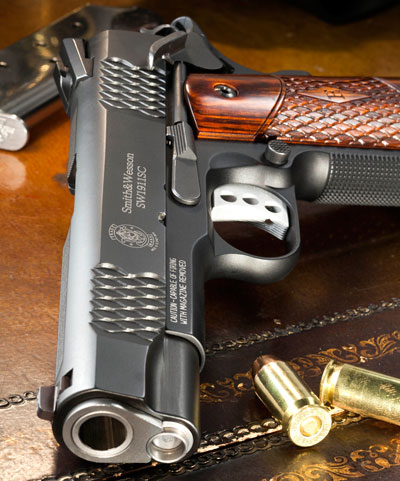 At some point in the past (like when our cave-dwelling ancestors began decorating their favorite club or stick), our vanity surfaced in the selection of our firearms. In response, 1911 manufacturers are offering pistols with many of the beauty features previously provided only as an aftermarket service by custom pistolsmiths. Now, rather than wait several months until your gunsmith finishes, you can buy a 1911 and wear it to a barbecue that same night. One of Smith & Wesson's responses to our fashion desires is its "E" Series, and while these pistols are definitely aesthetically enhanced, they are still fighting handguns.
I tested one of the company's two, scandium-frame E-Series models with a 4.25-inch barrel. The weight savings compared to that of a stainless steel frame with a 5-inch barrel is more than 10 ounces (29.6 versus 39.8 ounces). For a carry pistol, I consider this an excellent trade—the .75-inch loss in barrel length surrenders nothing in practical accuracy, while the weight loss does enhance the comfort factor. The scandium frame wears a black anodized finish, and the slide is stainless steel. If you don't like the two-tone look, the gun is available with a black anodized finish on the stainless steel slide, too.
This E-Series pistol's most distinguishable feature is the frame's round butt, something I love on 1911s with the shorter barrels. On a full-size steel 1911, I'm not crazy about it, but that's strictly a matter of personal preference and how the gun balances in your hand. What Smith & Wesson has done, and something I haven't seen on other 1911s, is extend the checkering on the backstrap down and all the way around the curve of the butt. On other pistols, the checkering stops where the curve begins. Extending the checkering all the way enhances your grip and the ability to control recoil, something very desirable in a lightweight, full-power fightting handgun. I also like the look and feel of the laminated-wood grip panels with their diamond pattern cuts and large, centrally located diamond with the letter "E" nicely engraved in its center.
The E-Series is equipped with a beavertail grip safety, which has an extended "bump" to ensure proper safety deactivation with one's normal shooting grip. It sports ambidextrous safeties, and judging from the number of 1911s sold with the dual levers, it appears either the majority of buyers seem to agree with the "two is one" philosophy, or more shooters are practicing their fighting skills using their support hand. The pistol also has a precision-fit, long trigger with three weight-reducing holes in the side and a recessed stop screw to prevent overtravel. I seem to handle a short trigger better than a long one on a 1911, and I don't particularly like the look of the three holes, but these are both minor considerations.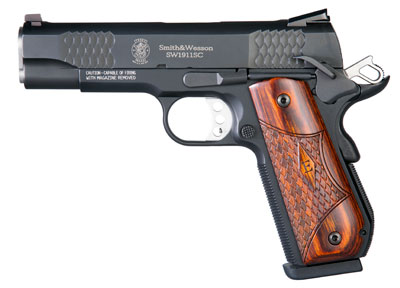 Smith & Wesson didn't ignore the top half of the 1911. Both the Commander-style hammer and rear face of the slide have serrations—the slide to break up possible glare, and the hammer to facilitate cocking with the thumb. Instead of plain serrations on the front and rear of the slide, there are diamond-pattern cuts, which are slightly larger than those on the grips and resemble the scales on a snake. They are very cool, and they assist in manually operating the slide, particularly if it's hot and your hands are sweaty. The ejection port is what the company calls a "combat ejection port." That's a good name, because it correctly suggests the last place you need ejection problems is during a gunfight.
This combat port lived up to its name during testing—I had no ejection problems at any time. The externally mounted, oversize extractor probably contributed to the gun's smooth running. I grew up with internally mounted extractors, but I suspect the larger you make the extractor, the easier (and less expensive) it is to mount it externally. Also interesting, and offering an enhanced degree of protection, was the chamfered and recessed muzzle. It's not actually recessed into the slide, but rather into the barrel bushing. If dropped, there is less chance of damage to the lands or grooves at the muzzle end of the barrel.
Since reports show a preponderance of defensive shootings occur in reduced-light conditions, take a hard look at the sights on any gun you anticipate using for self-defense. Sights that work well on daylight visits to the range may not serve your purposes as darkness descends, and the older we get, the earlier darkness arrives. Also, don't forget those occasions where you might descend into darkness, like a subterranean garage or any dimly lit structure. Despite its qualifications as a barbecue gun, the E-Series pistol has excellent low-light sights—specifically Trijicon, with their tritium vials surrounded by a white circle. Both front and rear sights are dovetail mounted in the slide, and the rear sight has a setscrew that can be loosened to adjust either right or left. As it turned out, the factory windage setting was perfect, but my 25-yard groups were consistently 2 to 4.5 inches low.
For a variety of reasons, my go-to .45 ACP load is something with a 230-grain bullet. There are exceptions—I don't consider it a breach of faith to switch when a fixed-sight handgun shoots to point of aim with 185-grain loads. My testing of the scandium pistol focused on 230-grain loads because I wanted to see what effect the heavier bullets had on felt recoil. In a nutshell, recoil in the lighter weight E-Series was noticeably stouter than with a steel gun. The heavier loads combined with the lightweight frame made me shoot slower, but since I've never been fast, I tend to concentrate on precision. In this arena, the pistol was remarkably consistent. At 25 yards with my fore- arms resting on a shooting bag, every 230-grain load produced five-shot groups ranging from 3 to 4 inches. The solution for me is quite simple: I need a taller rear sight. As it turns out, the rear sight on the E-Series 1911 is noticeably shorter than on some of my other pistols. A simple rear sight replacement would convert it into a perfect carry gun, both for up-close-and-personal encounters and those at more extended ranges.
For a sanity check, I moved to the 10-yard line and engaged some silhouette targets from the holster. I loaded two magazines with a mixture of different 230-grain loads, and went to work offhand with a speed reload between magazines. All 16 rounds stayed in the vital zone. I then loaded three magazines with a mixture of the 230-grain loads and some lighter-weight offerings borrowed from friends. Running the same drill back at the 10-yard line and speed loading the extra two magazines resulted in one round straying about .5 inch below the vital zone. Since this hiccup occurred near the end of the last magazine, there's every reason to believe it was pilot error. There were no malfunctions of any kind throughout these tests.
Let's talk a bit about reliability. When you buy a new gun, the instructions tell you to clean it before use. I never do that with a handgun because I want to see how the pistol does when it's not clean. If there are any difficulties during this period, I do not flunk it. If those difficulties continue after cleaning, the grade point average plummets. When first loading the E-Series 1911, there were a couple of failures to feed, but only when manually operating the slide—there were no malfunctions when the slide was cycled by firing a round. Later in the day, when the gun was dirty, one round failed to chamber, with the slide stopping about 1/8 inch short of fully closing. A push on the rear of the slide put the gun into battery and the round fired. At that point, I partially disassembled the pistol and roughly cleaned it. The pistol has demonstrated 100 percent reliability ever since.
Some folks would consider 25 yards as a rather long-range requirement for a defensive pistol. For a pocket pistol wearing rudimentary sights, I might agree. For a properly equipped 1911, however, that is  not the case. A man with a knife may not be an immediate threat at 25 yards, but he could be in a matter of seconds. It's best if you can stop him before he gets within arm's reach, and even with a .45 ACP, that might require multiple hits. A man with a gun is definitely an immediate threat at 25 yards, and since I'm at the age where I probably can't outrun anyone, I insist on being able to make hits at 25 yards and even beyond.
Make no mistake about the Smith & Wesson E-Series 1911; it's not only beautiful enough to wear to the barbecue, it will ensure you get there safely.
Specifications
Manufacturer: Smith & Wesson; (800) 331-0852
Action Type: Recoil-operated, semi-automatic
Caliber: .45 ACP
Capacity: 8+1 rounds
Frame: Scandium
Slide: Stainless steel
Barrel Length: 4.25 inches
Rifling: 6 grooves; 1:15-inch RH twist
Sights: Trijicon tritium front and rear; rear sight adjustable for windage
Trigger Pull Weight: 4 pounds, 4 ounces
Length: 7.95 inches
Width: 1.4 inches
Height: 5.4 inches
Weight: 29.7 ounces
Accessories: lock, manual, spare magazine,  hard case
MSRP: $1,369
Shooting Results
| | | |
| --- | --- | --- |
| Load | Velocity | Average Group Size |
|   |   |   |
| Black Hills 230-grain JHP | 809 | 3 |
| DoubleTap 230-grain Expander | 943 | 3 |
| Remington 230-grain JHP | 831 | 3.75 |
| Remington 230-grain MC | 792 | 3.5 |
| Winchester 230-grain PDX1 Defender | 912 | 3.25 |
| Winchester USA 230-grain JHP | 859 | 4 |

Velocity measured in fps 10 feet from the muzzle for 10 consecutive shots with a Shooting Chrony chronograph. Temperature: 71 degrees Fahrenheit. Accuracy measured in inches for five consecutive, five-shot groups at 25 yards from a shooting bag.