by
Shooting Illustrated Staff
posted on December 15, 2016
Support NRA Shooting Illustrated
DONATE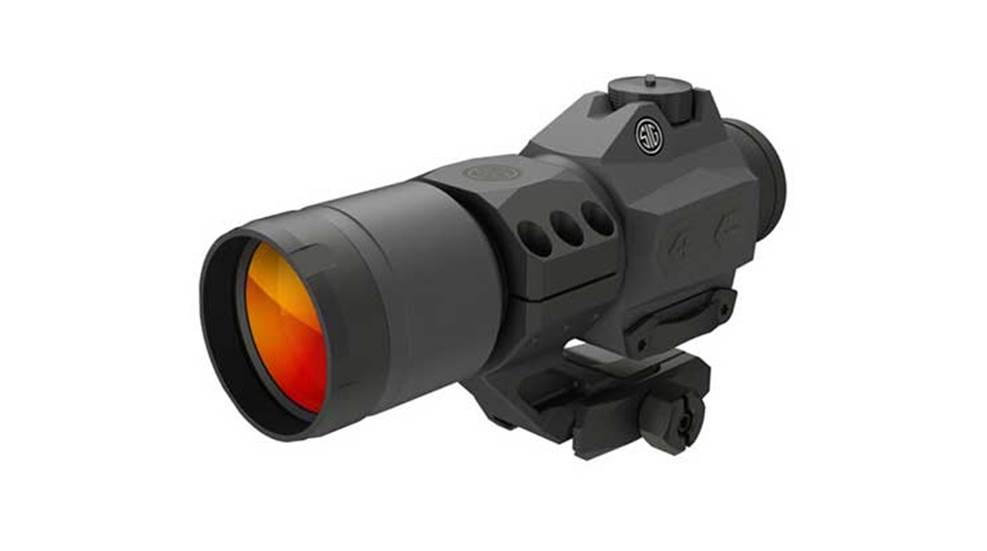 The
SIG Sauer Electro-Optics division
announced the addition of the ROMEO6 red-dot sight to the company's lineup, a full-sized optic that is ideal for any AR-style rifle.
The ROMEO6 family features two different models: the ROMEO6T and the ROMEO6H. Both models have the option of a Ballistic Circle-Dot or a Circle-Plex quad reticles. Each reticle option allows the user to select between four different modes. The Ballistic Circle Dot reticle features modes with a 2-MOA dot, a 2-MOA dot with ballistic holdover points, a 2-MOA/65-MOA Circle-Dot or a 2-MOA/65-MOA Circle-Dot with ballistic holdover points.
The holdover points on each reticle option are calibrated for use with 5.56 NATO and 7.62 NATO. Similar options are available with the Circle-Plex reticle. In place of a 2-MOA dot, a plex-style reticle with a 1-MOA central aiming feature allows for more precise aiming on mid-to-long-range shots. The Circle-Plex reticle is also optimized for use on SIG Sauer's upcoming JULIET4 4x magnifier.
Both optics offer unlimited eye relief, as is typical with red-dot sights. Each model also features a mil-spec objective lens coating to reduce the amount of light leakage downrange, as well as the company's motion-activated illumination, which turns the optic on once it senses movement and turns it off after a period of inactivity, thus preserving battery life.
A unique feature of the ROMEO6T is an included solar panel with two capacitors that work to provide up to nine hours of battery-free operation, if needed. This model also features a 7075 aluminum housing that provides extra durability. The 6T is also IPX8-rated waterproof, while the 6H features an IPX7 waterproof rating.
The suggested retail price for the SIG Sauer ROMEO6H is $539.99, while the ROMEO6T retails at a suggested price of $719.99.