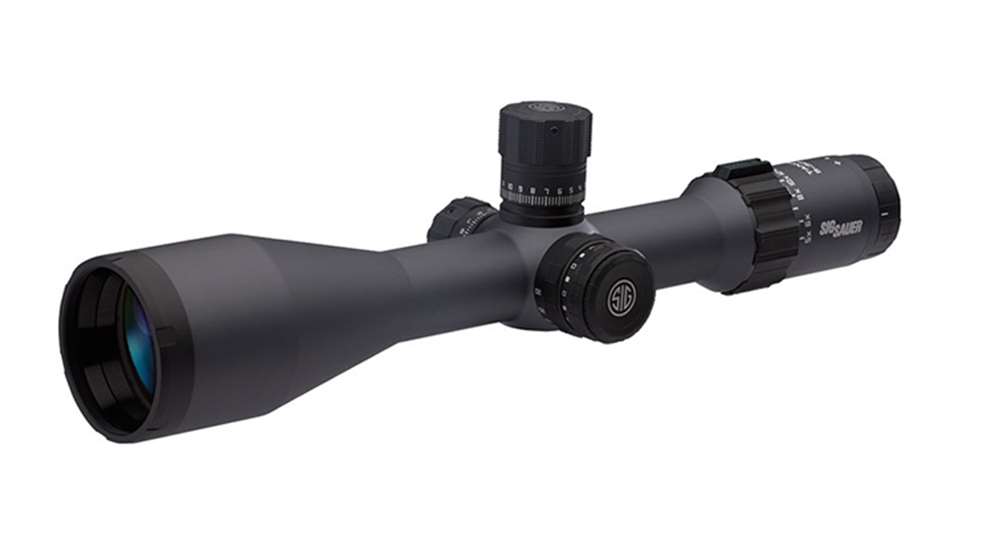 Sig Sauer's new Tango 6 5-30X56 mm riflescope has you covered from close quarters to long distances. It will serve you well in a 3-gun competition or help you take down dangerous game from afar. Designed for today's common MSR/AR and bolt action platforms, the Tango 6 5-30X56 mm is ideal for precision shooting, tactical engagements and long range hunting, and it can do all this without gun and scope canting.
The patented LevelPlex technology, which is powered by Motion Activated Illumination (MOTAC), is behind the simple and exact adjustments. Firstly, the LevelPlex allows for speedy and impressively accurate level scope-to-rail mounting. Secondly, there's no need to take your eyes off the target to check a level while on the range. The LevelPlex provides shooters with easy-to-interpret illuminated arrows on the horizontal axis of the reticle, which informs the shooter of firearm cant, direction of cant and severity of cant. It will then guide the shooter until cant is corrected. Thirdly, the LevelPlex allows for a +/- .5 degree adjustment changes. This provides shooter with six times more accuracy than a typical bubble level.
"LevelPlex is yet another technological fusion of electronics and optics unleased by SIG Sauer. For all of us—long range shooter and hunter alike—this technology provides the incredible degree of accuracy we have been searching for," said Andy York, president of SIG Sauer Electro-Optics division.
Additionally, features of the Tango 6 5-30X56 mm include four MOA and MRAD reticle options, a low 8.8 mm and high 1.9 mm exit pupil, a low 20.2 feet and high 3.4 feet linear field of view at 100 yards and objective clear aperture of 2.2 inches. A 3.8 inch eye relief, low and high, and there are eight daytime and one nighttime illumination settings.
For a more specifications and features, please visit SigOptics.com.