by
posted on January 17, 2023
Support NRA Shooting Illustrated
DONATE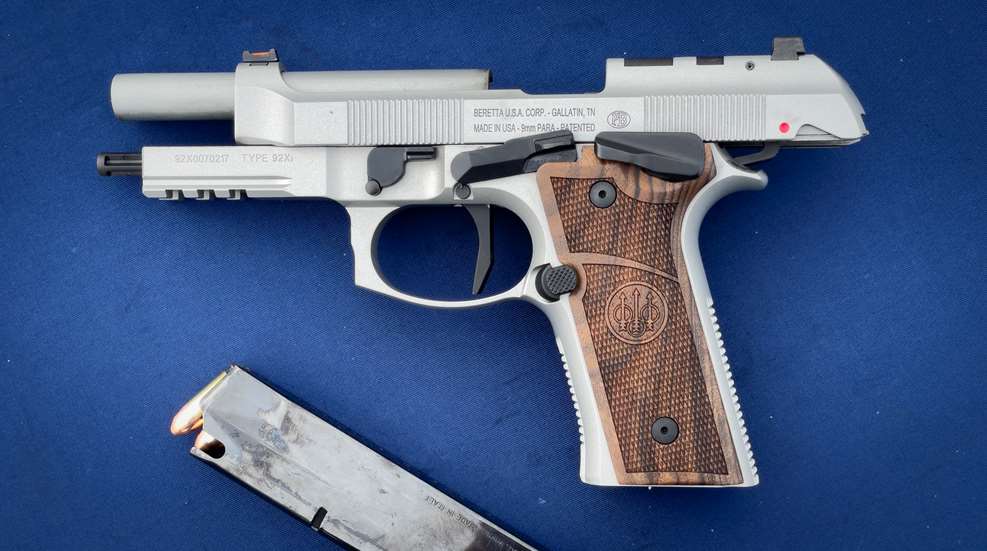 Shot Show's Industry Day At The Range is a chance for journalists, buyers and select members of the gun industry to go hands-on with the current offerings from just about every company that makes a firearm for sale in this country. Here are some of the trends we saw this year on the firing line. 
Full Size, Single-Stack, Double Stack Pistols
Beretta now has a single-action version of their iconic Model 92 pistol, called the 92XI, and yes, "XI" is the Roman numeral for "11," so technically, this is a 9211. Staccato is going full-bore with a complete lineup of guns including the excellent new CS model that's very easy to carry discreetly. Dan Wesson now has the DWX on the shelves, Rock Island Armory has the 5.0, Wilson Combat continues to turn out fantastic pistols for this market niche and Springfield Armory came out with the Prodigy DS last year. People are starting to understand how a great trigger can help them be a better shot, and I foresee this area of the market continuing to grow in the coming years. 
Dots, Dots and More Dots
Ken Campbell, the CEO of Gunsite Academy, dropped an interesting detail at Range Day. Over 60 percent of the guns they see in their classes now have some sort of red optic. He believes that electronic sights on pistols are in the same spot now that optics on an AR-15 were 20 years ago, and I think he's right. If you're a gun company that's thinking about bringing a new compact or full size pistol to market and it isn't optics-ready right out of the box, you'd better adjust your reality, and right quickly. 
The Continued Popularity of 5.7x28mm Pistols
When Ruger introduced their 5.7x28mm pistol in 2020, the industry didn't think too much of it. It was nice and all, but ammo in that caliber was hard to find in the best of times, and it soon become unavailable during the ammo crunch that soon followed the rollout of the Ruger-5.7. Things have settled down a bit, though, and now Palmetto State Armory is introducing their 5.7x28mm pistols the 5.7 Rock, and Smith & Wesson just introduced a 5.7x28mm pistol of their own, the M&P 57. Look for more ammo manufacturers to start making 5.7x28mm ammo, leading to even more acceptance of this once-niche round. 
Rack It Up, I'll Take It
Speaking of Smith & Wesson, a few years ago, they upset the apple cart with the introduction of the M&P Shield 380 EZ, a easy to carry, easy to operate gun chambered in .380 ACP. Now Ruger is getting in on this action with the new Security 380 Lite-Rack, an easy-to-operate .380 ACP version of their excellent Security 9 pistol. Beretta is also joining this trend by re-introducing an old favorite favorite, the 80X Cheetah, that is updated for modern times with a Picatinny rail and a slide that is optics-ready. 
What will be the trends we'll see at Media Range Day 2024? That remains to be seen. What we can tell you is that gun ownership in the United States continues to grow into new areas, and the firearms manufacturers will continue to come out with innovative products to meet that demand.