Support NRA Shooting Illustrated
DONATE
Close your eyes and think of the ideal semi-automatic defensive pistol. Right now, some of you are thinking about a classic 1911, with eight rounds of .45 ACP stuffed into it and Col. Jeff Cooper smiling in approval. Others of you are thinking about a double-stack 9mm of some kind, be it a double-action/single-action gun like the CZ 75, a single-action gun like the Browning Hi-Power or something that's polymer and striker-fired, like a SIG Sauer P320. Now open your eyes and think about a gun which had the best elements of all these pistols, rolled up into one gun?
This is where the Wilson Combat EDC X9 enters the picture. The EDC X9 is a single-action pistol like the 1911, which means it has an outstanding trigger and all the accuracy advantages of a 1911-style locking mechanism. It has a metal frame, like the Browning Hi Power or CZ 75, and a double stack magazine like most modern 9mm pistols. Wrap all of this up in one gun, and tie it up with a ribbon made of Wilson Combat's reputation and accuracy, and you have a gun that could very well be the ultimate carry pistol. 
The Ins And Outs Of The EDC X9
The EDC X9 starts off with a slide that looks, acts and feels like it was taken from a well-built 1911. It takes down for cleaning and maintenance just like a 1911 does and has a terrific trigger with a clean, crisp break, just like you'd expect a 1911 to have. There is checkering on the top and rear of the slide to reduce glare, and serrations on the front and rear of the slide for easier gun manipulation. The sights on my test gun were blacked-out, adjustable rear sights with checkering for reduced glare and a fiber optic front sight, which is one of my favorite sight setups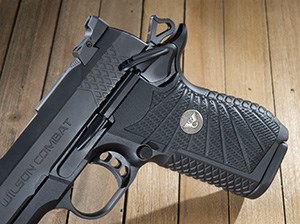 The frame of the pistol has a comfortable swell and reminds me of holding a SIG Sauer P226. The G10 grips have Wilson Combat distinctive starburst pattern and are inlaid with a pewter medallion with the Wilson Combat logo. The front and rear of the backstrap is checkered for a better grip, and the magazine well is slightly flared for faster reloads. There is no grip safety on the EDC X9, which is unlike a 1911 but is similar to most double-stack 9mm guns. The frame safety is on the left side of the pistol, and is not ambidextrous. The magazine release is extended for easier use, and there is checkering on the trigger for consistent trigger presses. 
Trigger Effect
Speaking of the trigger on the EDC X9, it's every bit as good (if not better) as the trigger on your favorite 1911. There is essentially no takeup or overtravel, and broke cleanly at just over three pounds in my test. If you're used to the long takeup, copious amounts of slack and spongy (at best) break on a striker-fired gun, you're in for a real treat with this pistol. A good trigger matters because pressing the trigger to the rear is that last thing that happens before you send a round downrange. Any deviation of your sights on the target as you press the trigger is going to result in a missed shot. Therefore, all things being equal, a pistol with a good trigger is going to be more accurate than one with a heavier trigger that takes longer to press.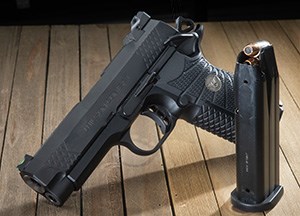 Combine these facts with the build quality and attention to detail that Wilson Combat pours into every gun they make, and you'll wind up with something that will shoot the proverbial lights out at the range. At slightly over 29 ounces unloaded, the EDC X9 is heavier than its polymer-framed rivals. This has the effect of making it harder to carry, as the added weight can literally be a drag to carry around everyday. However, that added weight pays off at the range, and recoil is pretty much non-existent with this gun, even when shooting punchier 9mm +P rounds. The gun fed the 200 rounds I shot on the range without any issues, and putting rounds right where I wanted them to go was a delightfully easy task to accomplish.
The EDC X9 costs about the same and has the great trigger and same level of accuracy you'd expect in a first-rate, high quality 1911, yet it has the capacity of a modern double stack 9mm pistol. When you add all that up, and factor in what you're getting when you buy a Wilson Combat gun, using an EDC X9 as your everyday carry gun starts to make a lot of sense. 
Wilson Combat EDC X9 Range Test Results 
| | | | | |
| --- | --- | --- | --- | --- |
| Ammo | Avg. Group (inches) | Avg. Velocity (fps) | Min. Velocity | Max Velocity |
| Winchester 147gr FMJ | 2.05 | 977 | 947 | 1,234 |
| Speer Gold Dot 124gr +P | 1.97 | 1,223 | 1,208 | 1,234 |
Wilson Combat EDC X9 Specifications
Manufacturer: Wilson Combat, wilsoncombat.com

Model Name: EDC X9

Action Type: Single-action, hammer-fired

Caliber: 9mm

Height: 5.25 inches

Width: 1.4 inches

Length: 7.4 inches

Barrel Length: 4 inches

Weight: 29.09 ounces

Finish: DLC slide, G10 grips

Magazines Included: Two 15 round magazines, option for two 18 round magazines
MSRP for the Wilson Combat EDC X9 is $3,145, and more information on this pistol and other products from Wilson Combat, please visit wilsoncombat.com.