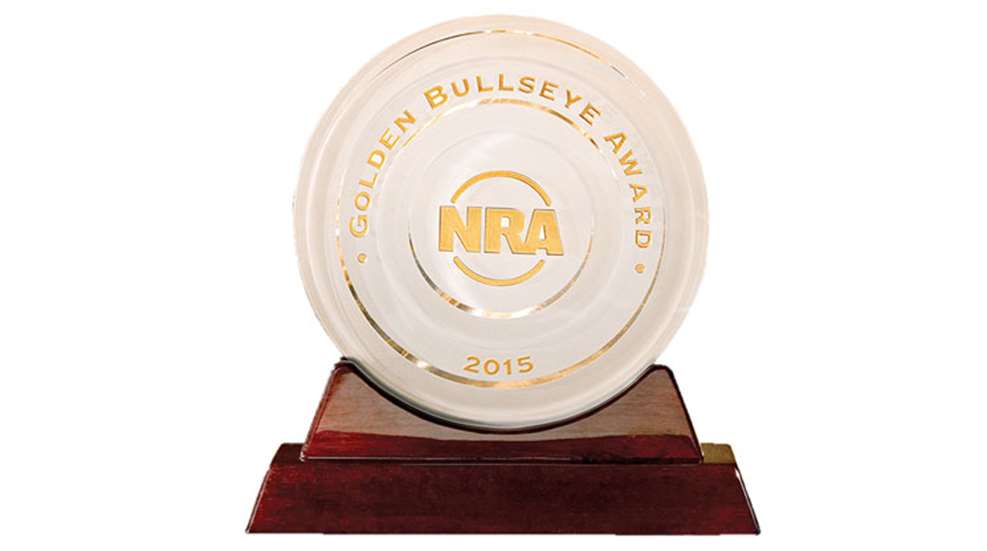 Shooting Illustrated will present its annual Golden Bullseye Awards and Golden Bullseye Pioneer Award at an invitation-only breakfast on Friday, April 10, during the 2015 NRA Annual Meetings & Exhibits in Nashville, TN.

"We are pleased to announce the winners of the 2015 Golden Bullseye Awards," said Doug Hamlin, Executive Director of NRA Publications. "This year's winners exemplify what NRA members want in their shooting and hunting equipment—outstanding performance, innovative design and value. A new category for 2015—the Women's Innovation Product of the Year—highlights the importance of what has become the fastest-growing segment in the firearm marketplace. We congratulate those who have created the industry's best new products and look forward to recognizing them in Nashville."
To qualify for consideration for a Golden Bullseye Award, the product must have been:
• Recently introduced and available to consumers prior to the selection of the Golden Bullseye Awards;
• Used/tested by a staff member or regular contributor to the magazine and/or affiliated media;
• Reliable in the field, meeting or exceeding the evaluator's expectations;
• Innovative in design and function;
• Readily perceived as a value to the purchaser; and
• Styled in a manner befitting the shooting and hunting industry and, perhaps more importantly, its enthusiasts.
Whereas the Golden Bullseye Award acknowledges the finest products available in the shooting sports, the Golden Bullseye Pioneer Award specifically honors outstanding personal achievement. The Pioneer Award spotlights the exemplary achievement and cumulative body of work of an individual, or members of a family, team or partnership, responsible for the development and introduction of shooting equipment that has made a profound, positive and enduring impact on the way Americans shoot and hunt.
The winners of Shooting Illustrated's 2015 Golden Bullseye Awards are:
Rifle of the Year, Alexander Arms Ulfberht
Shotgun of the Year, Beretta 1301 Tactical
Handgun of the Year, Smith & Wesson Model 69
Ammunition Product of the Year, Federal Premium HST
Optic of the Year, Leupold & Stevens Mark AR
Accessory of the Year, FLIR One
Women's Innovation Product of the Year, European American Armory Witness Pavona.
Pioneer Award: Lewis Danielson, Founder and Chairman of the Board of Crimson Trace Corporation.