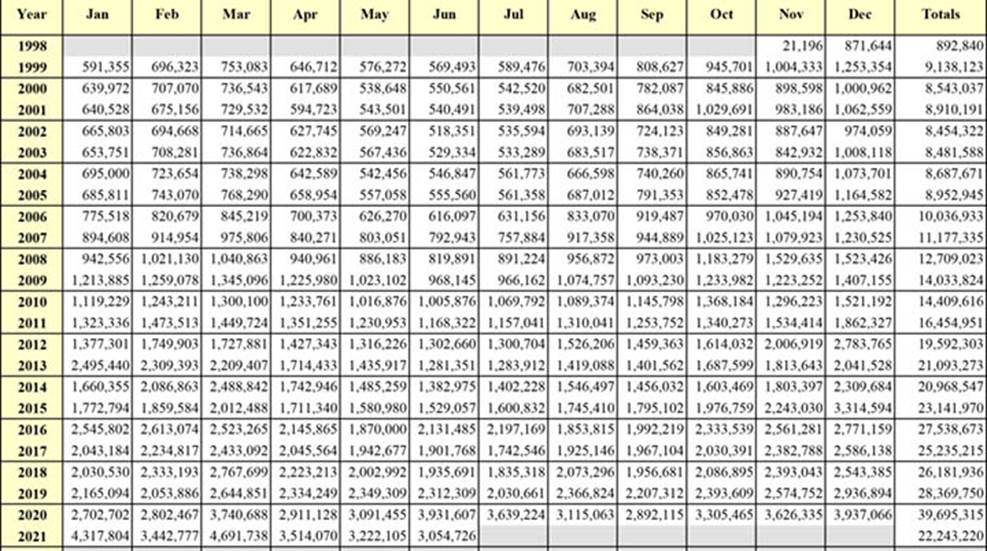 Firearm sales processed through the FBI's National Instant Criminal Background Check System (NICS) in June totaled roughly 1.4 million units, according to estimates from Small Arms Analytics & Forecasting (SAAF). When compared to the figure for June 2020 the number represents a year-over-year decrease of roughly 1 million—a 42.2 percent decline—although the month now stands as the second highest volume on record for that 30-day reporting period.
"The overall firearms sales pace thus far this year amounts to about 10.6 million units, as contrasted to 11.1 million for the first six months of 2020, SAAF Chief Economist Jurgen Brauer commented. "A perhaps more appropriate comparison may be made to the 6.6. million firearms sold during the first six months of 2019, however, that is, before covid-19, before pronounced unrest, and before the presidential election campaign of 2020."

Brauer noted last month's sales drop was more pronounced in handguns than in long-guns. It's the second month of decline, with May's figures coming in at an estimated 1.4 million. In April, however, firearm sales were still up from 2021 with a volume of 1.8 million.
Total volume of NICS background checks—which are not performed exclusively for the transfer of a firearm—continue to skyrocket. In 2020, for example, the total number of records handled by the FBI facility in West Virginia was 39,695,315, shattering the old record set only a year before by more than 11 million. If the current pace of 2021 continues another record will be set.
Last month's heaviest NICS use took place on June 23, a Wednesday, with 138,544. The busiest day in May was also a Wednesday, although that doesn't necessarily indicate mid-week is the wrong time to visit an FFL. The system is also employed for concealed carry permit applications, their renewals, periodical re-checks and other administrative use.