The goal for most American-made firearms is to provide good performance at a great price. This is the reason you can purchase a bolt-action rifle like the Ruger American for less than $500 and still shoot brag-worthy groups. With its Custom Shop Precision Rifle, Ruger's goal was to provide stellar performance. This rifle is not for everyone, because not everyone can afford it, and/or not everyone possesses the skill to let it perform to its maximum capabilities. It is designed to shoot as well at 1,000 yards as most rifles do at 200.
Starting with its standard Precision Rifle, Ruger made some critical enhancements to this just-released Custom Shop version. But, before we get into the particulars of this new rifle, it's important you understand what the standard Ruger Precision Rifle is. Simply put, it is a modular, magazine-fed rifle built on a two-piece—upper and lower—receiver, with a freefloated barrel and an in-line positioned, fully adjustable, folding AR-style stock. It is a rifle that's quite well adapted to long-range shooting for pleasure or for PRS (Precision Rifle Series) Competition. With a suggested retail of $1,599, it's priced right for the hobbyist. At $800 more, the Custom Shop version is intended for the serious competitor.
What does this additional $800 get you? For starters, you get an adjustable TriggerTech trigger with frictionless-release technology; it broke crisply at 2.5 pounds right out of the box. You get a Magpul MOE K2+ grip and an APA muzzle brake screwed on the end of a 5/8x24 threaded, 26-inch barrel, that's almost four-times caliber diameter at the muzzle. There's also the addition of Cerakote to select parts, a red-anodized barrier stop and an ambidextrous safety. The freefloat handguard is M-Lok compatible, and there are also M-Lok attachment slots machined into the sides of the magazine well for MatchSaver-style cartridge holders and other accessories compatible with the M-Lok system for attachments. Like the standard model, the rifle features the same 70-degree throw and a three-lug bolt with dual-cocking cams and nitride-coated body.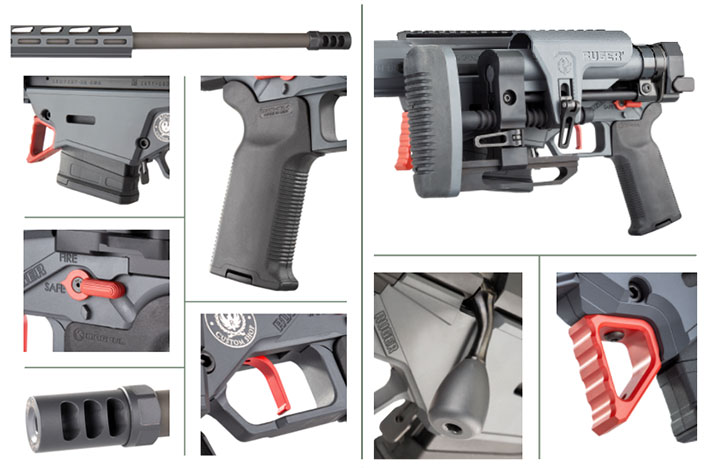 Though the red-accented trigger, safety and barrier stop add some colorful flare, this is not what traditionalists would call an attractive rifle. It does, however, carry an air of earnestness and the two-tone black and gray finish—a combination of Cerakote and Type III hardcoat anodizing—is easier on the eye than the basic black of the standard model. If you show up for a match with this rifle, other shooters will know it is different. But looks, as they say, are only skin deep; what matters is what is on the inside or more specifically, performance.
For testing, a Crimson Trace HardLine Pro 6-24x50 mm riflescope was attached to the 19-slot, 20-MOA Picatinny rail that comes on the rifle with Wheeler two-piece Picatinny Scope Rings. Mounting and zeroing a riflescope is always a good indication of precision assembly. With the scope reticle centered, and keeping in mind the 20-MOA offset, the initial bore sight found the reticle out of alignment by only about 1 MOA horizontally and 18 MOA vertically. That's near-perfect bore sight and is a good indication the rifle was assembled on the centerline.
Owing both to the few current options for 6 mm Creedmoor in normal times and the ammo crisis further limiting those options, the only load tested was the 108-grain, ELD-Match load from Hornady. Five, five-shot groups were fired, and each group was fired in less than 3 minutes with the barrel being allowed to fully cool between groups. Not a single group measured over 1 inch and the average for all five groups was .667-inch. The worst group fired, which measured .95-inch, was the result of a single wide flyer induced by shooter error. An additional rapid-fire 10-shot group was fired at 200 yards in less than 2 minutes. It measured .872-inch. This rifle will cut a dime at well beyond the distance you can see one and the bolt almost effortlessly cycles with just a flick of the wrist.
Because of the rifle's weight, its APA muzzle brake, the relatively light recoil of the 6 mm Creedmoor and the fact that the stock is in-line with the barrel, recoil was nearly nonexistent. You could shoot hundreds of rounds a day from this rifle with no shoulder fatigue. The Custom Shop RPR's action was comfortable to work with from the bench, from the prone position and that red-anodized barrier stop mounted just forward of the magazine well was quite handy when working from behind a stable support where you could lean into it. With a common hold on the grip, the safety lever could be manipulated without grip adjustment, but this is mostly of no consequence; many right-handed precision shooters do not wrap their thumb around the grip, electing to leave it straight along the right side of the receiver. When this was done—and it can be done from either side—the safety lever was even easier to operate. Similarly, the magazine-release lever was quick and easy to manipulate with just a forward poke of the trigger finger.
The flat-bottomed handguard was much appreciated on the bench where it could be well settled into a sandbag. But, perhaps the most appreciated ergonomic feature of this rifle was the fully adjustable buttstock. It's the same stock you'll find on the non-custom version of Ruger's Precision Rifle and it can be easily field-adjusted to your exact length-of-pull and preferred comb height. Serious precision practitioners know these adjustments are not a one-and-done proposition; they often need tweaking depending on shooter/target position. The quick-release levers make this easy and there was even a neat little stick-on pad, for soft cheek-weld contact, that's included.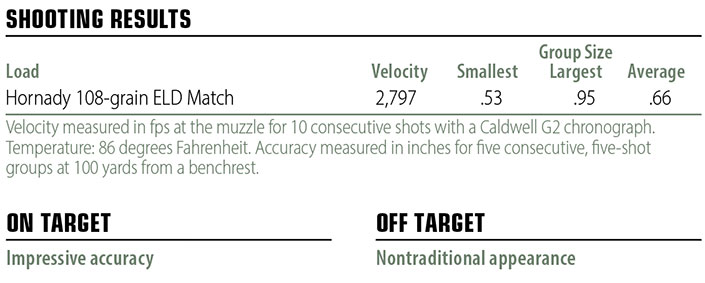 In the most skilled of hands, this is probably a quarter-MOA rifle. Most of the groups fired were one-hole with a single outlier. The rifle performed flawlessly and is extremely well configured to punch bug-hole groups or ring steel at stupid-long distances, even when shooting in field conditions. It flawlessly digested 100 rounds of ammo and seemed to shoot better the more it was fired. In the world of precision shooting, you could easily spend two to three times what the Ruger Custom Shop Precision Rifle costs and possibly end up with a rifle that will not shoot this well, and most assuredly not be this ergonomically adaptive. Unlike most modern, American-made, precision bolt-action rifles, this one does not represent good performance at a great price, but rather exceptional performance at a good price—what we've come to expect from Ruger's Precision rifles.