Support NRA Shooting Illustrated
DONATE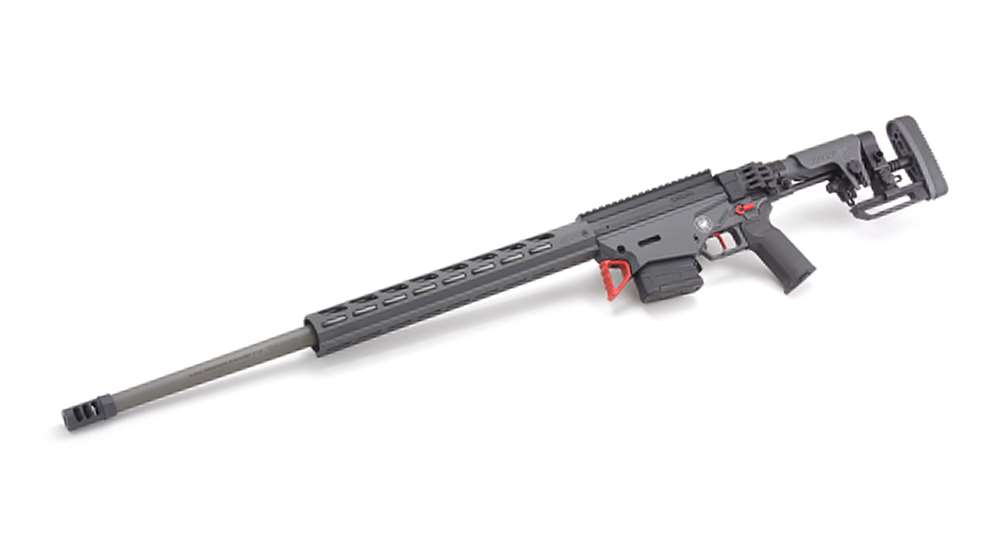 Sturm, Ruger & Company, Inc. has now released a new 6.5 Creedmoor Custom Shop version of their famous Ruger Precision Rifle. This new rifle is a collaborative effort with the company and the Ruger Shooting Team Captain Doug Koenig. The aim of this project is to provide an accurate, match ready rifle out of the box along with a few extra bells and whistles that dedicated precision shooters would find useful and could appreciate.
The Ruger Precision Rifle is a modern bolt action rifle built around an AR-15-like foundation that features a free-floating M-Lok aluminum hand guard with a target-style bottom rail and a 26-inch cold hammer-forged chrome-moly stainless steel barrel cut with 5R rifling. The fire control group, pistol grip and rear stock are all directly adapted from the AR-15 design. The stock attaches to an AR-15 style receiver extension making it compatible with several options for that family of rifles. To save space, the stock can fold leftward when not in use. In addition to this, the topmost part of the receiver has a 20 MOA section of Picatinny to mount a magnified optic. There are also touches not seen on the regular Ruger Precision Rifle. These include red anodized safeties, the trigger, and the barrier stop found in front of the magazine well. Certain parts of this rifle are also purposely finished with Cerakote to provide a greater level of protection from wear.
Specifications:
Caliber: 6.5 Creedmoor
Length of Pull: 12 to 15 ½ inches, stock folds and is fully adjustable
Overall Length: 45 ¼ - 48 ¾ inches
Barrel: 26-inch chrome-moly stainless steel, heavy contour with an APA muzzle brake, cold hammer forged 5R rifling
Barrel Twist: 1:7½-inch right hand
Finish: Type III hardcoat anodizing with grey Cerakote
Includes two 10 round Magpul PMAGs 
Retail pricing for this new Custom Shop Ruger Precision Rifle starts at $2,500. For more information, please visit Ruger's website at ruger.com.