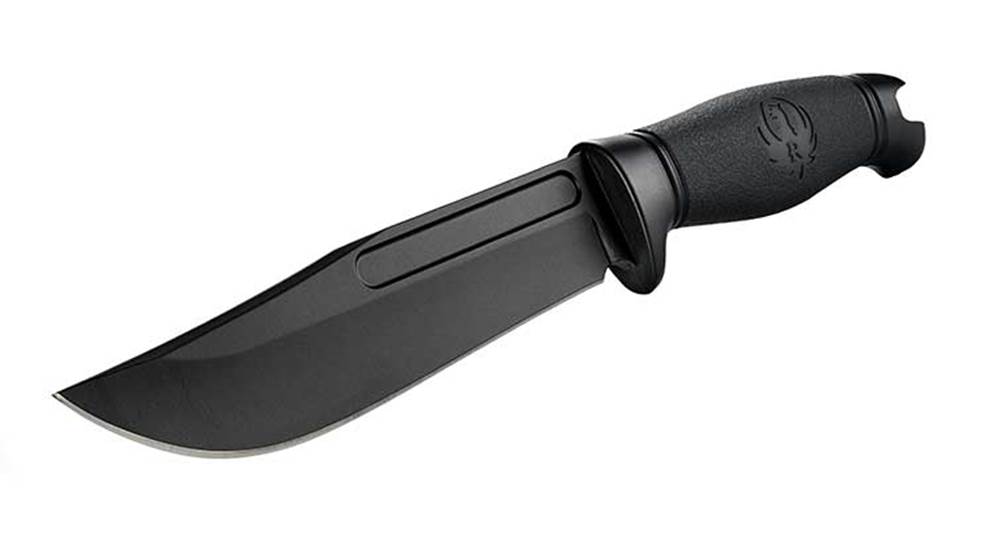 The newest knife in
CRKT's
exclusive
Ruger
line of knives is the
Muzzle Brake,
a fixed-blade, Bowie-style knife designed by Ken Onion.
The Muzzle Brake features elements from the classic Bowie design, but CRKT focused on incorporating modern-day construction elements in order to improve its usability. The knife features a full-tang blade and is strong enough to be used as a chopping tool or working on small trees or limbs in order to build shelter or procure firewood.
The knife features a clip-point blade with a fuller and is also designed to be a great tool for butchering animals after a hunt. The Muzzle Brake features a handle made from glass-filled nylon and uses a sure-grip surface that matches the texture found on
Ruger's American Rifle
stock. The Ruger eagle is imprinted into both sides of the grip.
The total length of the Muzzle Brake's blade is 7.5 inches, and the blade also features a plain edge with a black powder-coat finish and a total thickness of 0.187 inches. The overall length of the blade is 12 inches, and the total weight is 11.1 ounces.
The Muzzle Brake comes with a sheath made from injection-molded nylon that weighs a total of 3.8 ounces. The suggested retail price on the knife is $99.99.