If you're going to make a riflescope for the serious long-range shooter, it had better be good. South African businessman, Rudolph Baard, thinks his optics are just those.
Rudolph Optics is the result of years of research by Baard, who earned his pedigree first as a hunter, then guide and outfitter and now owner of Safric Safaris in South Africa.
"I immediately realized a gap in the South African market for good-quality riflescopes and related optics that are more affordable to the local hunter," Baard said. Deeply qualified in the bush, Baard took his experience and high standards to the 2011 SHOT Show where he teamed up with a Japanese optics manufacturer to cook his recipe for fine optical dining South African style. Now Rudolph Optics offers shooters, hunters and anyone, really, who needs quality optics, another choice. "We have proven ourselves in one of the most rugged hunting conditions there is, the safari market," said Todd Neice, Director of Sales and Marketing for Rudolph Optics.
I recently had the opportunity to review a Varminter Hunter (VH) series riflescope, a VH 4-16x50mm, as a baptism into Baard's quality promise. According to Neice, the VH Series was purposely designed for predator shooting, like coyotes, and varmints like feral pigs, but will of course work perfectly fine on larger game like deer and elk. Long-range enthusiasts can run the VH all the way out to 1000 yards with good results. The T3 reticle for the second focal plane optic aids shooters by giving 1 MOA markings for elevation and 2 MOA markings for windage adjustments. "We developed the VH series mostly for the US," said Neice.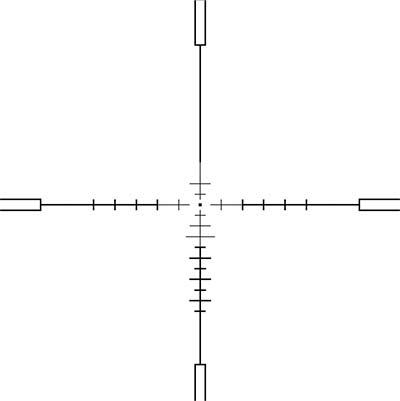 When the optic arrived at my home, the build quality I expected did as well. The hearty riflescope took Japanese-ground glass and wrapped it in a 30 mm tube of black aircraft-grade aluminum. Of course, the riflescope is waterproof and fogproof. It's also shockproof-tested to 1,200 G's (G-Force). The riflescope has capped pop-up turrets, which worked smoothly and quite accurately in all of my applications, and were a welcomed way to adjust windage and elevation at the bench or in the field. I also appreciated the fact the turrets had caps I could screw on to protect my adjustments while in the field. To the left of the windage and elevation turrets was the very useful side focus parallax adjustment knob, which comes in handy overcoming the tomfoolery of optical physics when the challenge of putting a tiny supersonic bullet in the boiler room of a pint-sized critter at squint distances is your task for the day.
All Rudolph riflescopes, whether the shooter is after critters, steel poppers or paper targets, come in MOA adjustments. Why? Neice said they have always used MOA and have talked to many of the shooters they currently deal with and they prefer MOA.  "We know there is a market for mil-based adjustments, but the majority of the population we deal with and market to prefer the MOA markings and adjustments. All of our scopes currently use MOA, our elevation is in 1-MOA markings and windage (where applicable) markings are 2-MOA," Neice said.
Armed with the VH Series 4-12x50 mm riflescope, I put the optic to work on two known accuracy platforms from my personal gun safe: a very underrated Remington 783 in .243 Win. and a 6.5 Creedmoor in my pet M40A1 built by C&H Precision. Since this was a test of the optic and not the rifle I went with known accuracy loads of Hornady Superperformance 95-grain SST's for the .243 Win. and Hornady A-MAX 140-grain Match for the 6.5 Creedmoor. I leaned on the 6.5 Creedmoor first and found the riflescope to be crispy, sharp and clear. It reminded me of a Vortex optic, and in my world that's a solid compliment. Sighting in took three shots and I worked the scope up, right, down and left in an optical square dance with the A-Max bullets. The South African-engineered and Japanese-built mechanics worked as expected with consistent and repeatable tracking. The hefty 6.5 Creedmoor was a very stable platform to start the riflescope out right. The featherweight Remington 783, even in the light-hitting .243 Win., would give the optic a little more feedback. Still, the optic zeroed quickly and ran the Hornady SST's around the target with the precision of a U.S. Army drill team.
The VH Series has a tactical brother known as the T-1 Series engineered to give long-range enthusiasts a mission-specific optic as well. "As a tactical shooter you need a scope that you can hang your life on," said Neice. "We designed our T1 tactical long-range scope for the guys who put their lives on the line everyday." Neice said one of the unique design elements of their tactical series is the above average eye relief, to help keep a safe distance between their optic and shooters using heavy-recoiling rifles. With a massive 6-24 zoom range, there's plenty of magnification for critical bullet placement out to today's high-speed tactical rifle calibers effective ranges. Unlike the hunting series, Rudolph Optics gave their tactical riflescopes precise open turrets, which enables shooters to make instant adjustment on the fly. Like any quality tactical optic, the T-Series maximizes its end-users flexibility and precision with clean, consistent adjustments and simple, easy markings so shooters can return their scope to zero effortlessly.
In a market saturated with quality optics, there's always room for more quality choices. At $945, the VH Series riflescope from Rudolph Optics is no impulse buy, but a worthy option for shooters with demanding tastes.
Specifications
Manufacturer: Rudolph Optics; (330) 705-7458
Magnification: 4-16X
Objective Lens Diameter: 50 mm
Reticle: T3
Adjustability: 1/4 MOA clicks
Field of View: 14.76 feet at 100 yards (4X), 4 feet at 100 yards (16X)
Eye Relief: 3.7 inches
Length: 14.2 inches
Weight: 22.9 ounces
MSRP: $945