Through innovative techniques, all-the-while keeping low cost in mind, Rudolph Optics created the Stealth Binocular-Rangefinder Combo. It's a pair of ranging binocular that exhibits unbeatable performance and all for hundreds less than competitor prices.
The Stealth features over 95 percent light transmission, 1,800 meter capabilities and by using one of the fastest lasers in the industry you get instant readings when it's time to that a shot. It weighs about 2.5 pounds and is packaged in a soft side hard case that can be thrown around without fear of being damaged.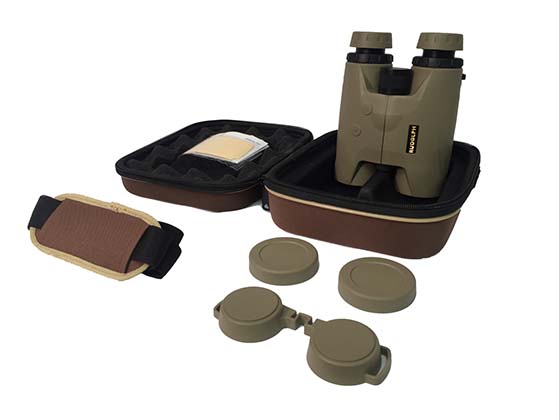 "Rudolph Optics gave me the 'STEALTH' to do some testing with. I took them out to a local area field that's about 2500 meters long. I scanned the field and got instant reads after touching the button. The reads were consistent and always the same. I scanned the edge of the field on a tree line and worked my way out to max distances and I got a true reading at 1,725 meters. The optics are easy to use and for a rangefinder combo they are clear and I was able to use them well past sunset to range distances out over 1,500 meters," said Rudolph Pro-staffer Paul Bowe.
MSRP: $849.99