At a writer's event earlier this month, I had the opportunity to experience Revision Military's new I-Vis lens system for protective eye wear. This new system comprises six different lens colorations specifically engineered to excel in different environments, from bright, snow-intensive areas to sandy, dusty environments, to heavily wooded areas and everything in between. It's been a long time in the making, with information gathered over a decade in each of the different environments.
Revision explained the impetus behind the I-Vis project was to increase visual awareness and depth perception. The company wants to change focus to from simple protection (which the news lenses offer, of course) to introduce new lens technology and frames. The I-Vis lenses are designed to filter out harmful rays and also let through as much visual information as possible. Revision allows the end user to match lens colors to the environment in a manner similar to that used in camouflage. Six different lenses are available for different scenarios (high alpine, cloudy/snow, clear, dry desert, woods, multi-use).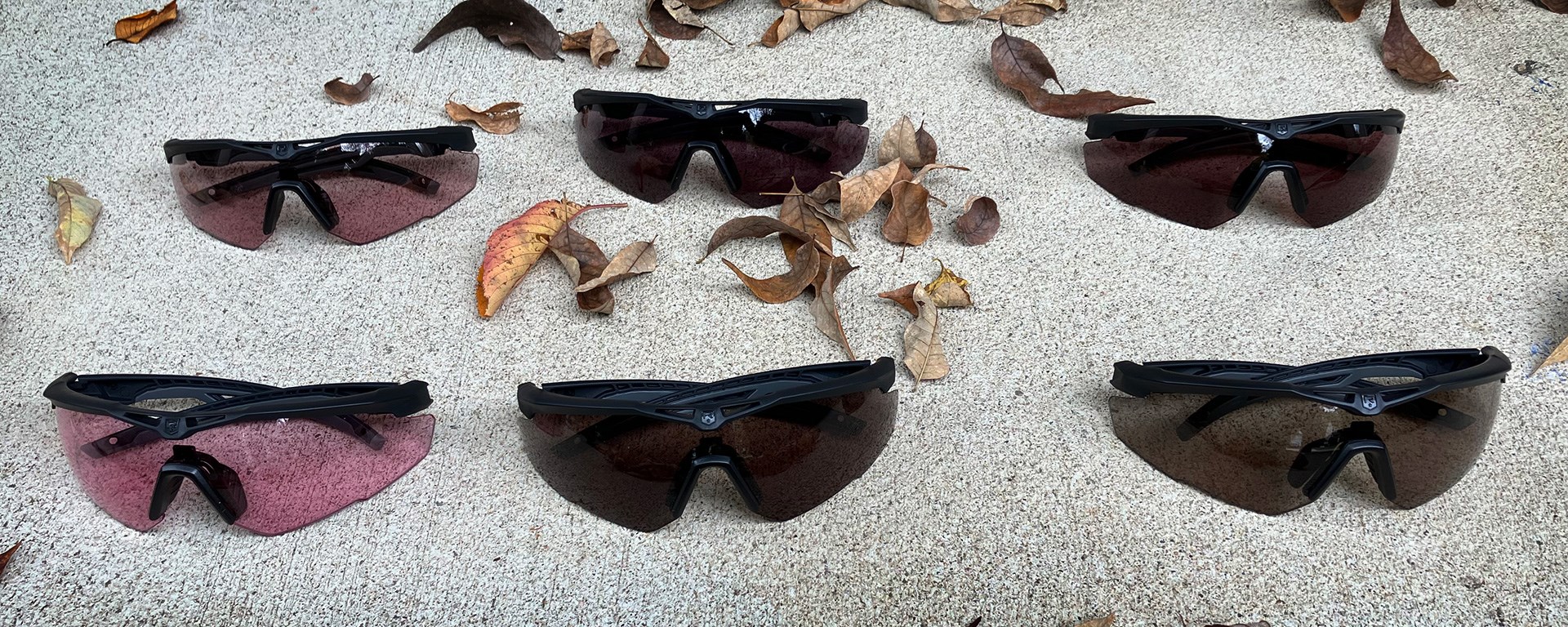 What it translates into are lens tints custom-engineered for the shooter's purpose. Hunters stalking prey in the woods, long-range enthusiasts spotting steel targets in the distance against a desert backdrop and other outdoor endeavors where enhanced color perception would be advantageous all will benefit from this technology. Revision will be rolling out protective eyewear in the form of its Stingerhawk line as well as SnowHawk and MerlinHawk goggles; the company expects the I-Vis technology to be integrated across all platforms in 2023. We also got to see the brand-new Speed Demon aluminum frame eye protection aimed more for everyday use in the Verso lenses (that's the multi-use color). Look for the new Speed Demon frames later in the year.
But, as the expression goes, seeing is believing. Revision offered us both the Stingerhawk frames for range time and the Speed Demon sunglasses for everyday use. Wearing the Speed Demons with the Verso (all-purpose) lenses on the drive to the range, it was absolutely astonishing to see how the lenses picked up minute changes in colors from the foliage to road signs. Edges are sharper, colors are brighter and at the end of the day, eye strain is significantly reduced.
The first day of the event saw us on a hike in Idaho's hills with a local guide whose specialty was spotting mountain goats. We were encouraged to try different lenses on the hike, with a predominantly wooded and hilly environment. Most opted for the Alto (alpine) or Verso (all-purpose) lenses, and one of the most striking features on the hike was being able to clearly define roots, rocks and other potential hazards along the routes. Spotting mountain goats was definitely easier with the Verso lenses in the Speed Demon frames than with the naked eye, and even worked well in conjunction with the SIG Sauer binoculars we'd brought for spotting.
On the second day, it was range time. SIG had partnered with Revision for the event and brought a number of Cross bolt-action rifles along with spotting scopes, range finders and binoculars. Gray steel targets had been placed in a number of valleys at distances varying from 250 yards to 1,440 yards, and the combination of binoculars and Aros lenses (tuned for environment with lots of browns and tans) made picking out the targets much easier. Of course, hitting them was not quite as easy, although with the Cross in 6.5 Creedmoor, even the 1,440-yard target was within our capabilities.
The new I-Vis system from Revision brings more clarity, recognition, depth perception and comfort to an eye-protection system already known for exemplary impact protection and anti-fog coating. With this new system, users can select the lens or lenses that best suit their working environment(s) and can swap between lenses in seconds. With the new Speed Demon aluminum-frame sunglasses, there's a stylish offering that can be worn every day. Prices start at $109.99 for Stingerhawk frames with a single I-Vis lens and $249.99 for the Speed Demon frames (also with a single lens). Packages will be available for frames with multiple lenses for those who wish to experience the full range of lens options.