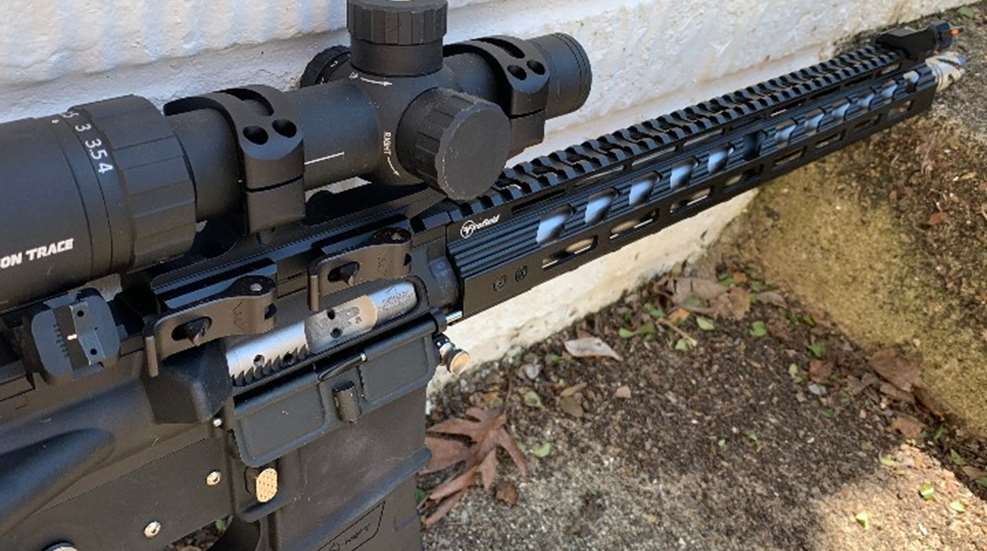 Here's an option for backup sights on a rifle or carbine that don't require the optic be removed. When adding flip-up-type sights, usually it's in conjunction with a red-dot setup. The iron sights and red dot should be positioned so the irons co-witness through the dot's glass when deployed, and ideally should be zeroed to the same point-of-aim. Where it gets difficult is when a magnified optic is used, as there's typically less room at the rear of the receiver to mount a sight and still leave room for iron sights that can be deployed.
XS Sights offers a super-simple solution in the company's XTI2 offset sights. Available with a photoluminescent, bright-orange front sight that stands out in daylight conditions and glows in low-light settings, the rear sight is a simple white line in the center. The rear sight is drift-adjustable for windage, and the front sight uses a standard AR-15-style front-sight tool for changes in elevation. The XTI2 sights are unobtrusive and simple to install - a flat-head screwdriver is all that's needed.


Various competitive shooting sports, 3-gun being the most obvious, make good use of this style sight. Transitioning between longer-range shots that require magnified optics and up-close targets, valuable seconds can be lost dialing power down on even a 1-4X scope. Having an instantly available option saves time in competition - and it's not a bad idea in a defensive situation, either. The XTI2 sights are designed to be used without breaking your cheek weld; simply rotate the rifle counter-clockwise (for right-handed shooters) 45 degrees to make use of the sights. It's simple, fast and can be setup once and left alone (just be sure to check your alignment from time to time, and it's not a bad idea to use them occasionally just be on the safe side).
MSRP for the set of front and rear sights is $137.99, and more information can be found on these sights and on many other options from XS Sights at xssights.com.