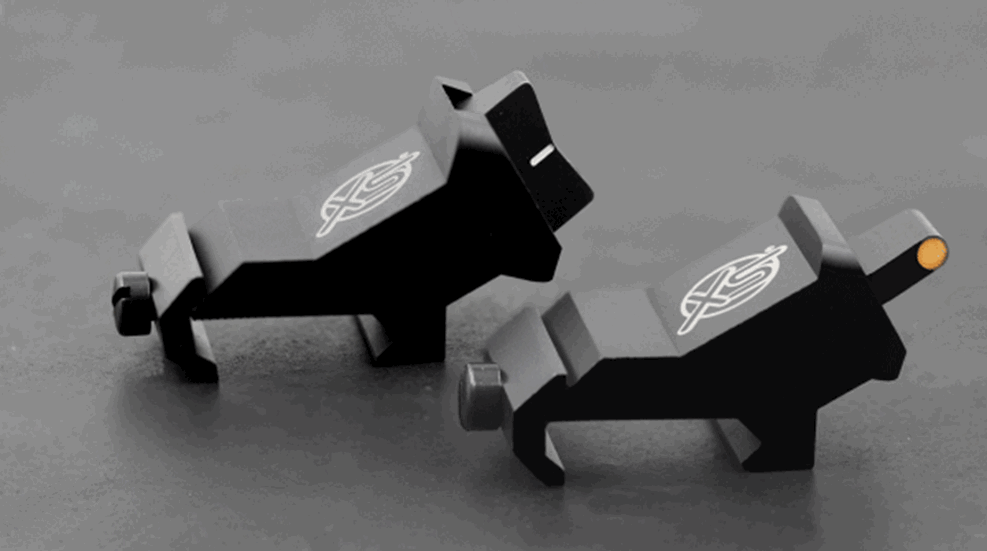 Competitors in 3 Gun learned that while a magnifying optic on an AR is great for long-distance shots, it can hamper your ability to quickly engage targets at short range. Adding an additional set of iron sights offset from the main optic allows you to quickly switch between close-range targets and targets at longer ranges.
With that in mind, XS Sights is now introducing its new XTI2 DXS Ember Standard Dot 45-Degree Offset Iron Sights for AR-15 rifles. The second generation XTI2 sights are designed as a secondary sighting solution for rapid transition from a magnified primary optic to targets at close quarters and eliminate the need to adjust magnification for target engagement in times when every fraction of a second counts.
"Our new XTI2 express sights are engineered for rapid sight acquisition in close quarters," said Zack Kinsley, Product Marketing Manager for XS Sights. "These advanced offset iron sights are also ideal for 3-gun competitions when targets are close—within pistol range and where magnified optics make target identification more difficult. XS's proprietary Orange Ember Glow technology provides a high contrast front sight in bright light and is instantly charged by the sun's UV rays, causing it to glow in shadows and low-light settings such as vehicles."
The XTI2 features taller bases than its predecessor for easier sight alignment without having to break a standard cheek weld and the base angle has been increased to accommodate wider lens optics. The front sight measures 0.140 inch wide and is now easier to pick up, thanks to an Orange Ember Glow Dot on the sight.
XTI2 sight sets are mounted in front of the primary optic to reduce snagging on chest rings. The sights ship with a tube of thread locker and a front-sight adjustment tool.
MSRP for the XTI2 sight set is $180, and more information on XS Sights is available at xssights.com.