by
posted on February 22, 2023
Support NRA Shooting Illustrated
DONATE
Walk into any gun store these days, and you'll see row upon row of double-stack, polymer-frame, striker-fired 9mm pistols. From Glock to SIG Sauer to Smith & Wesson, practically every company out there makes something that has a 4-inch barrel, is striker-fired and holds about 15 rounds of ammunition. These pistols also look and act very similar, and that can be a good thing. After all, Holiday Inn, McDonald's and Planet Fitness have all made oodles of cash providing the same level of service to their customers no matter where they may be. These chains don't provide you with a "quaint and quirky" customer experience, they provide you with an efficient and effective delivery of what you paid for, no matter if it's Bangkok, Bangalore or Bangor, ME.
And, so it is with most of today's defensive pistols. You really don't want a defensive pistol that does something "quaint and quirky" at an inopportune moment, such as not feeding hollow points or not locking the slide rearward when the last round is fired. You want boring reliability, and leave the personalized touches for something else. 
However, we live in a world where individualism matters, and for some people, carrying a defensive pistol that looks and acts the same as every other defensive pistol on the market is like asking them to give up their very soul. This is why there are stacks and stacks of trigger upgrades, refined slides and replacement barrels right next to those racks and racks of practically identical polymer-frame pistols. If that's not unique enough for your tastes, you can send your gun out to any one of a number of pistolsmiths who will carve cuts into the slide of your pistol and then melt, mold and stipple the polymer on your frame, reshaping everything into something new that is distinctively yours. 
Ideally, the goal of all this fuss and bother is creating something that offers more performance than a stock pistol, and while this custom work may achieve that goal, what was lost along the way? Firearm manufacturers build their guns to work a specific way—with certain parts—to work within a certain set of tolerances. There may be a moment where adding all these bells and whistles starts to affect the reliability of your gun. You'd want something that gives you the flair and performance of a tuned and specialized defensive pistol, but with the reliability of a stock pistol. This is where Wilson Combat enters the picture.  
It's hard to overstate the impact that Bill Wilson and Wilson Combat have had on the American firearm industry. It began with creating one of the first truly reliable 1911 magazines, which transitioned into building a dominant position in the market for high-quality 1911 pistols. Most companies would be perfectly satisfied to stop there, at the peak of their success, but Bill Wilson took it one step further and branched out into building top-notch AR-pattern rifles and tactical shotguns.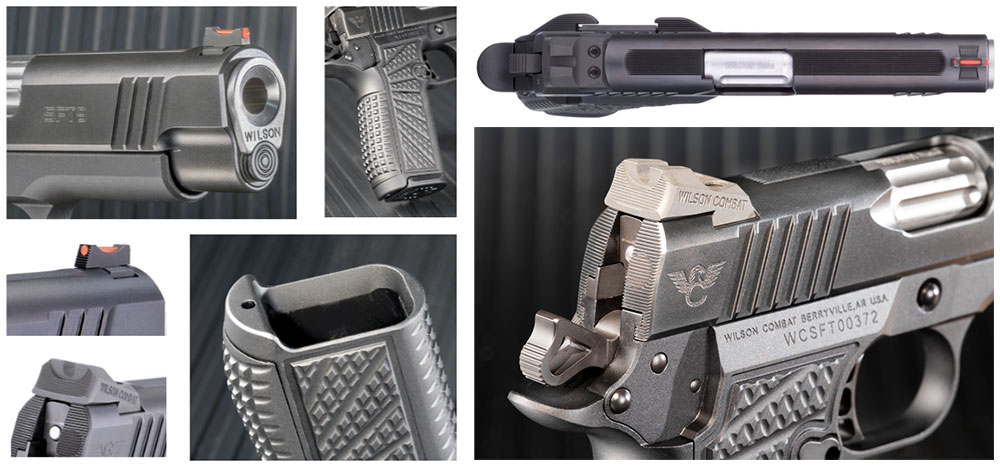 That same desire to not rest on its laurels pushed Wilson Combat to create a line of pistols that continued the company's legacy of performance and reliability of its 1911s, but offered features that catered to the modern defensive-pistol market. The latest pistol in that series is the SFT9, a double-stack 9mm pistol that gives you 15+1-round capacity, combined with a 1911-style trigger and topped with match-grade accuracy. 
The SFT9 is built on an aluminum frame covered with what Wilson Combat describes as "Trak Texture." The front and rear of the frame are stippled for extra grip, which strikes a nice balance between comfort and control. The gun is approximately the same size and shape as a Commander-style 1911. However, unlike many other double-stack 1911 pistols, it didn't feel excessively large in my hand. The grip of the pistol is slim, and in many ways felt like a polymer-frame, double-stack 9mm pistol, except for the fact that what was in my hands was machined aluminum and not the product of a petrochemical refinery. The best way I can describe how the SFT9 feels in your hand is that it feels like a slightly more robust 1911 that has great checkering for enhanced control and comfort. It truly feels like a 1911—no mean feat considering it holds half again as many rounds as its single-stack, 9 mm brethren.
The trigger guard of the SFT9 is mildly undercut, allowing your hands to have a slightly higher grip in order to better control muzzle flip. The trigger itself is skeletonized, and requires just less than 4 pounds of pressure to drop the hammer and get this pistol to fire. There is just a hint of slack before the trigger hits the wall, which is followed by a crisp break, no overtravel and a distinct reset. A small cutout on the grip on the left-hand side of the pistol is in the ideal location for added stability when shooting the SFT9 with one hand. 
Slightly beveled, the SFT9's magazine well helps with faster and smoother reloads, as does the extended magazine-release button. The grip itself is curved on the front and back and is distinctly flat on the sides, which further enhances the feeling you're holding a single stack 1911, rather than the double-stack pistol it really is. The beavertail extends past the skeletonized hammer, virtually eliminating any chance of hammer bite, and the rear of the slide is serrated in order to reduce glare as you line up the sights.
Speaking of the sights, my SFT9 came from the factory with a fixed, blacked-out rear sight and a red fiber-optic front pipe. Both the front and rear sights are serrated to reduce glare, just like the rear of the slide. The top of the slide is also serrated to further reduce glare. All of these little touches might not seem like much, but taken as a whole, they're just one more reminder of all the attention to detail that Wilson Combat has put into this gun. 


Moving to the sides of the slide, there are scooped-out cocking serrations fore and aft for easier and faster gun manipulations. The heart of the SFT9 is a 1911-style action, so the pistol takes down for maintenance the same way as any other 1911. From the guide rod to the link to every other part inside of the slide, if you own a 1911, you'll know what to do when it's time to clean and maintain an SFT9.
A friend of mine recently remarked on social media that if you're used to striker-fired guns, a well-tuned 1911 trigger feels like cheat mode, and the trigger on the SFT9 is the very definition of well-tuned. Every single aspect of pressing the trigger to the rear and letting it reset is better in this pistol than any other striker-fired gun you care to mention. Yes, you can train yourself to run a long, heavy trigger just as well as the trigger on this gun, but that's going to take up time and effort. There's a lot to be said for buying a pistol with a terrific trigger, and then spending your time and money on other aspects of your pistolcraft skills.  
Any recoil I might have felt from the +P defensive ammo I shot in my tests was easily managed by the grip I had on the gun and the 36 ounces of the gun itself. The checkering on the rear of the slide and sights came in handy in the bright Florida sunshine, and the fiber-optic front sight was easy to pick up as the gun settled down after each shot. The slide-stop lever on the SFT9 is slightly extended: not enough to get in the way as you manipulate the gun, but enough that it's easier to use during reloads and other gun manipulations. The frame of the SFT9 is slightly taller (by about a quarter inch) than the most popular 9 mm, polymer-frame compact pistol out there right now. This has the advantage of giving you a bit more room for your hands, providing better recoil control and a steadier grip as you press the trigger. However, it has the disadvantage of making the gun slightly taller, which makes it harder to conceal under a cover garment. When it comes to concealment, the thinness of your gun is a big factor in whether it's easy to spot or not, and at just over an inch across, the SFT9 is similar to most other pistols on the market. 



The SFT9 magazines are compatible with other 9mm guns from Wilson Combat and have witness holes and a bright orange follower that let you know when it's time to reload. While on the subject of feeding rounds into this gun, there were no stoppages or hiccups at all in the 300 rounds I shot during testing; it handled everything it was fed, from 115-grain FMJ practice rounds to 150-grain gamer loads to 124-grain +P defensive jacketed hollowpoints.
Wilson Combat says that the SFT9 will shoot 1.5-inch groups at 25 yards, and if anything, they underestimated what this gun could do. Shooting a variety of ammo off a card table at a target 25 yards away, I was able to turn in groups ranging from slightly larger than 2 inches to one just 1.05 inches across. That's 4 MOA, which used to be an acceptable accuracy standard for a service rifle, much less a defensive pistol with a 4.25-inch barrel. 
There are many good reasons to upgrade an off-the-shelf defensive pistol, but those upgrades should never get in the way of reliability. Considering that you could easily triple the price of a double-stack polymer 9mm while customizing it to your liking and possibly compromising its dependability along the way—and mix the fact that you'd still have a gun with a trigger that's nowhere near as good as the trigger inside the SFT9—there are plenty of reasons to skip the drama and buy something that delivers on performance, reliability and reputation, right out of the box.