by
posted on May 22, 2018
Support NRA Shooting Illustrated
DONATE
Filled with load data, tips, tricks and cartridge information, Western Powder's Handloading Guide is something that should be on every loading bench.
Since 1972, Western Powders has been one of North America's leading distributors of DuPont and IMR gunpowders. In 1988, the company launched its own brand of powders under the Ramshot name, and in 2005 it purchased Accurate Arms. Western Powders has a state-of-the-art ballistics laboratory, and it's staffed with knowledgeable humans. When I become ballistically confused, my first call is to Western Powders.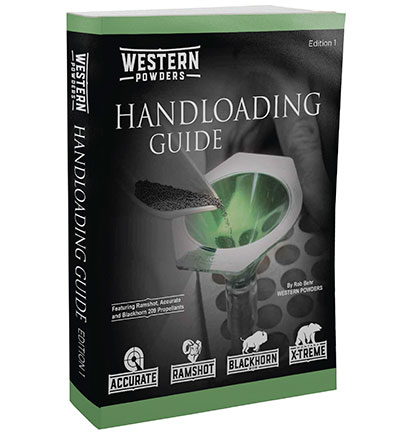 Early in my gunwriting career, I wrote a lot about guns you load from the front end instead of the back. Editors seemed to think—with me being a hillbilly and all—I was the man for muzzleloading. So, I traveled to the Western Powders laboratory for a blackpowder education. However, while there, I made it a point to get my unofficial degree in metallic cartridges, as well.
In the past, Western Powders offered a pamphlet with load data for Ramshot and Accurate Arms powders. For 2018, the company is introducing its first real handloading guide. It's a soft-bound, 488-page, 8.5x11-inch book, filled with glossy, full-color pages. Now, I know what you're probably thinking: with the Ramshot and Accurate load data free on the internet, why would the company publish a book?
Valid question. If you're only loading a couple cartridges, and only loading a couple different bullets for each, web data is sufficient. However, if you're a serial reloader—someone who loads for many cartridges—and someone who is continually comparing cartridges, loads and data, having that information in a book format makes things easier. In addition, every handloader should have a sufficient resource for general information on their loading bench, where they actually need it.
One of the best features of this guide is the instructional section. It starts with the obligatory chapters on "Getting Started" and "The Basics," but there are also chapters on "Tip, Tricks, and Signs of Trouble," where things like measuring pressure and bullet stabilization are discussed. The chapter I really liked is, "A Beginner's Guide to Advanced Handloading Techniques." This is essentially a chapter that teaches you to use things like a neck turner, flash-hole deburrer and comparator gauge.
Another chapter deals with a question frequently asked, and that's how powder position impacts pressure. For example, did you know that the ability for powder to migrate—move—in the case is a major cause of higher velocity standard deviation numbers? In this chapter you also learn about the extreme versatility of Accurate 5744 powder, and about using fillers in cases with minimal powder charges.
Of specific interest to readers of this publication will be the chapters on AR-15 pistol performance, dangerous ammunition mismatches in rifles, removing stuck cases, finding twist rates, and even slugging barrels. In the back of the manual you will find recommended firearm-cleaning procedures, a comprehensive powder burn-rate chart, a useful glossary and yes, there is even information on loading front-loading rifles as well as blackpowder cartridges.
As with most loading manuals, with each cartridge there's a short introduction detailing things like its history, development and optimum uses. Being somewhat of a cartridge geek, I really appreciated the cartridge schematics with accurate dimensional measurements. And then, of course, with each cartridge (by the way there are 59 handgun and 138 rifle cartridges covered) you'll find minimum and maximum load data with Ramshot and Accurate powders, that includes a specified cartridge overall length.
Hidden within the pages are little gems—load data for some of the niche and cult-like cartridges over which some shooters obsess. Cartridges like the .30 Mauser, .22 TCM, 9x18 Markarov, .20 Vartag .460 Rowland, .20 Tactical,  6x45 mm, 6.5 Grendel, .308 Norma Mag., .338 Lapua Mag., 5.45x39 mm, .458 SOCOM and the .550 Mag. Of course, all the usual suspects, like the , .38 Spl., 9 mm, .327 Fed. Mag. as well as 6.5 Creedmoor, .308 Win. and .223 Rem./5.56 NATO. All of the mainstays are extensively covered. (For example, the manual lists more than 300 loads for the .308 Win.)
The data provided is with Ramshot and Accurate powders and what you might be wondering is if these powders are any good. Well, when I'm working with just about any cartridge for an AR-15, Accurate 2200 is one of the first powders I often try; I've found it delivers great performance in the .223 Rem., .25-45 Sharps and .30 Rem. AR. I also load a lot of ammo for the .327 Fed. Mag. and my go-to load with 100-grain bullets is 7.7 grains of Ramshot True Blue. Finally, Ramshot TAC is my favorite all-round powder for the .308 Win. Additionally, all of these powders burn clean and meter exceptionally well.
If you're serious about handloading, pick up a copy. If you need to know something about reloading that's not in there, just call (406) 234-0422. In no time you'll be talking to a smart guy, and if his name is Rob Bahr, he literally wrote the book.
A few years after my visit to Western Powders it offered me a job—a good job. But, after a long stint of self-employment, the last thing I wanted was someone telling me what to do. I couldn't leave West Virginia hills for the wide openness of Eastern Montana. At least I got a copy of Western Powders new load manual; the staff probably sent it so I would stop calling so much.