If you reload your own ammunition, you might've been so busy working the press handle the last several years that you've not noticed some of the new handloading gear that's been introduced. I get it. Between stocking up for hard times and handloading for fun times, who's got the time to go shopping for cool tools? Besides, reloaders are a finicky and somewhat stubborn bunch. We seem to resist any deviation from what's been working for us for so long. Just try to get a handloader to try a new powder.
For those who've been holed up in their basement sorting brass, swaging primer pockets and listening to that same Def Leppard album, here's a look at some new and recently introduced reloading gear. Hey, maybe you should come out of your dark hole and get with the times; some of this stuff rocks.
Reloading Tools: Case Prep

With the exception of unstopping a sewer line, is there anything worse than prepping cases? Probably not, and if prepping cases is something you enjoy, you might be a candidate for a dating website catering to obsessed handloaders.


Hornady Case Prep Duo
Anything I can find to make the job of prepping cases easier I relish, and Hornady's new Case Prep Duo tops the convenient and affordable list. This little device is similar to a cordless screwdriver and will make quick work of chamfering case mouths. It also doubles as a driver for mounting scopes and chores around the house. If you cannot afford a high-dollar electric case-prep center, check out this gadget. MSRP: $64.59


Hornady Case and Parts Dryer
Another prep tool from Hornady is the Case and Parts Dryer. If you've advanced to the point where you're using a sonic cleaner to clean your brass, this gem is how you dry that brass. It can also be used for drying gun parts and making beef jerky. What's more important, loading ammo or eating? Good question. MSRP: $76.67


Lyman Media Separator
For those who are still tumbling brass in corncob or specialty media, I feel your pain. Nothing is as pretty as a freshly tumbled 6.5 Grendel case, but nothing is as irritating as dumping a powder charge into one, only to realize it's half full of media. The Lyman Media Separator can eliminate that problem. Toss your cases in, crank the handle and the brass and all that nasty part ways, and the separated media is captured in the bottom of the pan for reuse. MSRP: $39.95


Lyman Cyclone Rotary Tumbler
Old-school handloaders who've not warmed to the innovation of sonic cleaning will appreciate the quiet, belt-driven, Cyclone Rotary Tumbler from Lyman. It is designed to polish brass better than vibratory tumblers and restore even the most tarnished cases to a mirror-like shine, inside and out. It even has the capacity to tumble 1,000 .223 Rem. cases at once. Retail price: $227.55


Lyman Bleacher Blocks
When you get your cases clean, you need a place to put them. If you're a fat-fingered fellow, I'm sure you've struggled pulling cases from the traditional loading blocks we've been using since Ned Roberts invented his .257. Lyman's Bleacher Blocks sort out this problem nicely. Sometimes the most complicated solutions are simple, right? By elevating the rows of holes in steps, it's much easier to reach in and grab a cartridge case without disturbing the others. These 50-round blocks are available for .388-, .485- and .565-diameter cases. MSRP: $7 each


Lyman Carbide VLD Chamfer/Reamer
Another cool tool from Lyman is the new hand-held, Carbide VLD (Very Low Drag) Chamfer/Reamer. For many years, the Lyman VLD Chamfer/Reamer has been extremely popular due to its gentle 22-degree cutting angle. It cuts much easier than standard 45-degree-angle reamers and works great for any long boattail (very low drag) bullet designs. Now this popular tool is available in long-lasting, super-sharp carbide. MSRP: $33.99


Redding Model 15-P and Piloted Case Chamfer and Debur Tool
Redding also has a new chamfering tool with a low-angle cutter. The Model 15-P design offers easier entry to boattail bullets by providing a shallow angle. This is a piloted design that uses an adjustable shaft with a pin that pierces the primer pocket's flash hole. The tool will work with both small and large flash holes and nearly all cases of .22 to .475 caliber. A similar but first-of-its-kind product from Redding is the Piloted Case Chamfer and Debur tool. This unique take on a proven tool guarantees a concentric chamfer for accurate bullet entry. Redding has added a central pilot shaft with a small pin to center within the primer pocket's flash hole. The distance from the pilot to the cutter assists in true alignment of the cutter within the center of the case mouth opening. MSRP: $40 each
---
Reloading Tools: Presses and Measures

With that devilish job of prepping cases behind you, its time to load, and there are some new goodies to help with that—the fun part—too.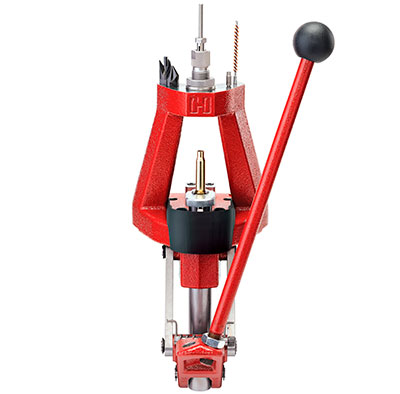 Hornady Lock-N-Load Iron Press
Hornady's new Lock-N-Load Iron Press is a beast of a press that sort of bridges the gap between single-stage and progressive presses. It has an automatic primer feed and allows for the storage of extra dies—or for the mounting of case-prep tools—right on top. The Iron Press has become the most-used press on my bench. Mount it where you want it the first time and don't drop it on anything important; this dude is heavy! MSRP: $268.81 for the press; $618.94 for the kits


Hornady G2 1500 Electronic Scale
You cannot get all the bang for your buck without gunpowder, and if it's not weighed properly, you may get more bang than you bargained for. The new trickle-compatible G2 1500 Electronic Scale from Hornady features a constant readout, compact design and wire-free battery power supply. (No, this thing does not use hard-to-find batteries; two AAAs are all that's required.) The precision load cell ensures 1⁄10-grain accuracy up to 500 grains, with a max-reference measurement of 1,500 grains. MSRP: $40


Lyman Pro-Touch 1500 Electronic Reloading Scale
Lyman is offering a new digital scale, too. Its Pro-Touch 1500 Electronic Reloading Scale features a large and easy-to-use touch screen display, with easy-to-read, near 1-inch tall numbers, and full-size control buttons. The Pro-Touch 1500 is accurate to +/ – 1⁄10 grain over its full 1,500-grain capacity, and the dual-spout powder pan allows for easy use by either right- or left-handed reloaders. (And Steyr still will not build a left-handed Scout Rifle!) The removable dustcover will protect the scale when not in use, and the unit goes both ways–it is AC or DC compatible. MSRP: $99.95
---
Reloading Tools: Casting Lead Bullets

Those old geezers, or the shooters I like to call smart folk, who appreciate and realize the benefits of shooting hard-cast bullets will really appreciate that they've not been forgotten in this new millennium.


Lyman Mag 25 Digital Melting Furnace 
The Mag 25 Digital Melting Furnace is the largest and most precise lead-melting furnace offered from Lyman. It features a 25-pound capacity and is the first to offer an advanced digital thermal-management system with keypad controls. With 850 watts of power, the furnace is quick to heat up and the digital display shows the actual lead temperature and desired temperature setting. For casting versatility, the furnace comes equipped with a universal mold guide, which can adjust for the most popular mold blocks from Lyman, RCBS and Redding/Saeco & Lee. MSRP: $339.95


Lyman Digital Lead Thermometer
If you're a bullet caster who can't spring the green for the Mag 25, but need better control over your temperature management, check out the Lyman Digital Lead Thermometer. It is a fast and accurate way to check the temperature of your casting alloy. The long, 6-inch probe will work with the largest casting furnaces and keeps your hands away from molten lead. (You've not been burned or cussed like a drunken pirate until you've been burned by molten lead.) The large, easy-to-read display can be set for Fahrenheit or Celsius and also features a hold button to lock a reading on the display. MSRP: $29.99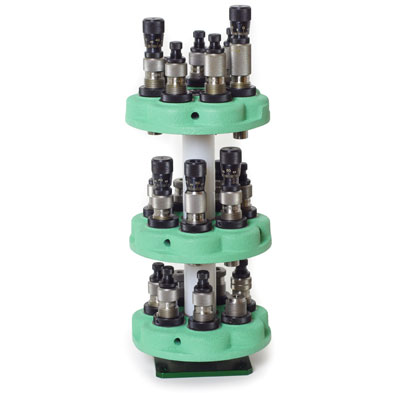 Redding T-7 Turret Stand
And the final entry on our list of new and desirable reloading products is the Redding T-7 Turret Stand. Redding has developed the Turret Stacker, a storage system for the T-7 reloading press. It allows the user to store multiple turret heads, complete with dies adjusted and in place, along with their corresponding bushings. The system uses multiple spacers, which allows you to set the correct spacing of the turret heads based on the dies inserted. MSRP: $63


Redding Premium Precision and Competition Neck Bushing Dies
In addition to all this reloading wonderfulness, there are a host of new dies from most all the major tool manufacturers. This includes Redding Premium Precision and Competition neck bushing dies for the 6.5 Creedmoor, and a full line of dies for the 22 and 33 Nosler. Redding now even has Competition neck bushing dies for the 6.5 Grendel and 6.5x47 mm Lapua. MSRP: Starting at $47.70
So, now you can head to your favorite reloading emporium, stock up on the new tools you need, and then crawl back into the deep, dark basement where you have been hiding. Heck, if you have internet in your bunker, you don't even have to go to town. But, for the love of Jack O'Connor, Elmer Keith and all those other great-but-dead gunwriters, find something else to listen to; I've heard that too much Def Leppard can damage brain cells; or maybe the music just took the blame for something else.