by
posted on November 1, 2021
Support NRA Shooting Illustrated
DONATE
Technologically speaking, it has never been a better time to be a gun owner. Just 20 years ago you would have to yell at your buddy who was only sitting at the next bench away whenever you had something to tell him that couldn't wait until a cease-fire. Back then, electronic hearing protection was in its infancy, with nothing but bulky, poor quality options available, and at a premium price no less.
Today, electronic hearing protection has advanced in leaps and bounds, with improved models being introduced every year. Leading the charge is Walker's Game Ear with its new Firemax headset and companion walkie talkie. The Walker's Firemax series represents the company's latest technology and comfort advancements all rolled into an ergonomic package that is easy to use and offers amazing sound quality. I was able to get my hands on a pair of muffs as well as a pair of walkies to put through their paces and as a result, they have earned a permanent place in my range bag.
After peeling away the packaging of both units, I started searching for a battery compartment to place what I figured would be a pair of AA or AAA batteries. To my delight and in its place, I found a USB-C port that is used to charge the Firemaxs' onboard battery pack. Halle-freaking-lujah, the days of picking up a dead pair of ear-pro are starting to slip into the rearview. After wearing the Razor XV 3.0 earbuds (and prior versions) for several years, I fell in love with being able to charge my hearing protection on the way to the range and wished for a day when I'd see that tech in a pair of muffs.
I found that I could get them completely charged (from a total drain) in as little as 3 hours. Once fully charged, Walker's boasts a 100-200 hour battery life which, after testing for five days, I am inclined to believe. During this period I turned them on every time I passed them to let them drain. I had to continually switch them on because they have an automatic power-down feature that cuts them off after 4 hours. A great feature for when you stow them away forgetfully but sort of a pain when all you're trying to do is kill the battery (don't cry for me folks).
A nifty power source is great but that alone doesn't sell me on a digital headset. From here, I need to have my socks knocked off by comfort and utility. Ditching the flimsy foam cups, the Firemax headset now sports modern, gel-filled ones that feel better pressed against your head and—call me crazy—I think seal better too. Aside from the cups, the redesigned headband scored some major points with me as well. Instead of using a solid, one-piece unit, the Firemaxs are built with a skeletonized band that is relieved where the typical pressure points fall. I also liked that they didn't run any wires along it either, as it only takes a few minutes before that gets annoying.
Easy on the Ears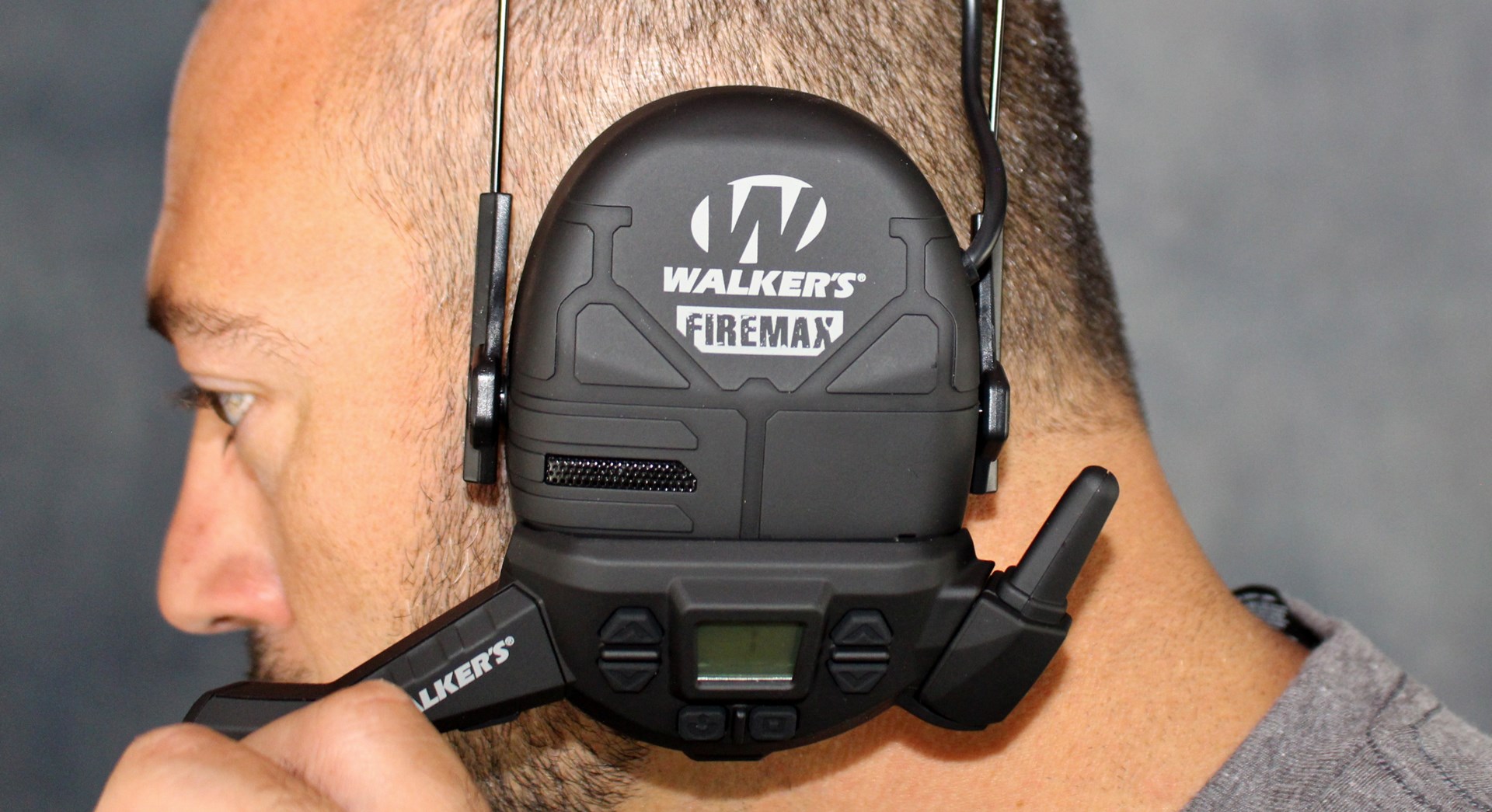 Wearing the muffs was not only comfortable to the head but pleasant to the ear as well. I have tested several different ear muffs and if the sound quality is garbage, then I simply don't use them for anything more than a passive set of hearing protection. Tinny, out-of-proportion sound is enough to give me a headache after just a few minutes and can be distracting beyond words. I found Walker's new ear-pro to deliver clear accurate sound transfer that represented the correct distance and direction. The four crossover settings allowed me to dial things in to suit my tastes or a particular environment which is a nice touch and more or less unique to the programming suite that Walker's uses in most of its products. On the range, the muffs cut out when they were supposed to and popped back on fast enough not to notice or interrupt conversation while somebody else was firing.
For my first range day, I focused on the muff itself and spent some time shooting both shotguns and rifles to ensure there wasn't interference between the muffs and the stocks of either platform. I knew what the answer was going to be but it wouldn't be fair to write a report without checking it. No, most of the complaints that come from "ear muffs hitting the stock" are from either a poor mount or poor positioning of the muffs themselves.
A trick for all ear muffs is to put them up on your ears as high as possible and then collapse the headband down to the muffs. For my second day, I focused on the add-on walkie talkie which took comms up a notch. As you may have noticed I am not a fan of batteries, but at the same time, I only have the ports and cables to charge so many devices. Walker's must be in tune with this dilemma because you don't need either to power up the walkie; it pulls juice from the muffs.
Simply align it with the USB and 3.5 mm jack, click the two together and you are good to go. I put one setup on my head and gave the other to one of my instructors for one of our Defensive Shooting: II courses at Renaissance Firearms Instruction.  My role in this course is nearly 100-percent supervisory and I found this device to be invaluable because I was able to do some work on the other side of the facility (several acres away) and still stay in contact with my crew without having to get in their way.
Every year towards the end of Q4, I start getting excited because I know Walker's is going to be reinventing the way we experience the range. Earmuffs have evolved far beyond basic hearing protection, with new features continually being added. Products like the Firemax make us wonder how we ever lived with old school foamies or a headset that made us look like we were filming a 90's hip hop music video. Being able to carry a conversation with friends on the range or even miles away is invaluable, as is your hearing. Now with this new setup from Walker's you no longer have to decide between the two.