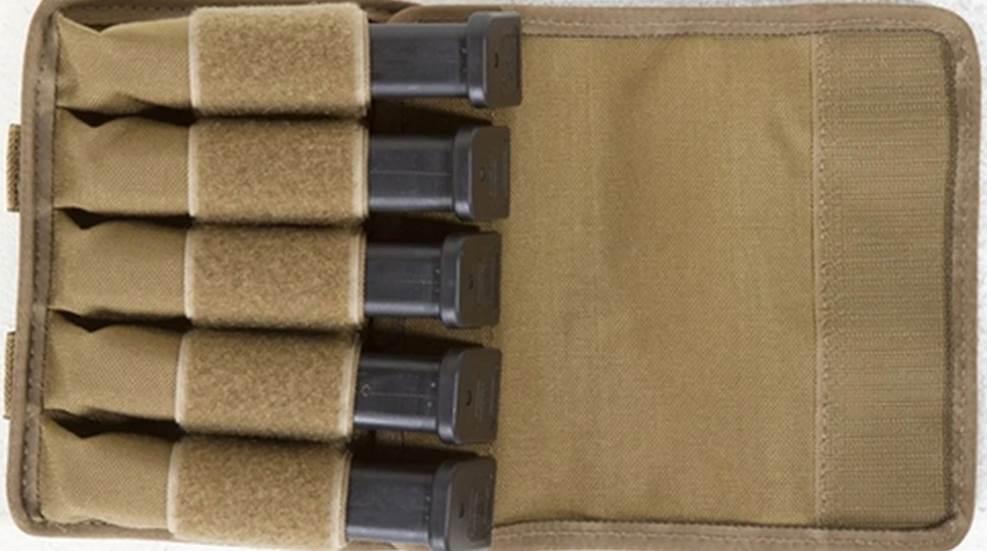 Growing civil unrest along with the COVID-19 pandemic may have concealed-carry licensees contemplating potential changes to their gear—namely swapping that single- or double-magazine pouch for something that allows them to have more magazines close at hand. TUFF Products offers a solution with its Inline Magazine pouches. 
Designed by Ichiro Nagata, the Inline Pouch is constructed from double-layered, Cordura nylon and mil-spec webbing, it is available in two sizes for handguns. (They are also available for AR-10/15 and AK-pattern rifles.) Size 1 accepts single-stack magazines and size two accepts double-stacked variants. Choices include pouches that contain three, five, six, eight or 10 individual pockets oriented sideways in a row for each magazine. There's also a removable flap that attaches via hook-and-loop fasteners. Along the back side there are adjustable loops (also with hook-and-loop fasteners) that attach securely to either a belt or MOLLE gear. This added benefit makes it easy transfer the pouch from one's belt to either a daypack or a discreet pistol case when off-body carry is required. Available colors include black and coyote brown.
In addition to offering more variety than conventional pouches, thanks to its nylon construction Inline pouches aren't susceptible to elements such as cold, heat and perspiration that can quickly ruin leather offerings—especially during these dog days of summer. Similarly, the nylon matter is won't scratch the magazine unlike polymer pouches.   
Lastly, concerning the removable flap, while most associate such a closure with field carry and a means to safeguard contents from the elements, the flap also adds an element of welcome discretion to the gear in that the flap does a superb job of concealing the magazines. As such, when fully loaded and the flap in place, the its benign appearance doesn't resemble a conventional magazine pouch.
And given these troubling times, who couldn't use some anonymity with their armament/ammo ensemble? MSRP starts at $42 (5 Inline/Size 2) and more information can be found at tuffproducts.com.