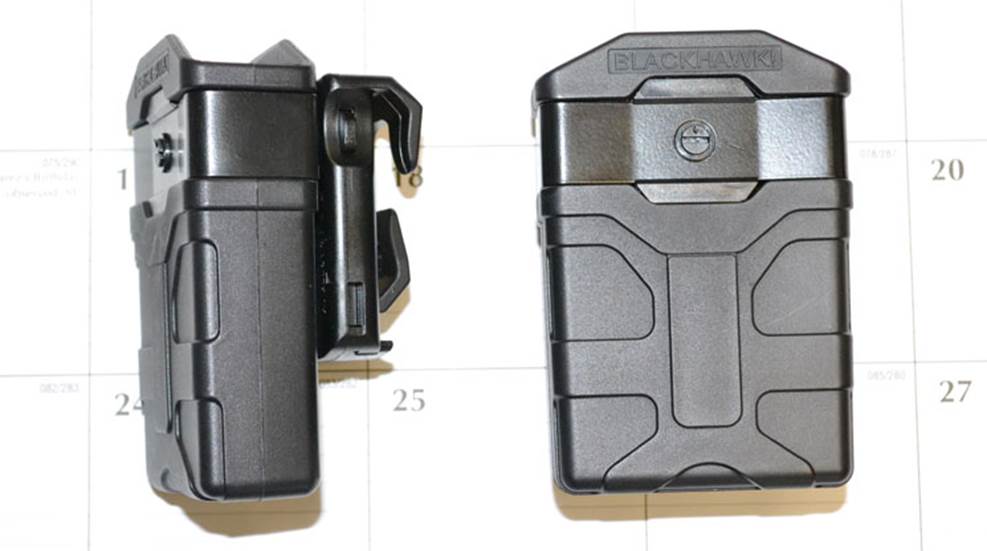 Whether for range use or class time, having extra magazines available is always a great idea. It's even better if there's a convenient method of keeping them close (certainly better than stuffing pockets).
Blackhawk's Quickmod AR-15 magazine case accommodates a single 20- or 30-round AR-15-style magazine using friction fit that holds the magazine securely in the case. Magazines are easily removed from the cases, and fit snugly as long as you don't tuck your shirt in first (ahem...). The cases are adjustable for cant for easier access.
The really neat feature is how the mag case attaches to the belt. It's a simple push-button on each side of the case to adjust to the belt (1.5 inches to 2.25 inches wide), which allows rapid adjustment in the field. It was easy to hook the case over the top of the belt and push the bottom clip into place, locking with an audible click. Removing is just as simple: press the button to release the bottom clip and pull straight down.
MSRP: $50.95.