Nearly every major manufacturer now offers a "slimline" striker-fired micro-compact 9mm pistol in their lineup, and Taurus is no exception. The Taurus GX4XL T.O.R.O. handgun is part of Taurus' GX4 micro-compact family. The original GX4 models made their first debut May 2021, while the slightly larger XL guns followed up during August of 2022 as part of a revamp of the  Taurus pistol line.
Taurus Gx4xl T.O.R.O. Overview
Because the GX4XL T.O.R.O. is larger than the standard Taurus GX4, its barrel measures 3.7 inches and has a slightly longer slide. Besides having both front and rear slide serrations, the designers eliminated every sharp edge or corner to make this gun as snag-free and carry-friendly as possible. T.O.R.O. stands for (Taurus Optic Ready Option) and the slide is pre-cut from the factory to be compatible with the popular "micro-dot" Shield RMSc footprint, which is arguably the most popular pattern found on micro-compacts. The GX4XL's polymer frame takes interchangeable backstraps held in place by a roll-pin, and Taurus includes two (one standard and one oversize) backstraps. All four sides of the pistol grip are textured to provide a moderate amount of grip. The texture is neither too slippery nor aggressive enough to tear up the skin of the palms or clothing. The GX4XL T.O.R.O.'s front strap is big enough to accommodate only two adult sized fingers, so in order to properly control this pistol while shooting, magazine grip extensions or creative two-handed firing grips will be important.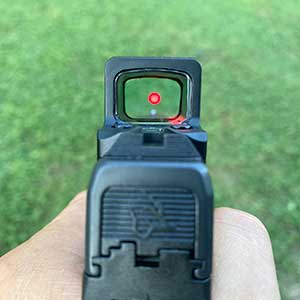 Mechanically, the GX4XL T.O.R.O.'s action is similar to other striker-fired, tilting-barrel, delayed-blowback designs. GX4 owners will need to pull the trigger on an empty chamber and use a flathead screwdriver or the provided tool to turn the takedown lever for disassembly. Speaking of which, the GX4XL T.O.R.O. is outfitted with a 90-degree polymer trigger shoe. Like other contemporary designs, the sole safety sits in front of the trigger face and must first be depressed in order for the gun to fire. The trigger feels very much like a typical striker-fired trigger. Once it's up against its wall, there is a moderate break needed to fire the gun. The weight of the trigger break juxtaposed against a smaller, more challenging grip can cause a small dip or shift in point of aim, something I readily noticed when following through shooting with the mounted Holosun EPS Carry sight (on loan from Big Tex Ordnance). This gun's trigger won't set any records at Camp Perry, but it is perfectly serviceable for making any critical shots within the context and distances of defensive shooting. I would recommend plenty of dry fire and building up a very strong support hand grip to prevent the gun from moving around too much while breaking the shot, otherwise, if not careful it's very easy to throw shots below your point of aim.
By default, the Taurus GX4XL T.O.R.O. ships with basic iron sights. The rear sight is plain with serrations and the front sight has a basic white dot. Both are made of metal but are otherwise unremarkable. 
GX4 and GX4XL magazines are available with capacities of 10, 11 or 13 rounds and are manufactured by the Italian magazine company, Mec-Gar, known for its stellar reputation in quality and reliability. Mec-Gar is also known for being a widely used OEM magazine supplier to a multitude of gun companies. These Taurus pistols ship with two magazines, and the specific GX4XL T.O.R.O. I reviewed came with two 10 round magazines and an extra extended floorplate with a ledge for the pinky finger. I had no real issues with either magazine while reviewing the GX4XL T.O.R.O. on the firing line, but I noticed that the last cartridge could be difficult to load.
The GX4XL T.O.R.O. On The Firing Line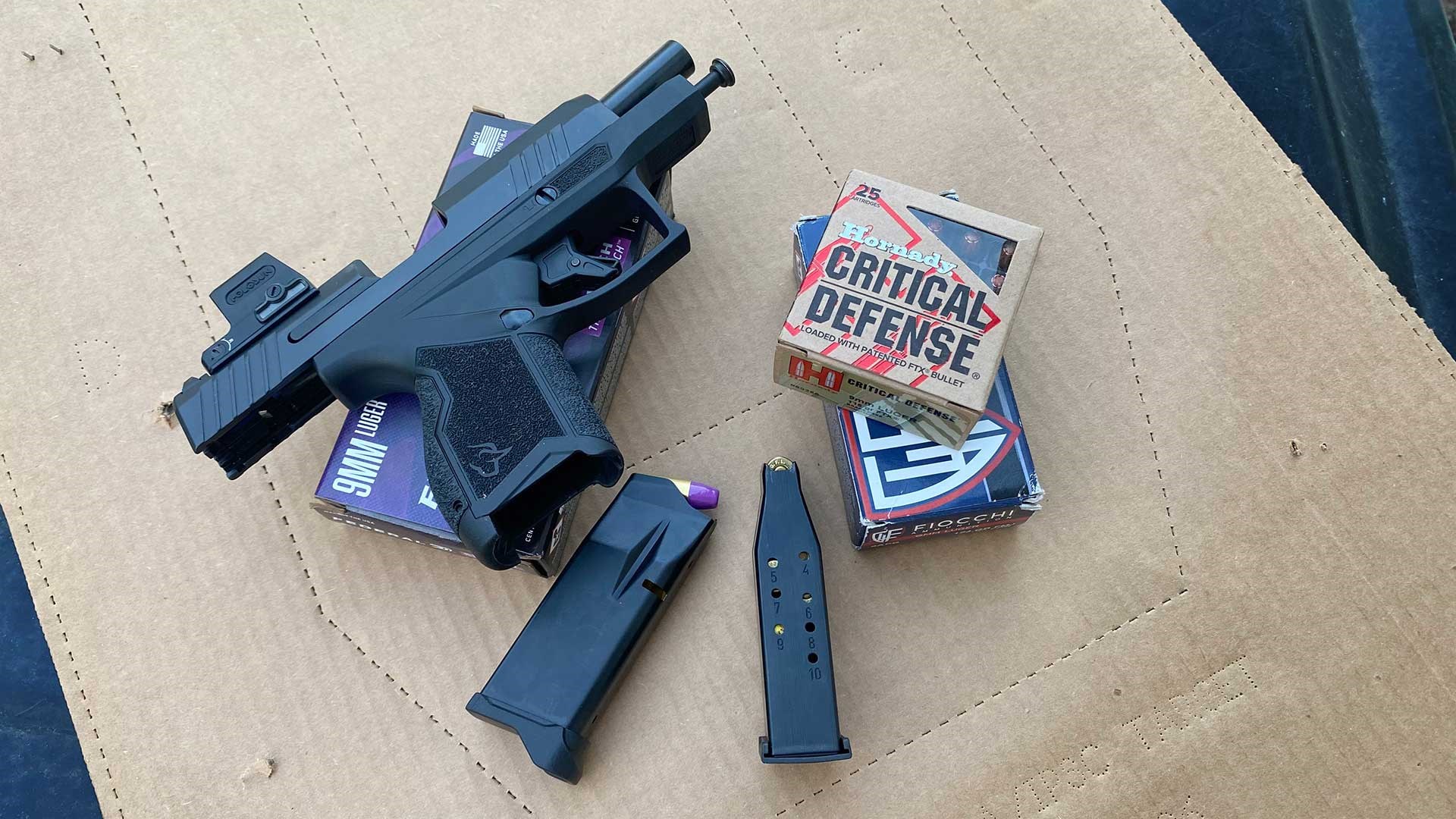 My test gun was unfired and brand new before shooting it. I've noticed that after putting nearly 170 rounds through the gun to date, that the gun has become somewhat smoother both when racking the slide and the way the trigger breaks. I suspect as I keep shooting, that this gentle break in will continue as well.  I have fired both factory ammunition and a few of my personal handloads (in this case my subsonic 147-grain loads because I wanted to see if this gun would cycle them). For factory ammunition, I fired a combination of Fiocchi 115-grain FMJ 9AP, Hornady 115-grain FTX Critical Defense, Federal 135-grain Hydra Shok P9HSD1, South African Denel 124-grain (PMP headstamp) FMJ and 5 rounds of Speer 147-grain Lawman. Prior to shooting, I did two things with this Taurus pistol: I mounted a Holosun EPS Carry sight and lubed the pistol. The gun has cycled every single cartridge I've put through it so far without a hitch.
In conjunction with the multi-reticle Holosun EPS Carry sight, making accurate shots out to 10 yards at both the small A-Zone and NRA B8 sized targets was still easy. This GX4XL T.O.R.O. shot 115-grain rounds with excellent accuracy from a rest. No doubt that the EPS Carry is a great help, but the accuracy potential of this pistol impressed me nonetheless. Despite the smaller grip, I was able to dump a few magazines and get the pistol nice and hot. (Tip: A strong support hand grip is the key to accuracy with this gun).
The Takeaway
Micro-compact polymer framed 9mm striker fired pistols have become some of the best-selling handguns in the American handgun market. While the form factor isn't anything new, today's pistols differ from previous models by offering double digit capacities, more reliability, and now the ability to mount dots. Their smaller sizes and lighter weight makes this category of handguns ideal for defensive carry, especially because smaller framed gun owners can actually carry and reasonably conceal them. As a shooter, "little tiny guns" are categorically my least favorite. They're quite snappy, and with their small grips they are simply harder to shoot well. That felt recoil from standard velocity 9mm factory ammunition will feel sharper when firing it though a micro-compact polymer pistol is a given. Due to physics, this is the reality for anyone choosing to field any pistol in this caliber and format. However, the principles of shooting a handgun are the same regardless of a handgun's size, and to be successful in carrying a gun like the Taurus GX4XL T.O.R.O., each shooter will need to explore the gun and learn how to optimally grip it.
The Taurus GX4XL T.O.R.O. is a straightforward gun with straightforward reliability and costs on average about $120 less than its rivals. Even though I am not a fan of "little guns", I found that having a dot really makes a big difference in the user experience. Honestly, I also felt better about this Taurus after seeing the gun print cloverleaf 5 round groups off a rest at 7 yards (aiming at ½-inch black dots on a sheet of paper). I look forward to further range trips with it.
Special Thanks to Big Tex Ordnance for loaning me a Holosun EPS Carry sight for this review.
Taurus Gx4xl T.O.R.O. Specifications:
Action: Striker-Fired
Caliber: 9mm
Slide Material: Carbon Steel
Barrel Material: Stainless Steel
Height: 4.40 inches
Width: 1.08 inches
Length: 6.43 inches
Optics Ready: Yes
Barrel Length: 3.71 inches
Twist Rate: 1:10-inch RH Twist
Weight: 20 ounces
Finish: DLC Coated Barrel, Gas Nitride Coated Slide
Magazine Capacity: 10, 11 or 13 rounds
MSRP $: 469.99
7 Yard Accuracy Test
| | | | |
| --- | --- | --- | --- |
| Ammo: | Smallest Group (inches) | Average Group (Inches) | Largest Group (Inches) |
| Fiocchi 115-grain FMJ | 0.40 | 0.76 | 1.00 |
| Hornady 115-grain CD FTX JHP | 0.70 | 0.88 | 1.25 |
| Federal 135-grain HydraShok JHP | 1.25 | 1.5 | 1.75 |