There has always been a tight relationship between one's garments, belt and holster for carrying a defensive firearm comfortably and successfully. Traditionally speaking, the carrying of a concealed handgun on the waistline has required some type of garment with the ability to hold an actual belt to support the concealment holster directly. Therefore, one of the greatest challenges in carrying a concealed handgun properly stems from the fact that not all articles of clothing worn by people are compatible with belts. Even so, concealed carriers may not carry their firearms while participating in certain activities or on occasions when the required clothing is not compatible with belts and holsters—things like going for a morning run or enjoying a day at the beach come to mind. Discreet carry with more formal or professional attire that involves wearing tucked-in button down shirts also makes concealing handguns on the waistline difficult, save for wearing a suit coat or sport coat and with a belt holster.
While several creative concealment concepts exist in response to the challenge of carrying handguns independently of a traditional concealment wardrobe, the PHLster Enigma system is the strongest contender in today's market. The Enigma system does a good job addressing both practical everyday carry considerations and tactical concerns around concealed carry. At its most basic level, the Enigma is a concealment system that has a few components that allow a wearer to carry a concealed handgun in the appendix position, free from having to use any type of belt to support a holster. This also means that garments with belt loops are also optional. The major parts that make up an Enigma system are the faceplate, an internal low-profile belt with a magnetic buckle, some hardware and a leg leash. This setup allows concealed carriers a nearly infinite amount of concealment customization options, regardless of their sex, size, shape or choice of wardrobe. The Enigma also allows formal- and professional-attire wearers a chance to carry a concealed handgun in the appendix position while also having their dress shirts tucked in—something that has not been easy to do in the past. Each Enigma user simply needs to invest some time tweaking their specific Enigma system adjustments to work in conjunction with their preferred wardrobe and body shape.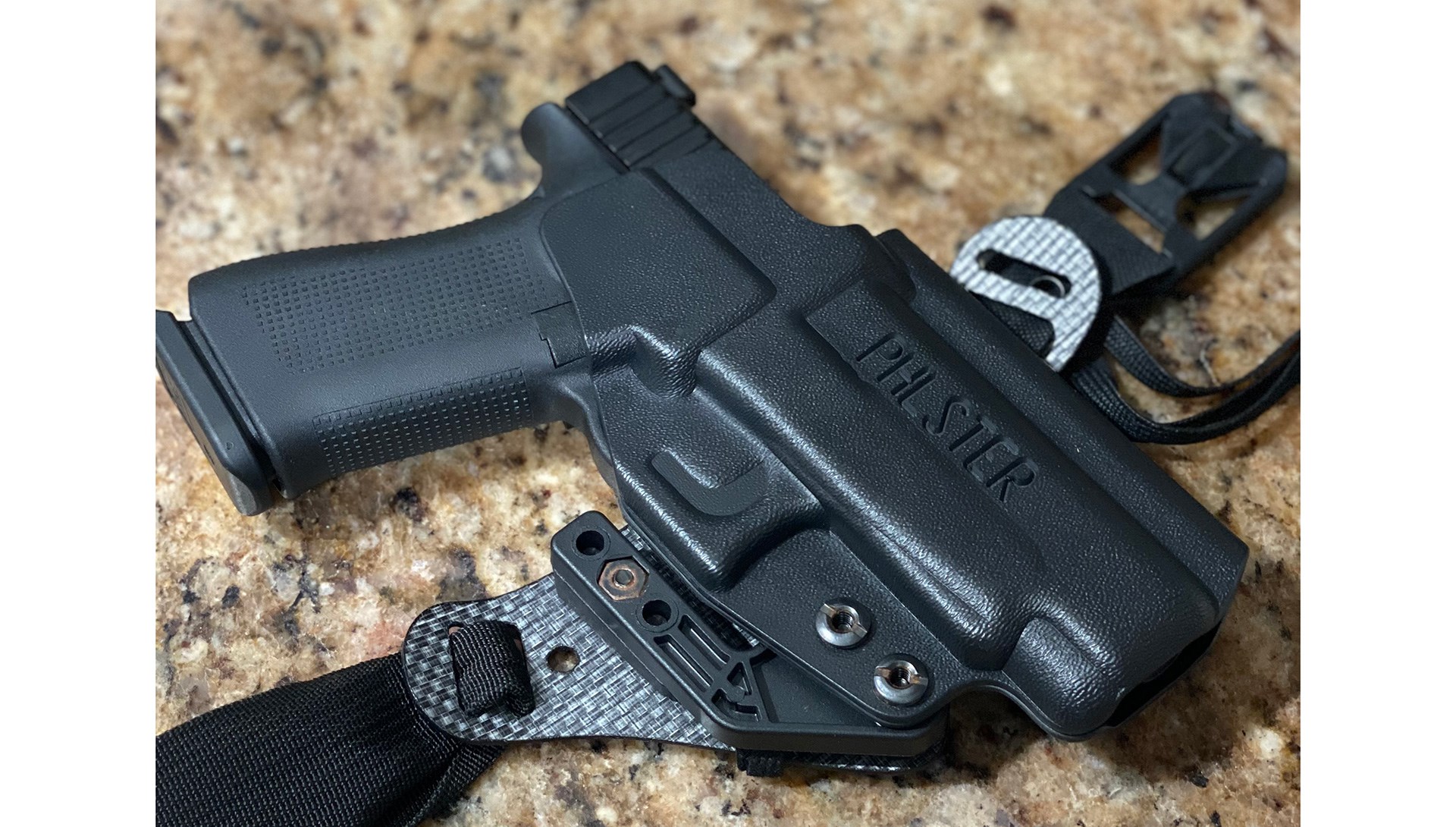 The Enigma's tactical soundness stems from how it addresses a crucial consideration in alternative concealed carry—the location and placement of the handgun itself. The Enigma ensures that handguns remain in place on a wearer's body, as opposed to other off-body or alternative carry solutions that are more limited in scope or have greater safety risks. The Enigma's on-body placement as a purpose-designed appendix holster provides excellent security and control over a carried handgun. Due to the near infinite adjustability that the Enigma affords each user and because of the way in which the system directly interfaces with compatible holsters, it can also offer serious performance shooting potential from concealment.
PHLster currently offers three Enigma configurations: Standard, Light-bearing, and Express. The Express package differs from the Standard and Light-bearing options as it ships with a PHLster Skeleton or The City holster pre-attached to the faceplate. The belt and leash are both already pre-installed, whereas the other two options have to be fully assembled by the end user. Like several other PHLster products, Enigma related components such as the faceplates are also designed to be fully ambidextrous and can be configured either for right or left handed carry by the wearer. PHLster has Express options for popular subcompact, concealed-carry-oriented handguns including the Smith & Wesson M&P Shield pistols and J-Frame revolvers, SIG-Sauer P365, Springfield Armory Hellcat, Glock models G19/G43/G43X/G48, and the Ruger LCR. After acquiring an Express, wearers only need to adjust the system to their body and wardrobe. This level of convenience has turned the Express into one of PHLster's best-selling products.
Upon receiving my package containing the Enigma Express, I first noticed the included "postcard" with informative links and QR codes directing customers to the PHLster website, an invitation to the PHLster Concealment Workshop Facebook group, and a customer support email address. PHLster set up this Facebook group providing a place where new Enigma users can ask questions or request feedback. PHLster staff monitors and moderates the group. And in conjunction with a community of passionate Enigma users, the staff will answer questions, share feedback and dispel advice. As a holster company, PHLster has been exceptional in their demonstrative and educational efforts when it comes providing resources for the use of their products and the general topic of sound concealment. 
Having experience with AIWB carry, when I first donned the Enigma I quickly adjusted it so that my Glock 48 could index off my personal natural "sweet spot" where I typically conceal handguns. I wore my Enigma for the first time during a lazy weekend afternoon at home. Wanting to get a feel for things, I put on gym shorts and after adjusting everything to fit, I chambered a 9mm snap cap in my carry pistol, holstered it into my Enigma Express and went about my day. Wanting to see how drawing from concealment works with the system, I also did some dry-fire and holster work. My immediate impression was that once the Enigma is dialed in, it is not much different than normal AIWB carry. I continued to tweak the belt and leg leash throughout the day and once I was satisfied, I felt comfortable enough to load live ammo and carry with the holster in public.      
Carrying was a breeze once everything was properly adjusted, but I just had to remember to keep the elastic waistband of my gym shorts above the top of the faceplate to break up the pistol's outline. On a different occasion, I chose to conceal my gun and the Enigma behind a tucked-in button down shirt paired with golf shorts. I was genuinely surprised (and glad) at the fact that the holster did not move the entire time I was out shopping, bending over, getting in and out of cars, etc. The Enigma Express kept my Glock in place without disturbing my tucked in shirt or printing for the duration of my time out in public that day. I also tried bowling with the family while wearing my Enigma with gym shorts and a T-Shirt. Initially, I had concerns about the specific motions required to bowl properly, but once again, the belt kept the holster and faceplate snugly in place.
One of the more interesting parts of my review involved a trip to a local action-shooting pistol match. I wore the Enigma underneath my shorts and shot that entire match from concealment. I was interested to see how repetitive drawing and moving around various stages all day would affect the Enigma, but I was pleased to discover that this was no issue at all. At no point during this match was the system ever a cause for concern or an impediment to clearing each stage safely. For a Kydex AIWB holster, the PHLster Skeleton has a pronounced and comforting snugness once the holster grips the Glock's trigger guard upon insertion.
Having spent most of my life immersed in the world of firearms, I find the Enigma system to be an impressive solution to that age-old problem of "having to dress around the gun." Not only is it helping to empower those who may not have been interested in carrying in the past, but it is also creating a new sense of freedom for many of us who are so used to dressing a certain way to carry. Retail pricing for the Enigma system is $93 and up, and more information is available at phlsterholsters.com.