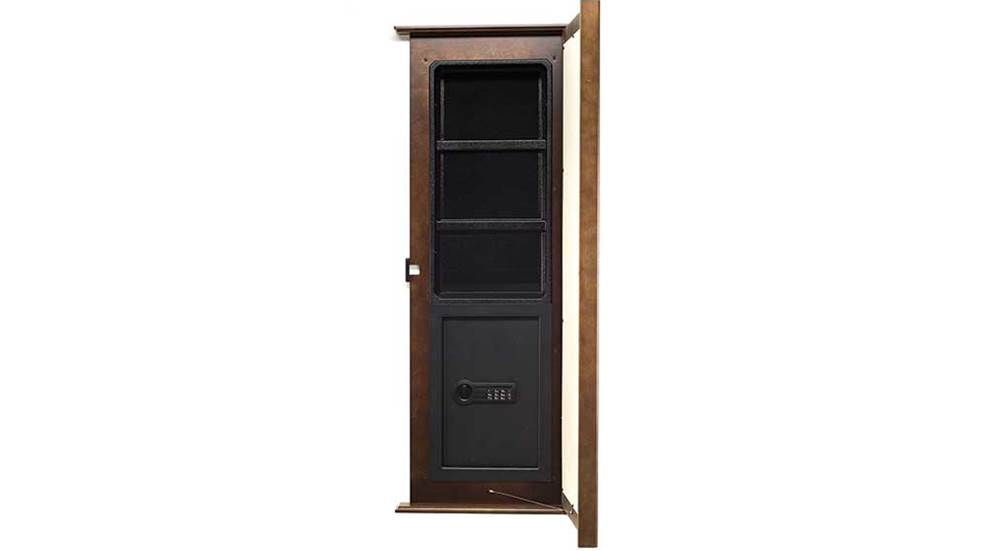 As a collector of all things that go bang, when it comes to securing one's collection, it's little wonder most gun owners first contemplate purchasing a traditional gun safe, hopefully one of sufficient size, quality and, of course, adequately secure so you, as a responsible gun owner, can have the peace of mind in knowing you've done your due diligence to restrict access while simultaneously safeguarding what is yours.

While completely understandable, such security comes at a price. Fact is, purchasing a gun safe, such those made by companies like Cannon, Liberty, Pendleton and Fort Knox, can be quite a costly undertaking. Much like buying a car, there's a base price, but once the optional extras like battery backup, fire-proofing, carpeted shelving and interior lighting get tacked on—the cost climbs significantly. Then freight gets added in and suddenly you regret not buying a Stack-On from your local big-box store.

Thankfully, the folks at Tactical Walls offer an innovative solution to such a quandary. Unlike traditional gun safes, the company prides itself in producing something different: home-defense concealment systems that resemble and functions as traditional furniture.

Tactical Walls' latest addition to its 1450 Full Length Mirror line of products offers two hidden compartments concealed behind a classy-looking, full-length wall mirror. It is designed to be recessed into your wall, between 16-inch, on-center studs. So, while this product offers significantly more discretion than a traditional gun safe, that discretion comes at a price: namely the elbow grease, skill and time required to cut a hole into the wall face and anchor the product between standard-length studs.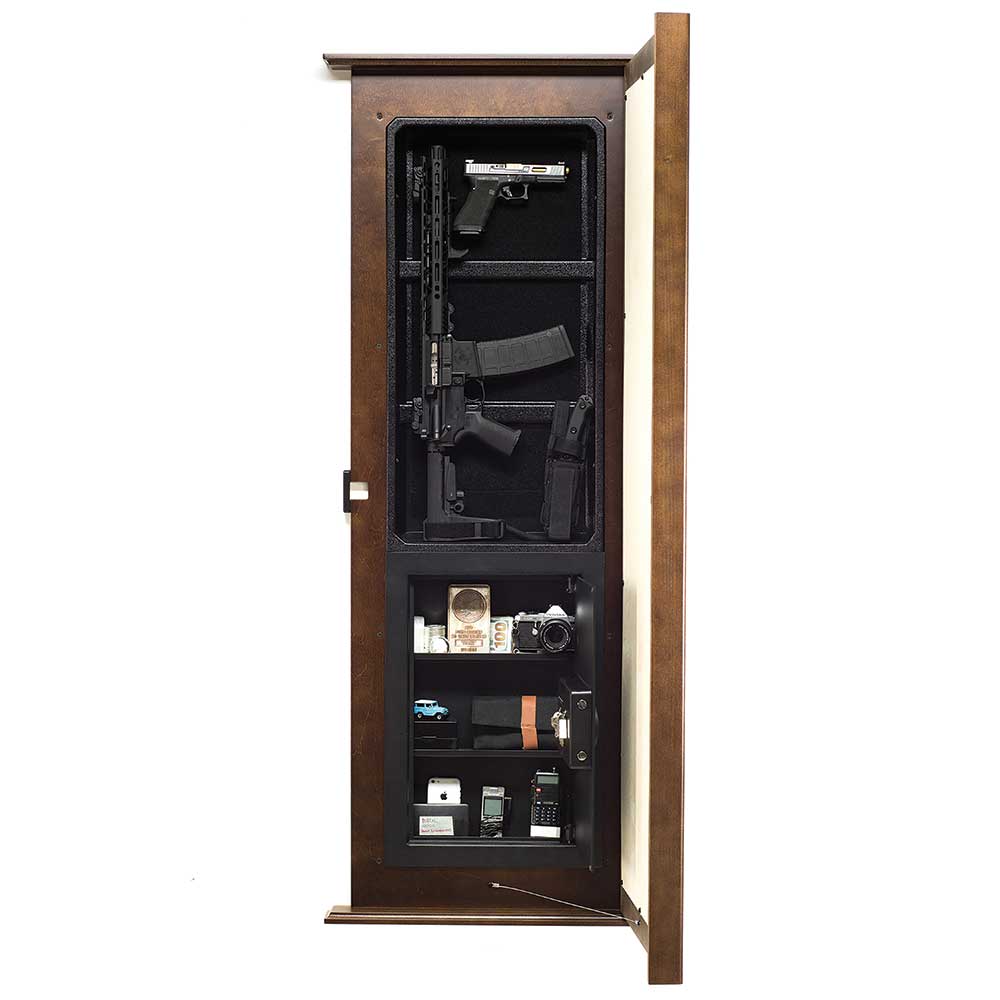 The exterior of the mirror boasts an elegant-looking frame comprised of poplar and furniture-grade birch plywood. A security panel rests behind the mirror, so in the case of breakage, your firearms remain concealed from view.  Unlike its predecessor that slid to the side to reveal the main compartment and shelving, the latest addition in the 1450 line allows the mirror to hinge to the side, which makes the surrounding wall space much less of a concern during the contemplation phase of product placement. (The previous sliding-door model required 17.5 inches of adjacent wall space to be free of potential impediments e.g. outlets, photo frames, switches, etc.) This latest iteration, however, makes more efficient use of the surrounding space.

Beneath the mirror, reside two inserts made of ABS plastic that comprise the secret-compartment interior, the largest of which is 14 inches wide by 40 inches high by 3.5 inches deep. The other is 14 inches wide by 10 inches high by 3.5 inches deep. (For those who desire an added layer of security, the company offers either model of 1450 with a Stack-On Digital Wall Safe and the smaller insert.) They are available in three styles: black, carbon fiber and distressed wood. Fabric lines the back and bottom of the inserts as well as the included accessory shelves. In addition to providing an added touch of class, the padding protects firearm finishes while giving further versatility for mounting accessories/gear via common hook-and-loop-backed material.

That's not all that Tactical Walls offers with regard to customizable features from which consumers can choose. Options include interior LED lighting, accessory hooks as well as additional shelving. 

Whereas most gun safes utilize combination/numeric pads or traditional keys to restrict access, the product I received from Tactical Walls uses an N52 rare-earth magnet to disengage the hidden lock and permit access to contents. According to the website, "The lock is hidden behind the frame exactly half way down the mirror frame on either the left or the right depending on which way you opt for the door to swing open. Once located, the lock will adhere to the frame and the door can be opened."

While the Tactical Walls 1450 Hinged Full-Length Mirror may not offer the security and storage space of a conventional gun safe, it's designed to do more with less—namely to keep a small cache of firearms close at hand, but hidden from prying eyes. Whether you're a relatively new gun owner looking for a discreet storage method, or perhaps a new home-buyer looking for an alternative form of storage until a larger gun safe can be delivered, Tactical Walls 1450 Hinged Full-Length Mirror provides a degree of versatility not found in conventional gun safes.