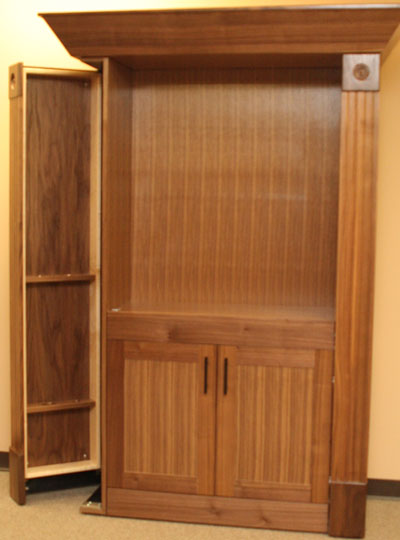 Possessing a firearm to keep the family safe and protected at home has never been more important than it is today. Creating a home firearm storage solution that is easily accessible, secure, concealed and satisfies everyone's decorating tastes became the inspiration behind the new "Criswell Concealment Collection" from Creative Designs by Logan. Designed with concealed, secured compartments cleverly blended throughout its beautifully styled furniture, you will have peace of mind knowing  that your firearms, jewelry, money and legal documents are safely hidden away, yet easily accessible when you need them. Crafted with highly figured Oak veneers and hardwood, the Criswell Concealment Collection reflects a timeless style that speaks to turn of the century craftsmanship and quality. Its hammered decorative hardware, hidden electronic locks, classic Mission slats and deep-oiled Oak finish will add functional beauty to any room in the house.
Criswell Concealment Collection Bookcase
Functional and stylish, make a statement in any room with a bookcase from the Criswell Concealment Collection by Creative Designs by Logan. Beautifully handcrafted with high-quality hinges, drawer pulls and hardware, our bookcase is ideal for an entertainment center, bar or showcase for your treasured family heirlooms. Shhh...your guests will never know that hidden within this beautiful modern bookcase design are several concealed compartments with obscure electronic locks to safely secure your larger valuables.  Crafted of highly figured Oak veneers and hardwood, contemporary paneling and crown molding, our bookcase may be custom ordered in a variety of finishes, shelf configurations, woods, stains, sizes, locks and with lighting.
Available in base model and custom orders. Crafted in the USA.
Dimensions:
Height:  85 inches
Width:  59 inches (measured top of crown)
Depth:  18¾ inches
Base Unit Price: $5,000.00
Price Includes:
*   Two lockable pull out shelves
*   Two lockable full cabinet drawers or doors or one of each
*   Electronic lock
*   Unit unlocks with a fob for up to two minutes
*   Stain of your choice
*   Shipping/handling extra
Available Custom Order Items:
*   Size, wood, lighting, shelves, locks, interior of full cabinet doors to fit your needs
*   Creative Designs by Logan will call you back to complete your custom order
Custom Order Pricing: To be determined based on custom options ordered