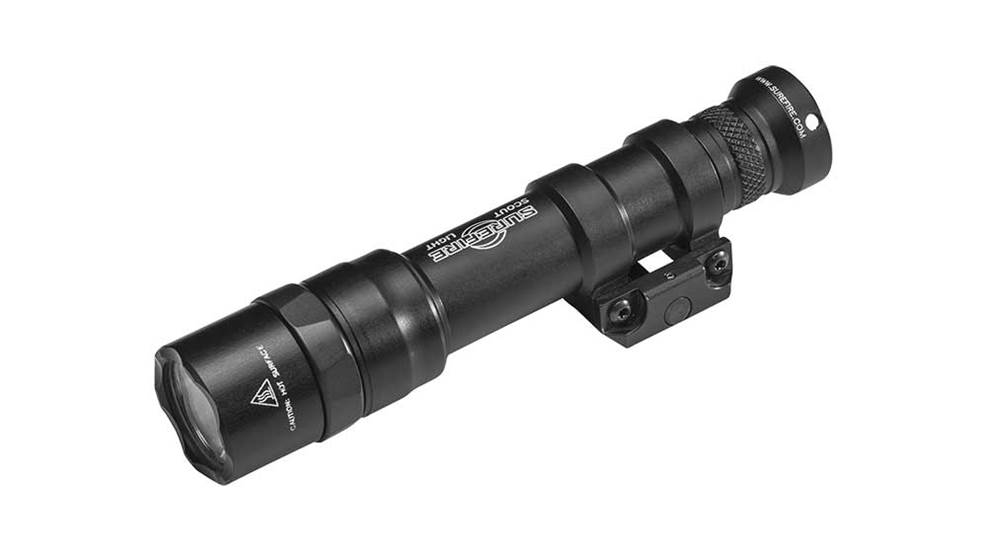 When setting up a carbine for home defense, two items stand out as "must haves." First is a good sling—as has been stated by folks way smarter than me, a good sling is like a holster for your rifle. Being able to carry your carbine without occupying both hands is a significant advantage in any sort of home-defense situation. The other item is a good weaponlight: remember Rule 4, know your target and what's behind it.
With SureFire's new M600DF Scout Light, though, you might just be able to X-ray your target. Offering a choice of power sources (two CR123 batteries or a rechargeable 18650A model), the M600DF lights up the darkness with 1,200 or 1,500 lumens, respectively. Yes, 1,500 lumens. That's basically all the lumens. Using the more-powerful battery, run time is an impressive 1.5 hours (again, 1,500 lumens) and throw is 250 meters.
Being able to supplement the rechargeable batteries with the CR123As is a stroke of genius. A couple CR123As can easily be stored in a pistol grip and serve to increase the lifespan of the light for another hour and 15 minutes. If you need 1,500 lumens for an hour and a half and 1,200 for another hour and a quarter, you need a generator, not a weaponlight…
It doesn't end there, either. The included charger for the 18650A battery comes with both a standard plug and a cigarette light, err, automotive power outlet adaptor. If you're out in the boonies, or simply in the middle of a power outage, the battery can be charged in a multitude of ways. There's also an adaptor, sold separately, that replaces the standard tailcap switch with a rail-mounted touchpad, for those who prefer activating the light without removing the support hand from the rifle.
Again, to recap: 1,500 lumens. MSRP: $299.