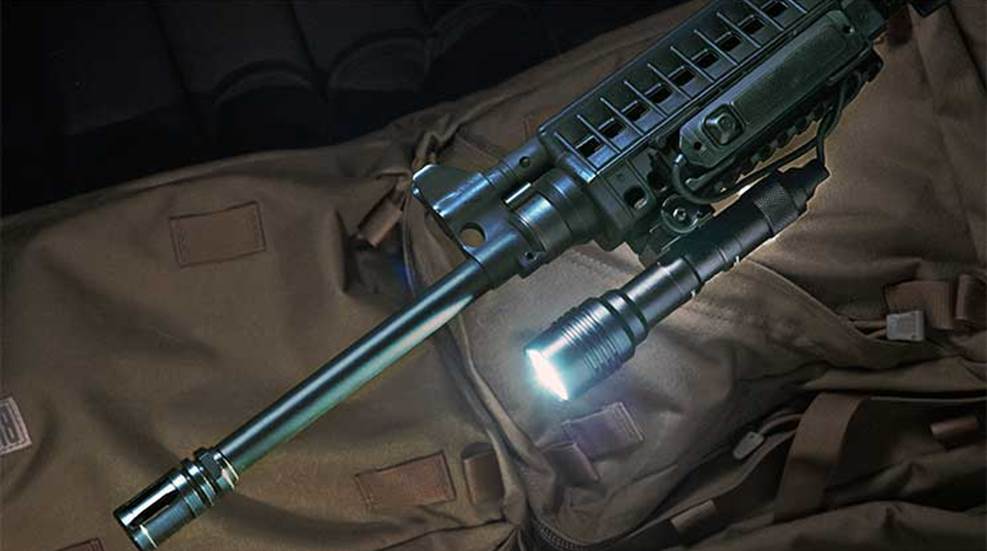 We live half our lives in the dark. The sun sets in the west each and every evening and rises again each and every morning, and I fully expect that cycle to continue for the remind of my time here on Earth. So, why do we continue to set up our defensive guns as if nighttime didn't exist? Have you ever heard someone say they're afraid of "the things that go 'bump' in the day? Me neither.
Glow-in-the dark night sights are an excellent choice for defensive pistols, but for best results, you'll need something that won't just show you that your sights are on target, but it will also verify that what your gun is pointing at is a legitimate target in the first place, and that's where a weapon-mounted light comes in handy.
The Streamlight ProTac Rail Mount 2 is a great way to light up the night without emptying your wallet. Based on Streamlight's battle-proven ProTac series of hand-held lights, the ProTac Rail Mount 2 has the features you want in weapon-mounted light for your long gun. The ProTac Rail Mount 2 uses two CR123A lithium batteries to pump out 625 lumens of light on high power and can be programmed for a lower-power mode when needed or a high-intensity strobe light to disorient and confuse a potential attacker.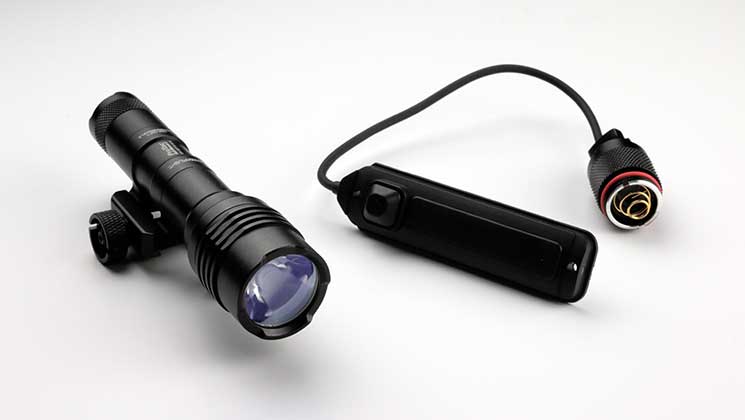 The light has a tail cap switch that can be swapped out for the rail-mounted remote switch that's included with the light. The rail switch has momentary "On/Off" switch for flicking the light on and off as you move about and a larger, more-prominent "click" button that turns the light on and keeps it on until you click the switch again. Pressing the momentary switch once turns on the light in Primary Mode, and pressing it quickly twice turns on the light in secondary mode. These programs are setup via Streamlight's "TEN-TAP" system, where you press the momentary contact switch nine times in rapid succession, then hold it down on the tenth. The light will then switch over to the new mode and turn itself off.
Available power settings are Primary - High / Secondary - Strobe, Primary - Low / Secondary - High and Primary - High / Secondary High. Personally, I cycled through them all to see how they worked, then returned the light to work with the Primary (one tap) setting at High power, and the secondary (two tap) setting to work on strobe.
The remote switch comes with an adhesive strip to place it on any smooth, flat surface on your gun and two flexible rubber mounts which fit into a Picatinny rail, along with some zip ties to help lock it place. While the remote can be held in-place with the just the grip from the rubber mount, I recommend adding the zip ties to give it an extra layer of grip and to make sure your light switch will be there when you need it.
The light that the Pro Tac 2 puts out is very bright, with a good hot spot and tight beam. The flashlight has the same rugged feel and secure heft to it you'd expect from a Streamlight product, and I had no worries putting this light on a rifle that might see some serious abuse. It does everything you'd expect a light from a company like Streamlight would do, and it does for a price that's far below the price of similar lights from other manufacturers. You'd be hard-pressed to find a more cost-effective way to help turn your defensive carbine into a night-fighting tool.