Before we dive headfirst into the morass that is the 30 Super Carry debate, let's start with something (slightly) less controversial: Smith & Wesson's Shield Plus is a supremely good pistol. Building on the success of the standard Shield and updated M2.0 versions, the Shield Plus kept critical dimensions similar to allow most gear designed for the Shield to work for the Shield Plus. That's smart. Like, really smart. Rather than design a micro-9 mm double-stack pistol from the ground up, Smith & Wesson took a long look at its popular Shield and made the necessary changes. End result? A pistol with 10+1-round capacity with the flush-fit magazine and 13+1-round capacity with an extended variant.
With seemingly every gun company under the sun jumping on the micro-9 mm double-stack bandwagon, upgrading the Shield to the Shield Plus was a brilliant move. Rather than hope the aftermarket adjusts accordingly to provide holsters for these new pistols, Smith & Wesson was able to draw on the aftermarket for the literal millions of Shields already in the marketplace. That is a not-inconsequential advantage. Then again, we said as much in our September 2021 article on the new Shield Plus. It's a smart move, positions Smith & Wesson perfectly in the market and required minimal adjustment in the market for associated gear.
So, how do you improve on that? Well, adding three more rounds is a good start, no? Seeing the potential of Federal Ammunition's new 30 Super Carry round, Smith & Wesson set about engineering the Shield Plus to accommodate this new chambering. In a pistol the same size (other than bore diameter, naturally), 30 Super Carry allows three more rounds in either the flush-fit or extended magazines: 13 rounds versus the 10 in 9 mm and 16 to 13, respectively. Federal's 30 Super Carry is ballistically similar to 9 mm, and numerous effective defensive loads are available, so it's basically a no-brainer when you have more rounds in what is essentially the same gun, right? 


Well, as my kids would say, yes, but actually no. Here's where we have to get into the 30 Super Carry debate. There's really two (possibly three) factors at work here. First, there's the ammunition-supply situation. There's simply no getting around the fact that, although it's starting to get better, ammunition is still not as easy to come by as it was, say, three years ago. Welcome to the 2020s. Many have questioned the business practice of adding a new caliber to a product line that can't be fully stocked as it is. Now, I'm going to go out on a limb here and guess that the folks at Federal have researched this and have determined that the company has the capacity for both 9 mm and 30 Super Carry.
The second factor is, and there's simply no other way to put this, status quo. A quick look at any "most popular handgun caliber" list shows 9 mm and .45 ACP at the top. Both have been in production for more than a century. Moving down the list, we do see the .40 S&W round, which is an infant in ammunition terms, as it's barely in its fourth decade. Rounding out the "top five" are .38 Spl. and .380 ACP, neither of which are exactly what are considered "new" in any sense of the word. What does it tell you when four out of the five top calibers are more than 100 years old? Well, quite simply, we crave the familiar. And, as things stand right now, the 30 Super Carry is new and unknown. 
So then you might ask, "Why should I run out and get one? What if this is the next .45 GAP?" Well, I don't have a crystal ball. I can't guarantee that 30 Super Carry is going to rocket up the favorites chart; it could crater into the ground on fire. From all appearances, it should do well—excellent performance and greater capacity means, on paper, it should shine. I'd take Smith & Wesson offering the Shield Plus in 30 Super Carry as a good sign, though. It's unlikely the company would take this step if it didn't feel that the new caliber would proliferate.
As another point of reference, our Handguns editor has made the point numerous times that owning a handgun in a caliber that's not the most popular has advantages in ammo crunches; she points out that calibers like .357 SIG or .32 ACP might be on shelves when 9 mm and .45 ACP have disappeared. Even if 30 Super Carry never becomes as popular as any of the "top-five" rounds, it's effective and you can carry a lot of rounds in a small pistol. If the caliber becomes super popular, then there will be plenty of ammo available in normal times. If it stays a boutique round, you should be able to feed your pistol when others can't. Plus, there's always the chance you can one-up that certain gun hipster in your circle of friends a couple decades from now, right?
Getting back to the Shield Plus in 30 Super Carry, though, it's, well, a Smith & Wesson Shield Plus. It's so reliable it's boring. It works. End of story. One interesting thing about the 30 Super Carry, though? It's loud—like 5.7x28 mm loud. While it does have less felt recoil than its 9 mm counterpart, that extra noise is noticeable. If you're choosing 30 Super Carry over 9 mm for recoil reduction, it would be prudent to double up on hearing protection on indoor ranges. Other than that, though, our testing of the Shield Plus in 30 Super Carry was utterly without incident. Everything we put into it fed, fired and ejected with no fuss or muss. 
So, what's the verdict? Well, if you're looking for greater capacity in a small pistol, the Shield Plus in 30 Super Carry is an excellent bet. Since it's a Shield, it'll be reliable and long-lived, in addition to having a ton of gear available. It's going to work and do all the things you expect of a defensive handgun. Also, it comes with an optics cut for many popular mini-red-dot sights, which is pretty much everything you might want in a highly concealable, double-stack pistol.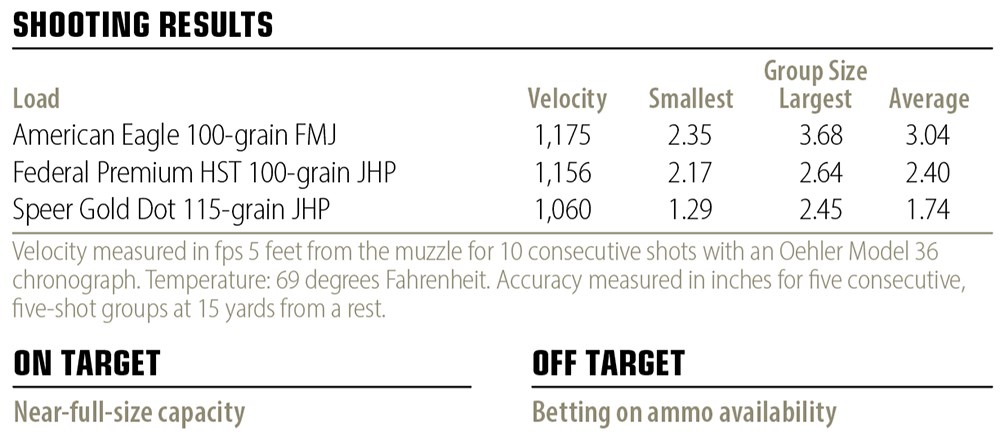 The only real question here is the future of the 30 Super Carry, and I'll leave you with this last thought: Of all the new handgun cartridges of the past, say, decade or so, this is the first in my memory that was brought to market solely by an ammunition manufacturer, rather than by a firearm company working in conjunction with an ammo company on a boutique round. Does that mean anything? If I knew the answer to that question, it would mean I could tell the future, in which case I'd be on my private island somewhere in the Caribbean right now admiring my yacht. 
What I can tell you about the Smith & Wesson Shield Plus in 30 Super Carry, though, is that it works well, hits accurately and will do all the self-defense things you expect of a small, concealable pistol. With the new caliber, though, it will be able to perform all these tasks a few more times (and just as effectively) as the same pistol in 9 mm. It's a bet, of course, that this new round will continue to flourish and grow; however, with the players involved, that's a pretty safe bet to make in my personal opinion.